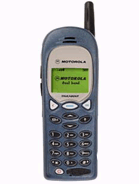 ^
the mobile phone T2288 motorola talkabout is cool... it is an easy to access phone. features are great...but i hope it does can have lots of ringtones...
n
I would like to know T2288 can set RBS?
which model can be done?
Thanks so much.
a
iam buy motorola t2288 but not look special code please information special code thanks
S
i am not able to set wap on my set . how can one configure wap on the set .
K
Kalau tak silap sorang Juruukur kat CAMS tu, bini dia guna henpon ni la. Rasanya dia la Juruukur yang kena buat master kat library tu .. heheh
P
It's a good, cheap to run phone - that gives you the ability for WAP.

But the only problem that I find, is that the battery life is not so good.

If you want a good stylish phone - then this is a good bargin.
Total of 114 user reviews and opinions for Motorola Talkabout T2288.