Remember the two Sony phones - the F3216 and F3311 - that were spotted listed on GFXBench last month? While the former was recently officially unveiled as the Xperia XA Ultra, the latter is yet to be announced by Sony.
However, thanks to a new leak, we now have some information on what the F3311 will be officially called. The handset was recently spotted in an official Russian Customs report, where it's mentioned as the "F3311/Xperia E5."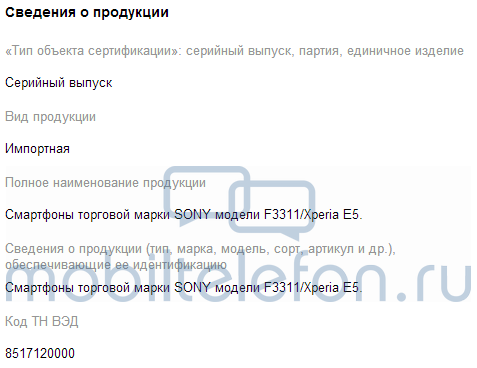 As you might already know, Sony's Xperia E series only features budget devices, and given that the F3311's spec-sheet currently reads 4.6-inch 720p display, 1.5GB of RAM, 16GB of storage, and MediaTek's MT6735 chipset, the possibility of it being an E series phone looks good.
?
Great that you took the liberty to provide sources as I have already taken the liberty to laughing this argument off. Your first few words seemed to steer way off course our line of argument. Till then I rather be cautious and careful now before any ...
http://www.pcadvisor.co.uk/new-product/mobile-ph­one/sony-xperia-xa-ultra-uk-release-date-specifi­cations-3640466/ http://www.xperiablog.net/2016/05/05/does-xperia­-x-ultra-xperia-c6-ultra-new-3d-renders-revealed­/ http://m.gsmarena.com/alleged...
?
The least I could do was to politely reply and what better way to do it than merely doing what you were hitting onto my noggin which was to research and you even said 'please' so I did to make the least bit sense onto your noggin. Before I get all fo...