Lead the way
Nokia 2710 Navigation Edition review: Lead the way

Organizer and applications
The organizer of the Nokia 2710 Navigation Edition is very elaborate, offering a large number of time management applications with nice features and a user-friendly interface. The calendar offers month, week, and day modes and five types of events can be set up.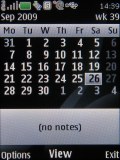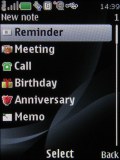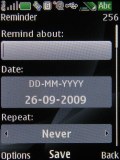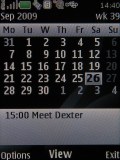 Calendar month a week view modes • setting up an event
The alarm clock is repeatable: it can be set to go off on any selected days of the week, even when the phone is switched off. You can also customize the snooze time if you wish.
The other organizing functions available include a voice recorder with a 60-minute limit, a stopwatch and a countdown timer.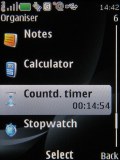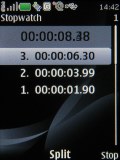 Countdown timer and stopwatch are available
The Nokia 2710 calculator offers two versions - basic and advanced. In addition a loan calculator is also available.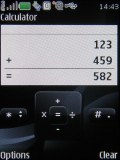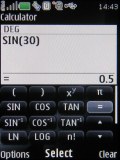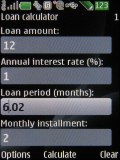 The calculator has a simple and a scientific version, along with a loan calculator
The consistently useful unit converter is first in the list of additional applications. It offers all kinds of converting options and, if provided with info on current exchange rates, it offers currency conversion too. There's an additional converter that gives you clothing and shoe size equivalents worldwide.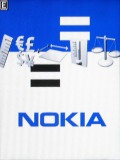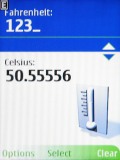 The unit converter is really nice • World clock applications is well familiar
The final featured application is World clock for checking the time in any time zone at the cost of only a few clicks.
Ovi integration – Store, Contacts and Share
The Ovi Store on S40 works much like on S60 smartphones. Browsing the Ovi Store, you can choose between several sections - Applications, Games, Audio and Video content, Personalization, Recommended and of course, My Stuff, which shows you the apps you've already installed.
The structure of the Ovi Store client is simple - a list with the name and logo for each app (or podcast, or whatever), the category it's in (Entertainment, Utilities, etc), price and a three star rating.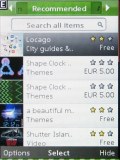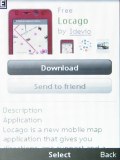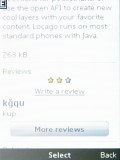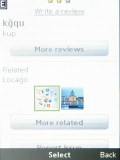 The Ovi Store has a simple and easy to use structure
Ovi Contacts goes about giving you access to one of the Internet's most time-wasting services - instant messaging. Ovi Contacts integrates tightly with the phonebook (as a new tab) and offers an IM client with a twist. You can search for people already registered with Ovi or send an invitation to anybody using Gmail since the Ovi contacts supports G-Talk, Google's own IM, as well.
Thanks to this service you will be able to chat in real time with all your Ovi/Google Talk-connected contacts, change your status messages and mood, and all that kind of social networking stuff.
In addition you can share the name and the artist of the track you are currently listening to.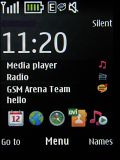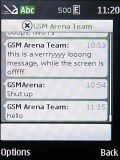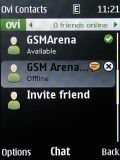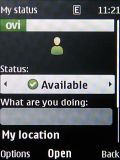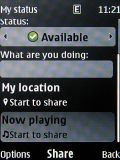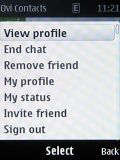 Ovi Contacts is a very capable IM client
All this is fine and dandy but here's the stumbling block - S40 doesn't offer multitasking. Still, you can remain online and receive messages even without the app running in the foreground.
This is where the homescreen comes in – once you put the Contacts bar on your homescreen, it will show you the number of your friends online and even a message when you receive one, complete with sound notifications. If the Contacts bar is not on the homescreen, a notification pops up instead.
Either way, choosing to reply starts the Contacts app. It's slow and a little annoying, but it's nice that you can always stay online – in a somewhat clumsy way, the Nokia 2710 Navigation Edition is part of the social crowd.
If you are into sharing images, video and audio files with your buddies straight from your handset have a look at Ovi Share. After a quick sign-up process, selecting files for uploading is easy enough.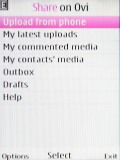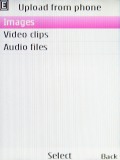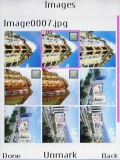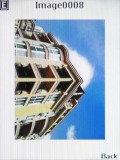 Main menu • uploading a file • viewing an uploaded file
This app is limited, you can only browse your and your friends' uploads. For general browsing you'd need a web browser (the Opera Mini can take care of that). Bear in mind that even 2 megapixel photos can cost you quite a bit at the end of the month if you're not on an unlimited data plan.