Lead the way
Nokia 2710 Navigation Edition review: Lead the way

Maps for S40 is like Ovi Maps redux
With a car stand and car charger in the box, not to mention the dedicated Maps button, you know this feature phone means business when it comes to GPS navigation.
Nokia 2710 Navigation Edition comes with a life-time license for Nokia Maps 2.1, which is what Ovi Maps was called before the Ovi rebrand. For some reason, Nokia decided to keep the Nokia Maps name for the S40 platform.
In terms of hardware, we're pleased with the Nokia 2710 – the GPS receiver got a lock in less than a minute and a half from a cold start (A-GPS can greatly speed this process up) and there's even a digital compass, which enables auto map rotation.
This works for looking around the map - it's handy because it rotates the map so that you can easily see what's in front of you. When you start the voice-guided car navigation however, the map is rotated according to the direction on the street you're currently on. To enable the compass, you need to calibrate it first - which requires you to twirl the phone around for a while until the compass gets its bearings. This has to be done each and every time you want to use this feature.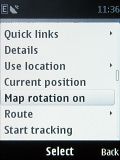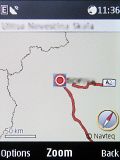 The Nokia 2710 Navigation Edition features a digital compass
Unfortunately, there's no option for screen rotation in the Maps app – not even manual.
Our Nokia 2710 Navigation Edition came with no preloaded maps, but with the Map Loader application for PC you can download map data to a compatible computer, and transfer it to your device to save on data charges, all for free.
You have the option to download the maps over the air as you go, but you'd need a solid data plan.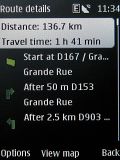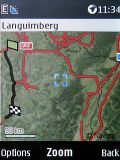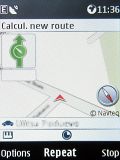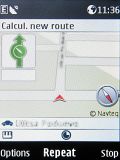 Route details, route overview and navigating the route
Ovi Maps offers straightforward route planning. Once you enter a start point and a destination, the application will plan your route with easy-to-follow directions to where you're heading – be it by car or on foot. Calculating a route is quite fast, despite the Nokia 2710 not being a highly-powered smartphone.
You can view points of interest, set it to avoid toll roads, bridges and others along with other fine tuning options.
You can also download voice instructions in a variety of languages.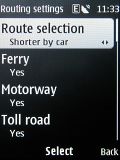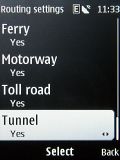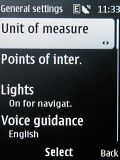 The route planning can be fine tuned
Saving locations in the Favorites section is another available option. The contents of Favorites can have different icons and can also be exported/sent via MMS, which is a nice extra.
There's also a "Send location" option, which takes a screenshot of the map and your location and creates an MMS message with the image and the name of the selected location – this greatly simplifies sharing your location.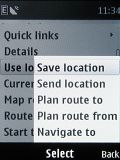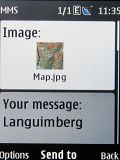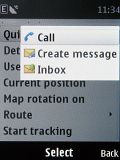 The Send location feature is handy • Quick links are the next best thing to multitasking
Quick links is a feature that we really appreciate – in short, it's a way around the lack of multitasking. It has three options – call, create message and inbox. They do what they say – being able to make a call or check a new message during navigation almost makes us not miss the lack of multitasking. Almost.
Three games to pass the time
There are several games preinstalled on the Nokia 2710 Navigation Edition and they are diverse enough to help most people kill a bit of time.
Rally 3D is pretty much what it says. It's good to see a car-oriented game on the Nokia 2710 Navigation Edition.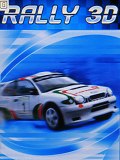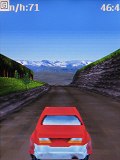 Rally 3D lets you race a virtual car when the real one is in the shop
Block'd is a version of the popular Bubble Breaker game – you have to "pop" groups of squares of the same color. The bigger the group, the more points you earn.
And in the end is a Sudoku puzzle game. If you're a Sudoku buff, this may very well be the most time-consuming feature on the phone.
Final words
The Nokia 2710 Navigation Edition is a somewhat low-end Nokia S40 phone, for all the good and bad that entails. However, the GPS receiver and navigation software as well as the well-stuffed retail package mean good bang for your buck, which is a big plus in its favor.
Not all people need their phone to have access to tens of thousands applications – calling, messaging and music player is enough for many. The allure here is that the Nokia 2710 Navigation Edition can replace a dedicated SatNav unit which costs as much (or even more) than it does.
The best part about the 2710 Navigation Edition is that it's ready to go right out of the box. There's an easy-to-use car stand and a car charger and while our unit didn't have any maps preinstalled, yours should at least come with your regional map preinstalled. If not, the Map Uploader app will set you up with all the maps you need.
As good as it is in navigation, in the end of the day the Nokia 2710 is still a low-end S40 phone. Other, more capable phones can easily take its place and for not much more money.
Any Symbian-powered phone from Nokia with built-in GPS would do – Ovi Maps for Symbian comes with a free navigation license as well.
So, the Nokia C5, for example, costs a bit more, but it's proper mid-range Symbian smartphone with metal used here and there, not to mention the zippy 600MHz CPU. You get the same screen, slightly better camera, 3G and you get to keep the 2GB microSD card.
The Nokia 5230 is another alternative. It has a 3.2" nHD screen, which offer noticeably better resolution and screen real estate than the 2710 Navigation Edition. It has a 2MP camera but it manages to squeeze out VGA@30fps video, which is not a bad achievement at all. It comes without a microSD card, which you'll need to download the mapps, but if you don't have one already, they are already dirt cheap.
What is more Nokia is currently running a promotion, offering a free car stand for Nokia 5230, Nokia 5800 XpressMusic, Nokia E52 and Nokia E72. A free car stand and a car charger comes with Nokia X6, Nokia N97, Nokia N97 mini and Nokia 6710 Navigator. All these are Symbian phones with GPS – so they offer free navigation with Ovi Maps. The promotion is not available in all countries and Nokia's website says the offer is for a limited time only (no end date is listed though).
But still, at the time of this writing (early June), on some markets the Nokia 5230 goes for less than the 2710 Navigation Edition in the UK. Granted it doesn't have a car-charger, but you can get one on the cheap. With its current price tag, it's very hard to recommend buying the Nokia 2710 Navigation Edition over Nokia's own 5230 unless of course you're absolutely scared of touch phones. Moving the 2730 down a notch to a more competitive price point would certainly help for the success of this sturdy little fella that always seems to know its way around.