Camera and camcorder
The camera user interface has been reworked and, while not perfect, it's better than the old setup. A Settings shortcut has worked its way into the toolbar so it's easier to access and selecting a new Scene mode now takes two taps less than before.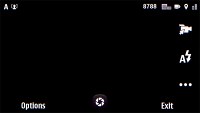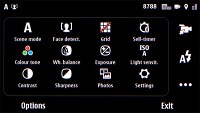 Camera interface • Main settings screen
The settings menu offers Scene mode, face detection, timer, white balance, exposure and many more. In terms of adjustable settings the Nokia 500 offer just as much as the N8 cameraphone but apart from this isn't a camera-centric device at all.
The snapper on the back of the Nokia 500 is a 5MP full-focus camera (which is to say it's a fixed-focus lens) for maximum image resolution of up to 2592х1944 pixels.
The lack of autofocus is hardly a surprise in recent Nokia phones, even less so in a low-cost handset like the Nokia 500. There's no LED flash and camera key either.
Our test unit, which isn't retail ready, to be honest, produced passable results. There's a significant amount of noise though and images are usually over-sharpened.
The photos look great on the phone's nHD screen and this is the most important thing for the majority of users.
Video quality on the Nokia 500 is nothing to be excited about. VGA (640x480) is as good as the videos get. We've prepared a sample for you.
Check out an untouched VGA sample that we captured with the Nokia 500.
Web browser
The web browser is where Anna makes quite a bit of difference. It's a lot user friendlier now, with its proper URL bar (thanks split-screen QWERTY!), the always visible back button (vital for navigating web pages) and things like manually opening new tabs (before Anna the only way to open a new tab was to set a link open in a new tab).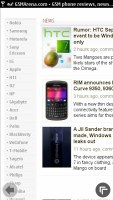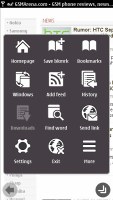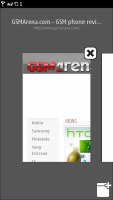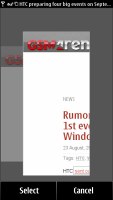 The browser on the Nokia 500
The browser supports FlashLight 4 and promises to play YouTube videos at 360p, but we'll leave those tests for the review when we have more time with the phone..
First impressions
Nokia are keen to match every single one of their older generation Symbian smartphones with a new, improved and updated version. Symbian Belle, 1GHz processors, new generation screens and NFC are all over the headlines. Phones like the Nokia 700 are stealing the show.
What's the Nokia 500 gonna do about it? Nothing much really. It's what you are going to do. Will you look at your C5-03, your 5250 or your 5230 and tell them it's been a pleasure? Maybe you should.
We haven't been able to test everything about the Nokia 500 but the package is simple enough and there aren't too many unknowns. The big question perhaps is whether it's getting Symbian Belle or not. Even without it though, the Nokia 500 makes sense.
We're looking at a very capable phone for the budget-conscious user. With all round fast connectivity, 1GHz processor, a capacitive screen and the free drive and walk navigation, the value for money is there. Two extra battery covers in the bundle add color to the package. At around 150 euro pre-tax, there isn't much to ask for. Or is there? Stay tuned for the complete review.