Poor connectivity
The Nokia 5250 is quite cheap in terms of connectivity. Wi-Fi and GPS are missing and – if you don't have a data plan – you'll be better off buying a Nokia 5530 XpressMusic instead.
If you go for the 5250 however, you will be disappointed to find network data speed is limited to GPRS and EDGE. We guess all those features are sacrificed for a nice price tag, but we're yet to see how things shape for the Nokia 5250.
The only good news about the Nokia 5250 is the 3.5mm audio jack and the bundled quality headphones.
Local connectivity comes down to USB v2.0 and Bluetooth. There's also a memory card slot, which can usually give you the fastest data transfer rates. Unfortunately, USB charging via the USB port is not possible – not that there is a USB cable in the retail package anyway.
Capable web browser hobbled by EDGE
The S60 web browser is decently usable, especially now that is also offers kinetic scrolling. There is still quite a lot of work to do before it is able to rival the best in class. The Android and iPhone browsers are miles ahead in terms of user-friendliness.
The Nokia 5250 browser has very good page rendering and boasts some nice features such as different font sizes (5 options), auto filling of web forms and a password manager.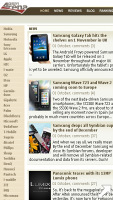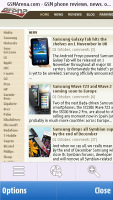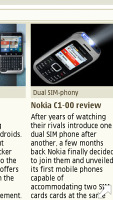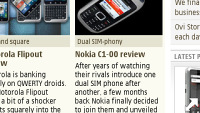 The S60 web browser still needs some polishing
The built-in RSS reader will handle your feeds, while the download manager keeps things in order. There's also a popup blocker, but no open-in-a-new-window option.
A minimap is available for finding your way around elaborate pages and the Find on page feature is welcome. The visual history is a nice bonus that can help you easily find a page you've visited.
And now we get to Flash support. Yes, there is Flash support and it's way better that it was back on the X6. The YouTube videos we've tested did well with almost no dropped frames, but the loading time was excruciating. Unfortunately the small screen and resolution won't allow you to fit the whole YouTube screen in there. But we don't think you'll go watching Flash videos over an EDGE connection anyway. The mobile version of YouTube is an option.
Another upgrade over the X6 web browser is the better kinetic scrolling. It now works fine and manages to catch up with most of its competitors.
Double tapping on a block of text zooms it in on screen, but again, the zooming routine treats the whole page as an image and the browser doesn't refit the paragraph text to fill the screen properly (the so-called text-reflow). As a result, when you zoom in you still need to scroll sideways to read it.
Organizer
The S60 5th edition organizer is pretty well stocked although its applications are already in need of refreshment - especially on a touchscreen. Some of the apps are starting to look boring and dated, having had the same interface for over 3 years now.
The developers are still hesitant to put the touch input of Nokia 5250 to some good use and maybe add some cool new features. They have only gone as far as to touch-optimize the S60 3rd edition apps.
The calendar has four different view modes – monthly, weekly, daily and a to-do list, which allows you to check all your To-Do entries regardless of their date. There are four types of events available for setting up: Meeting, Memo, Anniversary and To-do. Each event has unique fields of its own, and some of them allow an alarm to be activated at a preset time to act as a reminder.
The organizer package also includes a great unit converter and calculator, as well as the Notes application.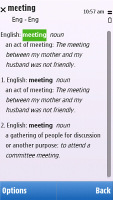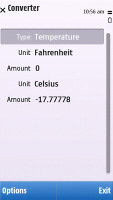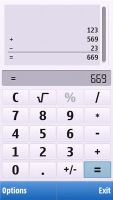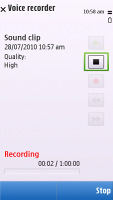 Some of the other organizer apps
The alarm application allows you to set up as many alarms as you want, each with its own name, set-off day and repeat pattern. If this seems too complicated, there is a quick alarm setup where all you do is set the time and you're good to go. This is quite convenient for, say, setting up your wake-up alarm.
In addition, the number of alarms is not limited. Thanks to the built-in accelerometer you can also snooze the alarm by simply turning your phone over.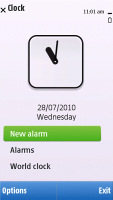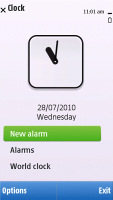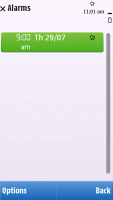 We are quite fond of the alarm application
There're also clients for Facebook, MySpace, Shazam, Friendster and hi5.
Unfortunately, the Nokia 5250 does not include QuickOffice, but we guess you can download the free viewer from the Ovi Store.