Ovi Store
Browsing the Ovi Store, you can choose between several sections – Applications, Games, Audio and Video content, Personalization, Recommended and of course, My Stuff, which keeps track of the apps you've already installed.
The structure of the Ovi Store client is simple. It's a list with the name and logo of each app (or podcast, or whatever), the category it's in (Entertainment, Utilities, etc), price and a star rating out of three.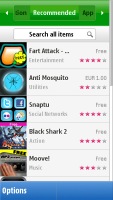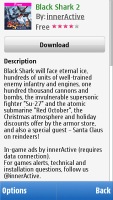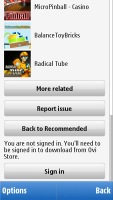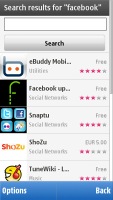 The Ovi Store has a simple but easy to use structure
Selecting an app, displays more details: a description, info on size, user reviews, an option to write your own review or send the description page to a friend, a list of related apps and a Report issue button, which helps you report fraud, spam, abuse, etc., but not bug reports or feature requests.
Searching the Store is quite easy if the Recommended section and the Related apps list don't get you what you're looking for. Our Nokia 5250 came with very little preinstalled content: just a few apps and one game.
Of course, since this is Symbian we are talking about, you can also try some of the numerous software sites online. You can download the apps straight on your phone or on your desktop computer to transfer to the handset later. There are handy tools for reading news, handling social networks, weather forecasts, etc.
A single game only
The Nokia 5250 comes with only one game preinstalled: Guitar Hero 5 Mobile.
Final words
The Nokia 5250 is a phone that expects to impress with nothing but its cheap price. It's hard to think of it as a smartphone really – there's so much missing from the package. It's a Symbian set though and Symbian is the place to go if you're looking for a budget smartphone.
The Nokia 5250 takes austerity seriously and thinks and acts small. Keeping a low profile did work marvelously for Nokia in their first attempts at touchscreen. The pioneer 5800 XpressMusic had its flaws but the competitive price made it a bestseller.
Later on, there were even cheaper phones to succeed it and there were compromises involved all along. It's always been a matter of choice: Wi-Fi or GPS, 5530 or 5230. Now, the Nokia 5250 doesn't even give you a choice. It's the most basic of smartphones, stripped to the bone.
And Nokia clearly didn't think they had removed enough hardware, so they got to work on the software too. You won't get any Office application or widget-rich homescreen, not even a voice recorder. It's an entry-level smartphone and they didn't want to leave any doubt about that.
And the Nokia 5250 sure is cheap but you get to wonder if it's cheap enough. It's up against some of its own siblings and quite a number of dumbphones – some of which have obviously better specs.
Let's get the Nokia phones out of the equation first, For nearly the same amount of cash (yes, the 5230 is clearly overpriced right now) you can get the Nokia 5230. Its specs are the same, except it has a bigger screen, integrated GPS and comes with Ovi Maps free turn-by-turn navigation. Makes little sense really – unless of course these are phones that will never compete on the same markets.
Further up the ladder – but not too far – we find another Symbian sibling. The Nokia 5530 has Wi-Fi connectivity, a 3.2 megapixel autofocus camera with LED flash and a slightly bigger screen.
An attractive candybar option – especially if you're not keen on a touchscreen – is the Sony Ericsson Elm. It has an excellent 5 megapixel camera, 3G, Wi-Fi and GPS connectivity. It's not a smartphone, we know, but for some it may not be a big deal.
If you are into the Android, the LG GT540 Optimus just got upgraded to Android v2.1 Eclair. It will give you a bigger screen, a better camera and a full-connectivity package including Wi-Fi and GPS. The Optimus costs about 30 euro more than the Nokia 5250 (overpriced as it is now).
The Nokia 5250 is a true smartphone, but with its limited feature set, it would hardly make a difference. Its smartphone potential is obviously limited. It's Nokia's way of bringing touch phones to the mass market before a wave of S40 touch phones floods the lower market ranks.
And while it being a smartphone may not be so great, it certainly doesn't hurt. Besides, with the Nokia 5250 you can count on some great build quality, nice audio reproduction and a really loud loudspeaker. And as with most Nokia smartphones, it's going to enjoy proper software support as well. Just wait until the stick it a with a price tag that matches better its feature set.