XpressMusic slimline
Nokia 5310 review: XpressMusic slimline

Phonebook can now hold up to 2000 contacts
The phonebook on Nokia 5310 offers space for up to 2000 contacts. Each contact can be assigned a variety of fields but the phone numbers are limited to 5. First names are separated from last names eliminating problems, which may occur with synchronization. Ringtones can be assigned to each contact. Naturally, you can also assign personal pictures or videos that will run on an incoming call.
The picture displayed is different for incoming and outgoing calls, as it fills the screen when you are on the receiving end of a call, and appears much smaller when you are calling one of your contacts.
There are three available view modes for your contact list: List-of-Names, Name-and-Number and Name-and-Picture. It can display the SIM card contacts, the phone memory contacts or both at the same time.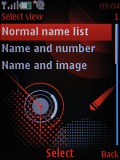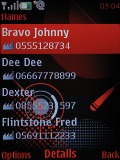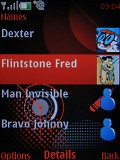 There are three different options for the phonebook looks
The phonebook font size can also be modified, should this be necessary, and it's an option that will surely be widely appreciated. Searching is done by gradual typing of the name of the corresponding contact. And that's not all: contacts can also be organized in groups and these can subsequently be used as call filters.
Another application to mention here is the voice dial: no pre-recording of voice labels is necessary. There is also a training application that helps for better results when using voice commands and/or dialing.
The Call Log in Nokia 5310 also hasn't undergone any significant changes compared to other S40 devices. It can display Dialed, Received and Missed calls separately, as well as all of them together. Every submenu can hold up to 20 call records with their date, time and duration.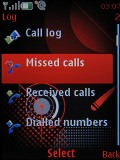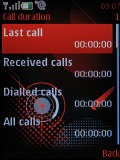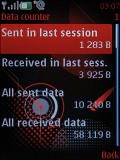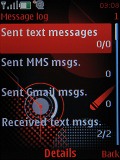 The Call log keeps track on all you communications
Messaging is adequate
The message menu has not changed either. Not that it needs to, as it is organized almost perfectly. Besides standard text messages, Nokia 5310 is capable of receiving and sending EMS, MMS, and email.
The SMS and MMS use one and the same editor and all you need to do in order to turn a regular SMS into an MMS is insert a picture or any other multimedia content. As soon as you activate the editor, it displays a field for entering the number of the recipient, which you can fill through standard typing, select it from the phonebook, from the caller groups, or from the list with the most recent addressees in the call register. There is even the very handy option to select a favorite message contact in case you have frequent correspondence with one and the same person.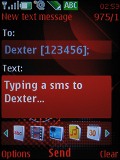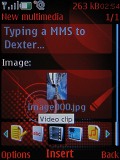 SMS and MMS share the same editor
Everything in the editor is intuitive and is organized in a practical time-saving manner. Once you have inserted the relevant number, a single click will shift to the message body where you can start typing. It goes without saying that the phone also offers a rich T9 dictionary.
Message length is limited to 1000 characters with both the count of typed characters and the number of parts the message will be divided into being displayed constantly. All messages use the shared memory, regardless of their type.
A photo, a contact card, or an event from the calendar can be sent via MMS. MMS size limit for both send and receive is 300 KB. A handy feature is that the phone will automatically scale down pictures for sending via MMS.
The email client is doing its job pretty well meeting most user needs in this aspect. It works with POP3, SMTP, and IMAP4 protocols and supports multiple email boxes.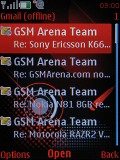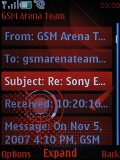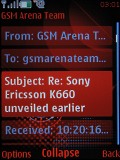 You can hardly want anything more from the native email client
When a message is to be sent, it finds the email address of the corresponding recipient in the phonebook. Sent attachments are not limited in size. Both message headers only and entire messages can be downloaded, depending on your choice.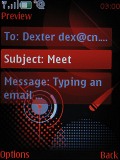 The email editor does its job very well
XpressMusic player has been upgraded
Without doubt, the music player is among the most important applications in Nokia 5310. Therefore it is no wonder that Nokia have made an effort to make it a very good one. Not that they have made any great improvements to the functionality but the new looks are really nice and suit well the overall design of the handset.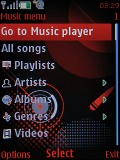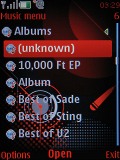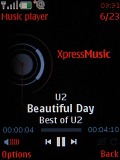 Nokia 5310's elaborate music player
The dedicated music keys are also a boost. They are used for controlling both the music player and the FM radio, with their functionality at a given time depending on the last used application.
Besides managing all the typical functions of a music player, it also sorts songs by artist, album and genre. The player works with MP3, MIDI, AAC, AAC+, and WMA formats. Naturally A2DP profile is supported, allowing listening on Bluetooth wireless earphones. The player is customizable through a number of themes that are at your disposal. These were all quite eye pleasing as you can see from the screen shots.
| | |
| --- | --- |
| "...The music player is among the most important applications in Nokia 5310. Therefore it is no wonder that Nokia have made an effort to make it a very good one. Not that they have made any great improvements to the functionality but the new looks are really nice and suit well the overall design of the handset..." | ADVERTISEMENTS |
If you don't like the headset that comes in the retail package, you can easily change it for another one, as a 3.5mm standard jack is present both on the phone and the remote.
But moving back to the player, we have to say that it offers a large number of configurable options. The sonic experience can be enhanced by an equalizer and a stereo expansion function. There are 8 preset equalizers on Nokia 5310 but you can easily modify them and create new ones.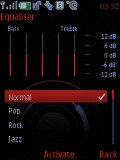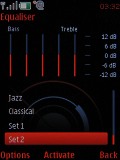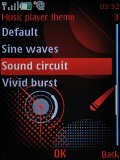 Available equalizers and themes
If you get bored with the music you have preinstalled on your Nokia 5310 you can activate the FM radio. It uses the audio player interface and has the well known functions. The Visual radio application is helpful, as it can download the radio stations in your area and save them to the handset with their names when an internet connection is available. However this might not be necessary as RDS is also supported.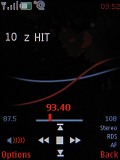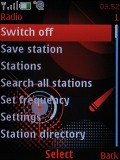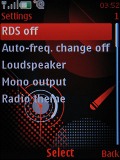 FM radio player interface - RDS is also present this time
The video player of Nokia 5310 is compatible with 3GP and MP4 formats. Videos can be played in fullscreen mode, as well as fast-forwarded or rewound. The possibility to remove the soft key captions to make better use of the full screen view mode also improves the viewing experience.