XpressMusic slimline
Nokia 5310 review: XpressMusic slimline

Web browsers
Nokia 5310 classic has an integrated WAP browser, which also manages HTML pages. No significant changes in functionality have been made and it is identical to the one used in Nokia 6500 classic. Font size modifications are available, as usual. When set at the smallest font, the display visualizes up to 11 text lines. Direct address entering is available too.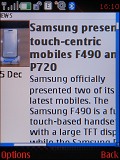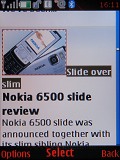 The phone's primary web browser
The browser faces serious competition from another application - the famous Opera Mini Java application. The latter is pre-installed and is definitely a strong nomination for a first choice for browsing the web on Nokia 5310 classic. It is far more intuitive and fits text better than the integrated browser. The browsing experience can hardly be compared to the one on Nokia's smartphones but still is at a more than decent level. We still wished the screen was a little bigger on this occasion.
Organizer is one of Nokia's elements
The organizer brings no novelties either, and, frankly, it doesn't need many. Month, week, and day views are available for the calendar. The week can start on Monday, Sunday, or Saturday. There are five types of events: reminder, meeting, call, birthday and memo. Further, each type of event has its own specific fields like start and end time, type of alert with various advance intervals, daily, weekly, monthly, and yearly repetition.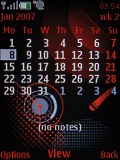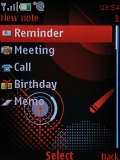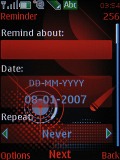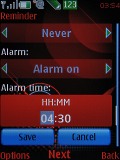 Calendar month view and setting up an event
There is also a handy to-do manager that enables you to categorize tasks in three priority levels. Tasks can be alerted of, as well as marked off once accomplished. They are easily synced with the calendar application.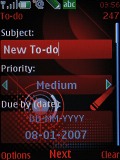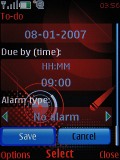 The to-do manager can surely come in handy in organizing your time
Text notes are available as well - their length is limited to 3000 characters. The alarm clock is repeatable; it can be set to go off on any weekday and works even when the phone is switched off. You can also customize the snooze time if you wish.
The other organizing functions available include a voice recorder with a 60-minute length limit, stopwatch, countdown timer and a calculator. They are all easily operable and decently looking.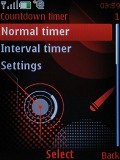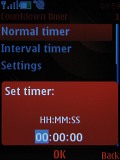 Countdown timer and stopwatch and a unit converter are available
This time the calculator offers two versions - a simple one with the most basic functions and a scientific one, which offers more advanced functions but is rather uncomfortable to use. In addition a loan calculator is also available.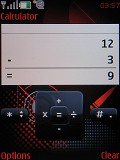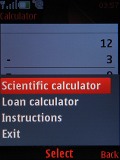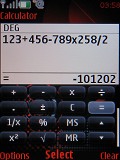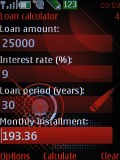 Calculator offers a simple and a scientific version as well as a loan calculator
Applications
Nokia 5310 classic comes with a good number of preinstalled applications outside the organizer too.
Nokia Sensor is an application, used for Bluetooth communication. It allows the user to detect other users who are in the vicinity and to exchange messages with them.
Luckily, the regular unit converter remains and is consistently useful. It offers all kinds of converting options and offers currency conversion too.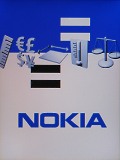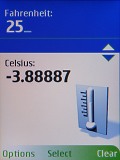 All kinds of conversions are possible with Nokia 5310
The search application helps you find the piece of data you are looking for on you handset, while the download application takes you to the Nokia download center. There you are going to find a lot of useful stuff for your handset.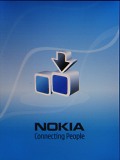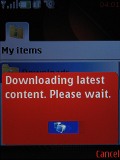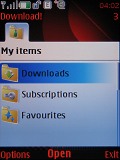 Something for every taste can be found in the Nokia download center
The final application that completes the list is the wallpaper creator, which challenges your imagination to create nice wallpapers for the mobile. Seemed fun at first but on a second thought, we doubt it this one will be put to very frequent use.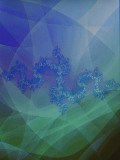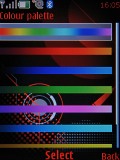 The wallpaper creator allows you to create your very own wallpapers
Let the games begin
Gaming lovers will probably appreciate the preinstalled content, as it includes three games. The City Bloxx game is first in this list. It is a challenge to both brain and reflexes and, as you might know, our team is quite fond of it.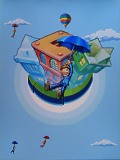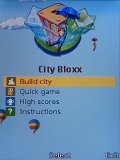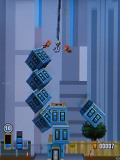 City bloxx game is a challenge to brain and reflexes
Having in mind that this is a music phone, the Music Guess game comes is no surprise. It tests your ability to recognize songs by listening to small parts of them.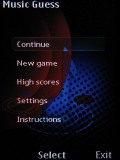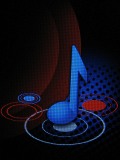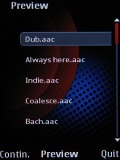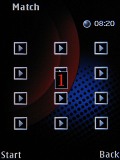 Music guess is a test to your music hearing
Last in line is the Snake III, which hardly needs description. After all it's the trademark game of Nokia handsets.
Conclusion
Summarizing our impressions of the Nokia 5310 we have to admit the phone is quite a pleasure to use. Plus, the good looks are a most welcome perk. Simplicity, affordability and friendly handling are good enough grounds for the mass appeal of Nokia 5310.
| | |
| --- | --- |
| "...Summarizing our impressions of the Nokia 5310 we have to admit the phone is quite a pleasure to use. Plus, the good looks are a most welcome perk. Simplicity, affordability and friendly handling are good enough grounds for the mass appeal of Nokia 5310..." | ADVERTISEMENTS |
However there is enough competition in the thin music phone niche. As we see it, the strongest competitor will be the look-alike Sony Ericsson W880, and there is Sony Ericsson W890 just around the corner. And there's always Samsung and its latest Ultra lineup which has a nice music player and traditionally fare great in our music quality tests.
Other than that all we can say that the Nokia 5310 is well worth it and if you are not in a great need of a better camera it sounds like a great deal.