Winner by design
Nokia 5530 XpressMusic review: Winner by design

Phonebook brings no surprises
Nokia 5530 XpressMusic uses a phonebook that's identical to what previous versions of the UI have offered. Except for the whole touch thingy, that is. The phonebook itself has virtually unlimited capacity and functionality is among the best we've seen. Kinetic scrolling is enabled in the 5530 contact list and that's a welcome enhancement.
Contacts can be freely ordered by first or last name and can naturally be searched by gradual typing of any of the names. You can also set whether the contacts from the SIM card, the phone memory and the service numbers will get displayed.
When searching for a contact you make use of a clever dynamic keypad, which shows you only the letters that correspond to actual contacts. Once you type in a first letter, their number decreases leaving only the ones that actually make up real contacts names (in our case – "E" and "X"). It may sound perplexing but it's a great tool. If Nokia have some name for this search engine, we bet it should be something along the lines of "Smart search" or even "Smart match". If you don't happen to have a name for that one, you guys over at Nokia, feel free to use those - you're welcome.
Editing a contact offers a variety of preset fields and you can replicate each of them as many times as you like. You can also create new fields if you happen to be able to think of one. Personal ringtones and videos are also available for assigning. If you prefer, you may group your contacts and give each group a specific ringtone.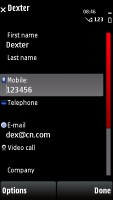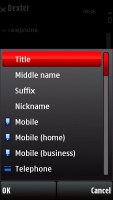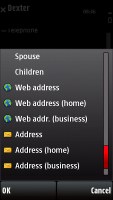 Viewing a contact, editing a contact offers a huge variety of fields
The Call log keeps track of your recent communications. The application itself comes in two flavors - accessed by pressing the Call key on the stand-by screen or from the main menu. The first one brings 20 call records in each of its tabs for outgoing, received and missed calls.
If you access the Log application from the main menu, you'll see a detailed list of all your network communications for the past 30 days. These include messages, calls and data transfers (even WLAN connections are included).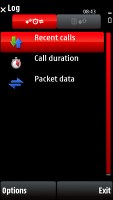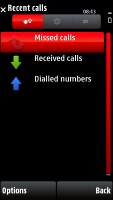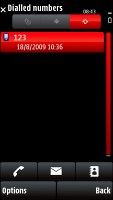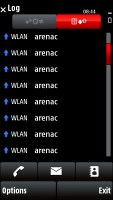 The call log is there to keep track of your communications
Telephony: still no smart-dial
We didn't experience any problems with the in-call performance of 5530 XpressMusic. There is nothing of the earpiece issues that plagued the 5800 XpressMusic at launch. Voice quality is good on both ends of calls, the earpiece is crisp and there were no reception problems whatsoever.
The only real downside is the still missing smart dialing functionality. Some may argue it's not as essential on a touchscreen but most of the competition has it duly covered. Not to mention WinMo devices have a very elaborate smart dial system that even searches in your Calls log for numbers that are not in your contacts list.
Voice dialing is an option with the Nokia 5530 XpressMusic as with mostly any other phone. The voice dialing mode is activated once you press and hold the Call key. It is fully speaker-independent and doesn't require prerecording the names of your contacts. Bear in mind though, that if you have multiple numbers assigned to a contact, the first or the default one gets dialed.
Thanks to the built-in accelerometer, you can silence an incoming call (or an alarm) by simply flipping the handset over. The proximity sensor makes sure the screen turns automatically off when you pick it up to your ear.
Using the hardware screen-lock switch you can not only unlock the phone but also silence it.
We also ran our traditional loudspeaker test on Nokia 5530 XpressMusic. The handset is pretty much on par with the N97 and a bit better than its more capable and expensive predecessor, the 5800 XpressMusic. Subjectively, music sounds great on the 5530 speakers.
| | | | | |
| --- | --- | --- | --- | --- |
| Speakerphone test | Voice, dB | Pink noise/ Music, dB | Ringing phone, dB | Overall score |
| Apple iPhone 3G | 66.1 | 62.1 | 71.7 | Below Average |
| Nokia 5800 XpressMusic | 75.7 | 66.5 | 68.5 | Good |
| Nokia 5530 XpressMusic | 70.6 | 69.7 | 75.7 | Good |
| LG KM900 Arena | 70.9 | 68.2 | 78.3 | Good |
| LG KP500 Cookie | 78.1 | 75.7 | 82.7 | Excellent |
| Samsung S5230 Star | 82.7 | 76.0 | 80.2 | Excellent |
More info on our test can be found here.
Touchscreen messaging quite adequate
The messaging menu hasn't been modified at all compared to what we saw on Nokia 5800. But what needed to be fixed got fixed.
Nokia 5530 XpressMusic supports all common message types - SMS, MMS and email. They all share a common intuitive editor which by this point should be quite familiar to everyone.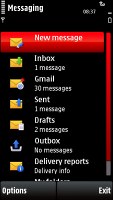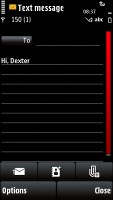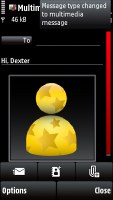 The 5530 XpressMusic uses a common editor for your texts and emails
Nokia 5530 XpressMusic also features the dedicated editor for instant recording of audio messages. Much like with Symbian S60 v3.2 you can either record the message on the spot or use a sound clip from the phone memory. The interface of all the messengers is quite similar too.
Delivery reports can be turned on - they pop up once the message reaches the addressee, and are then saved in a separate folder in the messaging sub-menu.
When you are exiting the message editor without having sent the message, you get prompted to save it in Drafts or discard it.
Here might just be the right time to mention the input options on Nokia 5530 XpressMusic. The handset offers a standard alphanumeric on-screen keypad, which automatically turns into a full QWERTY keyboard when you tilt the handset thanks to the accelerometer. The Nokia 5800 XpressMusic didn't do that at first.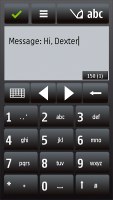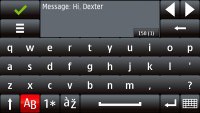 Alphanumeric keypad and QWERTY keyboard
Finally, the Nokia 5530 XpressMusic offers handwriting recognition, which did a rather decent job, recognizing almost all the letters we scribbled in the box. You can improve its performance by taking the handwriting training - where you actually show the handset how you write each different letter.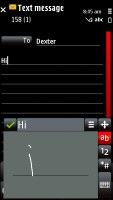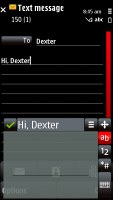 Handwriting recognition worked fine for us
The email client is really nice, there to meet almost any emailing needs. The easy setup we found in the latest Nokia handsets is also available with the 5530 XpressMusic. It has been touched here and there too, so it needs even less input.
If you are using any public email service (it has to be among the over 1000 supported providers), all you have to do is enter your username and password to start enjoying email on the go. The phone downloads all the needed settings to get you going in no time.
Besides, it now prompts choosing whether you prefer POP or IMAP access to mail providers that support both. With the previous version of the email setup wizard that was not configurable. Nicely done!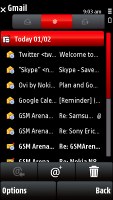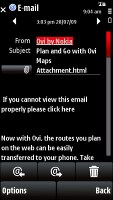 The email client gives no reasons to grudge
Multiple email accounts and various security protocols are supported, so you can bet almost any mail service will run trouble-free on your Nokia 5530 XpressMusic.
The client can download headers only or entire messages, and can be set to automatically check mail at a given interval. A nice feature allows you to schedule sending email next time an internet connection is available. This can save you some data traffic charges since you can use the next available WLAN connection instead.
There is also support for attachments, signatures and generally, you can hardly think of something important that the Nokia 5530 XpressMusic lacks. Furthermore screen resolution and size make reading your emails a better experience than on almost any Eseries handset.