Display
The Nokia 5.1 Plus has a 5.8-inch, 1520x720 resolution IPS LCD. The display has an aspect ratio of 19:9, making it show a bit more content than most other 18:9 phones in this segment.
As far as the display quality is concerned, we really found the Nokia 5.1 Plus to be lacking. First, it's the resolution. A 720p panel just doesn't cut it anymore, especially at this size. The pixel density is sub-par, which gives text a jagged edge.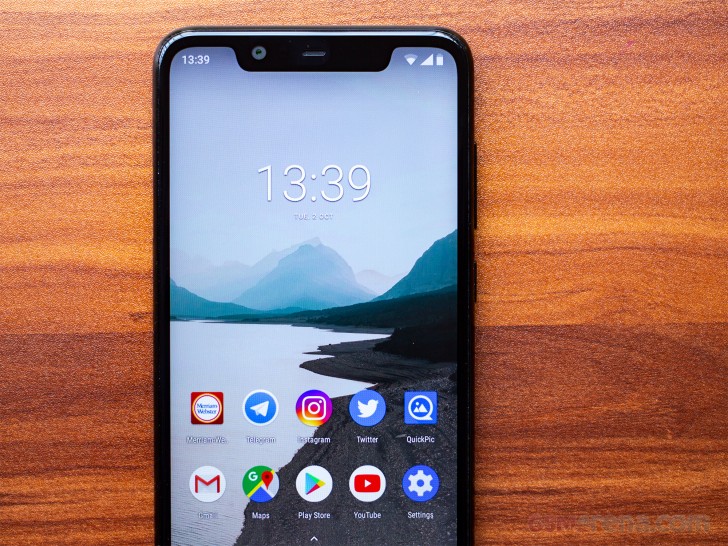 Then there is the color calibration, which is visibly very off. The color temperature is a cool blue, and the rest of the colors are all over the place. Nokia also applies a sharpening filter to any video you play on the phone, which makes looks things even worse. Combine that with the poor color calibration, and even YouTube videos end up looking quite tacky with terrible skin tones.
We found that enabling Night mode and turning it to the lowest level mitigated some of the blue tint of the display and resulted in a much more pleasant color tone. It's still not quite accurate, and whites tend to get a slight red tint, but it looks better than the default settings.
The display also doesn't get very bright and even at its brightest it left us a bit wanting.
Bottom line, this isn't a good display, and in fact, it's very close to being a bad display. We could still live with the low resolution, but Nokia really needs to start taking color calibration seriously. As a bare minimum, it could stop applying an artificial sharpening filter as that never gives a good result.
Battery Life
The Nokia 5.1 Plus has a 3060mAh battery, same as the Nokia 6.1 Plus despite being a larger phone. Having said that, battery life on the Nokia 5.1 Plus was still quite reasonable.
The new MediaTek Helio P60 processor is quite frugal, and the conservative display brightness means you're never guzzling down power particularly fast during regular use. In our usage at least, the phone managed to get through a full day on a single charge.
The phone, unfortunately, lacks a fast charging solution of any kind. But, because the battery isn't particularly large, you can completely charge the phone from flat in exactly two hours even with a 10W charger.
Audio
The Nokia 5.1 Plus has a single, down-firing loudspeaker. The speaker does get pretty loud but also a bit unpleasant towards the top-end so it's best kept at around 70% volume, where it sounds clear and loud enough for things like YouTube videos or podcasts.
The phone also has a headphone jack, which is good as we don't think people who buy phones in this price range would be quite ready to part with extra cash just to get Bluetooth headphones. The phone also makes full use of that port by also including an FM radio.