Your dearest contacts
Nokia 6233 offers 500 contact positions which is a step backwards in comparison to Nokia 6230 and Nokia 6230i which had a phonebook with a capacity of 1000 contacts. According to some, the decreased capacity of the phonebook should be considered a serious drawback, but according to us not many people store more than 500 contacts in their phone. As usual with any Nokia's phonebook, it can be organized in three different views: as a standard list, as a list of names with numbers, or as a list of names with pictures. Searching is performed by typing the first letters of the respective name. The phonebook can be ordered and searched either by first or last name. You can choose a default contact list – the one on the SIM card, the one in the phone's memory or both simultaneously.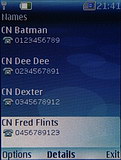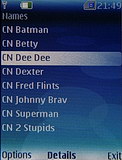 Phonebook: different contacts list views
Contact details can include five types of phone numbers, addresses, notes, a picture, a ringtone, etc. There is a field for entering a contacts birth date but there is no option to transfer it directly to the calendar. A nice feature though is the possibility to use video files as personalized ringing tones for contacts of your choice.
If you prefer not to customize each individual contact, you could organize some contacts into groups and assign ringtones and pictures to the individual groups. When setting the ringing profiles you can select which groups will be able to reach you on the phone – in this way the groups serve as call filters.
You can freely use the voice dial feature of Nokia 6233 for all the contacts since it needs no voice tag recording. If the required contact has more than one number, Nokia 6233 uses the default one after letting you choose for a couple of seconds. It is quite a pity that the number type cannot be selected with an additional voice order.
An interesting option is that besides Voice dial, you can use the Voice commands option which is again speaker independent and can be used for voice control of a total of 16 preset phone functions like turning on or stopping the FM radio, the Infrared port reception, etc.
Someone's logging your calls
The number of missed calls appears in a window on the main display. From here you can get to the corresponding log, where calls from the same number are grouped in one item accompanied by the date and the time of the last executed call. The same principle is applied for dialed and received calls as well. Each folder can fit in up to 20 items. And that is not everything. Nokia 6233 also offers a cumulative Calls Log, in which all call types, including multiple tries are organized in chronological order. You will also find a list of the recent Message recipients, as well as a counter for all sent and received messages.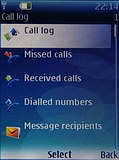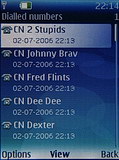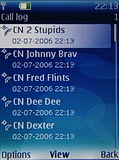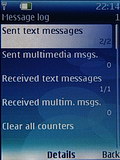 Call log menu • dialled numbers list • call log list • message log
Message me!
Nokia 6233 works with SMS, MMS, emails, and Push-to-talk. In addition, it offers two special types: sound MMS and instant SMS. The instant messages appear directly on the main screen.
When you start a new message, first you are offered the opportunity to enter the recipient's number and then you can start typing your message.
In comparison to previous S40 Nokia phones where the message is started on a single line which get extended further down on the whole display as the message gets longer, this time the place for typing is already stretched onto the whole screen. Messages are sent in the background which is really nice.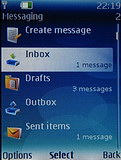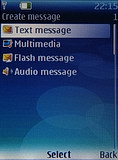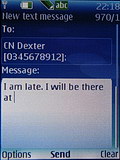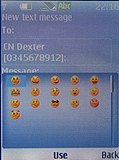 Messaging menu • new SMS message • available graphic emoticons
When asked to type the recipient, you may type their phone number straight away, select it from the phonebook, browse groups, or look it up into the list of people, whom you have recently sent a SMS. The last option is particularly useful as people tend to write messages frequently to a limited group of contacts, which is in this case directly accessible. The editor counts down written characters and informs about the number messages that will be sent. T9 dictionary is also there to assist you and offers an extensive vocabulary.
Notifications about SMS delivery can be activated both individually for separate messages and generally for all outgoing ones. They appear on the display for a while and then get saved into the phone memory. The Delivery reports are stored in a dedicated folder which makes their deleting quite easy when their time has come.
Nokia 6233 features the new version of the MMS editor, which shows you the exact content of the message that the recipient is going to receive. So making previews as in older Series 40 Nokia models is no more necessary. MMS can contain text, a picture, a sound clip, a video record, a business card, and a note from the calendar. Multiple-page MMS are available as well. The email client in Nokia 6233 is a java application and thus takes longer to start; it is generally slower and it is not perfectly compatible with the rest of the applications in the phone. Nevertheless, the email client cannot be considered bad. It has POP3 and IMAP4 support. The email client copies email addresses from the phonebook and works with attachments. At the same time messages cannot be sent from the email field in the phonebook. Automatic download of email message is not available either. The email client offers automatic account configuration for the most popular email services providers but as it turned out with the Gmail it's far than perfect and needs further fine adjustment.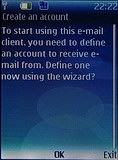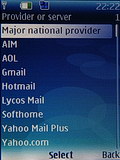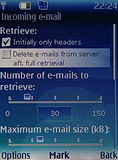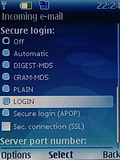 Email account wizard • detailed account settings
There is no limitation in the size of the attachments to be sent. There is, however, a limitation of the size of the attachments that are going to be downloaded from the server. This limitation is user configurable but only up to 300KB. There is also a Spam filter which works by blacklisting the email addresses that you no longer want to receive mail from.