Euro hatch territory
Nokia 6303 classic review: Euro hatch territory

A super fit phonebook
The phonebook of the Nokia 6303 classic stores up to 2000 contacts and that sounds more than enough. Each contact can be assigned a variety of fields but the phone numbers are limited to 5. First names are separated from last names, eliminating problems which may occur with synchronization. Ringtones can be assigned to each contact.
Naturally, you can also assign personal pictures or videos that will run on an incoming call. Caller image is different for incoming and outgoing calls. It fills the screen when you are on the receiving end of a call, and appears much smaller when you are calling one of your contacts.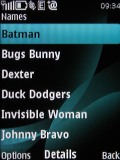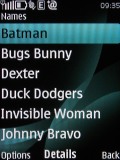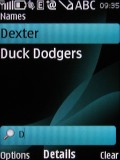 The difference between normal and large font • the phonebook can be searched by gradual typing
There are three available view modes for your contact list: Normal Name List, Name-and-Number and Name-and-Image. It can display the SIM card contacts, the phone memory contacts or both at once. Contacts can be ordered by either first or last name.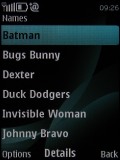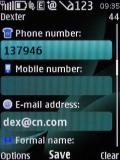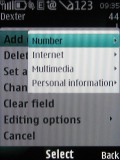 Some of the available fields when editing a contact
The phonebook font size can be either normal or large, and it's an option that will surely be appreciated. The bigger font fits just as many contacts on the screen by leaving a smaller gap between the lines. And lastly, the well-known grouping option is also present. This means that contacts can also be organized in groups and these can subsequently be used as call filters.
Another application to mention here is the voice dial: no pre-recording of voice labels is necessary.
A nice extra is the Find-on-Map option which locates the contact's address on the new Ovi Maps for S40 application if it is entered correctly.
The Call Log on the Nokia 6303 classic is the well-known S40 application. It can display Dialed, Received and Missed calls separately, as well as all of them in bulk. Every submenu can hold up to 20 call records with their date, time and duration.
Telephony is crystal-clear
Signal reception and in-call sound cause no concerns with the Nokia 6303 classic. Like almost all current S40 midrange phones this one also features Voice Clarity which is another way of saying that it applies some sort of background noise suppression during calls.
Sound is loud and clear on both ends and you will have zero trouble with your calls. Vibration strength on the 6303 classic is very good too.
Nokia has not included any Smart dialing features, so typing a number would give you the "helpful" option to start a countdown timer (interpreting the numbers as hours, minutes and seconds) but won't search through your contacts.
We carried out our traditional loudspeaker test to find out Nokia 6303 classic is an average performer. You can't count on getting just everything in noisier environments, and calm and subdued ringtones surely won't do. You can find more details about our test, as well as the results of all other tested handsets here.
| | | | | |
| --- | --- | --- | --- | --- |
| Speakerphone test | Voice, dB | Pink noise/ Music, dB | Ringing phone, dB | Overall score |
| Nokia 6600 slide | 66.7 | 66.6 | 64.6 | Below Average |
| Nokia 6303 classic | 67.9 | 65.3 | 72.3 | Average |
| Samsung U600 | 67.7 | 66.2 | 75.3 | Good |
| Nokia 3600 slide | 67.7 | 66.7 | 75.7 | Good |
| Nokia 6500 slide | 74.2 | 72.8 | 78.2 | Very Good |
| Samsung M3200 Beat s | 76.1 | 78.3 | 84.7 | Excellent |
Messaging is great
The messaging department is quite up to the task. The Nokia 6303 classic is capable of handling all the common message types including SMS, MMS and email, as well as flash and audio messages.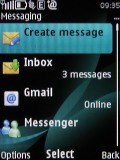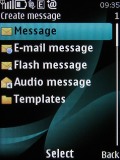 The messaging department • Message formats
SMS, MMS use one and the same editor and all you need to do to turn a regular SMS into MMS is insert some kind of multimedia content. As soon as you activate the editor, it displays a field for entering the number of the recipient, which you can fill by simple typing, select it from the phonebook, from the caller groups, or from the list with the most recent addressees in the call register. There is even the very handy option to define a favorite message contact. One is all you get.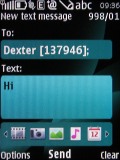 Typing a SMS/MMS message is a nice experience with the Nokia 6303 classic
Everything in the editor is intuitive and organized in a practical time-saving manner. You enter a few letters of a contact's name and then click match. This brings up a list of matching contacts and selecting one prompts you to choose either a mobile number or an email address, then it will shift to the message body automatically where you can start typing. The T9 dictionary and the handy delivery reports go without saying.
Message length is limited to 1000 characters with both the count of typed characters and the number of parts the message will break down into displayed on the screen. All messages use the shared memory, regardless of their type. A photo, a contact card, or an event from the calendar can be sent via MMS.
Audio messages have a separate editor, which can either record the message on the fly or use a previously recorded sound clip.
Email goes too
The email client does pretty well to meet most user needs. It works with POP3, SMTP, and IMAP4 protocols and supports multiple email accounts. The email client supports SSL, which enables it to handle a Gmail account for example.
Setting up the email client was extremely easy. It just required an email address and entering and confirming the password, the 6303 classic took care of the rest.
When a message is to be sent, it finds the email address of the corresponding recipient in the phonebook. Either message headers only or entire messages can be downloaded by default, depending on your choice.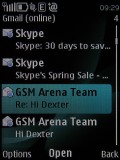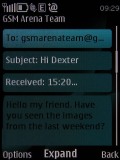 The native email client is more than good • A variety of files can be mailed as attachments