Applications
Nokia 6600 slide comes with a good number of preinstalled applications outside the organizer too. The consistently useful unit convertor is first in the list of additional applications. It offers all kinds of converting options and, if provided with enough information about the rates, offers currency conversion too.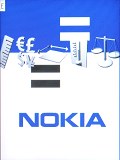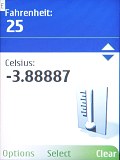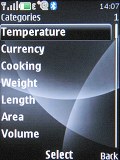 The unit converter is really nice
The Download! application follows, which directly connects to the Nokia download center, where you can find a lot of downloadable content for you phone, most of it free of charge.
The Search application is a built-in Yahoo! Search piece of software. After setting the country or region you can conduct web search for images and other information. The 20 most relevant search results are returned to your phone upon request. Find out more about the Search at nokia.com
Nokia WidSets are mini applications, which bring favorite web content to your mobile phone. The Java based service is offered by Widsets.com and it can work on every regular Java phone as well. Among the most popular widgets are the mobile versions of YouTube, Flickr, Ebay, Wikipedia, IMDb, and various weather forecast and news services.
Another handy piece of software is the Presenter. It allows you to wirelessly control PowerPoint presentations and a few other Windows applications.
The final featured application is World clock for checking the time in any time zone at the cost of only a few clicks.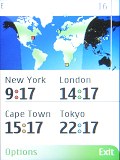 World clock applications is well familiar
Nokia Maps for S40
Nokia Maps has finally arrived on select S40 devices and the Nokia 6600 slide is one of the handsets to feature it. Among the things you can do without a GPS receiver is browse maps, look up addresses and locations, and plan routes.
With the Map Loader application for PC you can download map data to a compatible computer, and transfer it to your device to save on data charges.
Nokia Maps offers straightforward route planning. Having entered a start point and a destination, the application will plan your route with easy-to-follow directions to where you're heading.
If you pair the phone with a Bluetooth GPS unit, it turns into a full-fledged navigation decice. Furthermore, turn-by-turn visual and voice guidance are available upon purchasing a navigation license.
Putting down some Landmarks while you're on the go, or saving locations in the Favorites section is another available option. Favorites contents can also be exported/sent via MMS, which is a nice extra too.
Games
Classic board game fans will be glad to find Backgammon II on the Nokia 6600 slide. It is a nice Java interpretation of the popular game. Snake is essential to Nokia phones, its presence in Nokia 6600 slide is barely a surprise.
Next two games in line are the sport simulation Golf Tour and the Java version of the popular Japanese game Sudoku. All the games have decent graphics and are comparatively easy to play.
Highroller Casino, Rally 3D and Soccer 3D are the other three titles Nokia 6600 slide offers.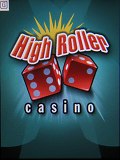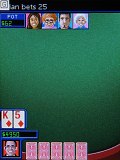 High Roller casino will be appreciated by gambling fans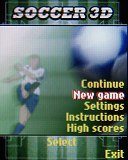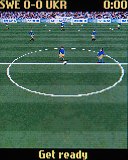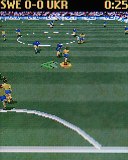 We are not particularly impressed with the gameplay of Soccer 3D
Conclusion
To wrap it up, Nokia 6600 slide rounds off a nice little family get-together. It's a neat cross-section of the Nokia midrange from the basic comfort of the 3600 slide through the exquisite elegance of the 6600 flip. With some 6500 slide and classic in the distant background, Nokia 6600 slide is put right in the middle of a rich tale of family ties and heritage.
To begin with, 6600 slide tops the 3600 slide right where it counts: screen estate, 3G and looks. So, we guess, it's a point won for the 6600 slide.
The compact and suave slider is a good match for the outlandish charm of the 6600 fold. The 6600 pair does well to achieve cohesion and distinct identity but we can't help the thought that the specific targeting of the girly flip makes it a little bit more focused. Not to mention that it's a lot easier for the 6600 fold to get away with being overpriced.
So, we end up exactly where we were with the 6500 classic / 6500 slide duo. One is outspokenly driven by looks, the other tries to bring an extra dimension of skill but ends up harder to define and exposed to a lot more pressure.