Ovi Share and Contacts
We'll have a look at Ovi Maps in the next section, but first we'll take a look at its sibling services - Ovi Share and Ovi contacts.
Ovi Share allows you to share images, video and audio files. This type of service has become very popular and Ovi Share is Nokia's way of getting its foot in the door. It's free and you have access to unlimited storage. After a quick sign-up process, selecting files for uploading is easy.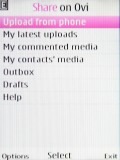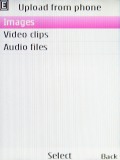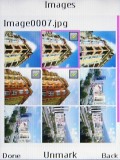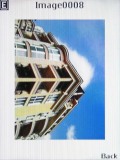 Main menu • uploading a file • viewing an uploaded file
This app is somewhat limited though in that you can only browse your and your friends' uploads. For general browsing you'd need a web browser (the built-in one works quite well). Bear in mind that even 3 megapixel photos can cost you quite a lot at the end of the month if you're not on an unlimited data plan.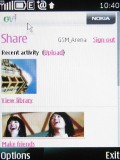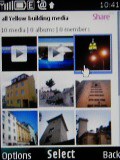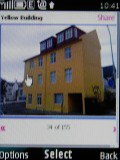 Ovi Share in the built-in browser
Ovi Contacts goes about giving you access to another of the Internet's most time-consuming services - instant messaging. Ovi contacts integrates tightly with the phonebook as a new tab and offers an IM client with a twist. You can search for people already registered with Ovi or send an invitation to anybody using Gmail since the Ovi contacts supports G-Talk, Google's own IM, as well.
Thanks to this service you will be able to chat in real time with all your Ovi/Google Talk-connected contacts, change your status messages and mood, and all that kind of social networking stuff.
In addition you can even go as far as sharing your GPS location so your friends can see immediately where you are at that particular moment. Or you can share the name and the artist of the track you are currently listening to.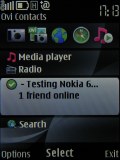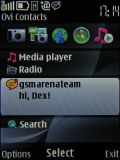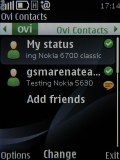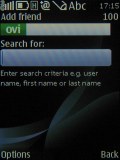 Ovi Contacts is a very capable IM client
All this is fine and dandy but here's the stumbling block - S40 still doesn't have multitasking. And since Ovi Contacts is a Java app rather than a native one, you can give up any hopes of switching between it and the rest of the interface.
Nokia have rigged a way around this - you have the option to remain online when you quit the app and new messages show up as notifications on the screen. Choosing to reply starts the Contacts app.
The homescreen has a pleasant surprise - you can put Contacts on the homescreen, which shows the number of friends online and even a message when you receive one, complete with sound notifications for a contact comming online or receiving.
We say that Nokia "rigged" the solution because it's far from perfect - if you receive a longer message you can only see part of it on the screen, reading the entire message requires launching the app. It's just a click away but it takes a few seconds for Contacts to start. If you want to delete a friend from the Contacts tab in the phonebook (that is, not from the app), then the application starts, asks you if you're sure you want to delete the contact and then closes again. All this back and forth just to get around the lack of multitasking.
Ovi Maps for S40
Ovi Maps is a Nokia Maps rebrand. The whole thing is part of Nokia's integration of all their services into one. As for the app itself, it's more simplistic than the one on, say, the N86 8MP - no 3D view, no way to view satellite maps, no traffic information or city guides Maps allows you to browse maps, look up addresses and plan routes. The built-in GPS in the 6700 classic turns it into more than an electronic version of a paper map. It will offer you voice guided, turn-by-turn navigation in several languages - English, French, Italian, Spanish, Portuguese and Russian come preinstalled and there's plenty of others which you can download.
An important note - it's not a free lunch, rather a 3 month trial. After that you'd need to purchase a license if you want to continue using the voice guided navigation.
With the Map Loader application for PC you can download map data to a compatible computer and transfer it to your device to save on data charges.
Ovi Maps offers straightforward route planning. Having entered a start point and a destination, the application will plan your route with easy-to-follow directions to where you're heading.
The route planning algorithm is also rather easy to customize to best suit your preferences. Toll roads, motorways, bridges and tunnels can be avoided and so can tunnels and ferries. Route selection can be set to either fastest or shortest. The app cannot be used for pedestrian navigation, but you can switch the GPS receiver off and use the phone as a hand-held map.
Saving locations in the Favorites section is another available option. The contents of Favorites can have different icons and can also be exported/sent via MMS, which is a nice extra.
The 6700 classic was unable to get a satellite lock after several minutes, so we had to turn on the A-GPS option to give it a push in the right direction.