Destination: Anywhere
Nokia 6710 Navigator review: Destination: Anywhere

XpressMusic-like music player
The music player on the 6710 is on a par with other recent Symbian devices - even the XpressMusic ones. It has a huge number of supported audio formats, including MP3, AAC, eAAC+ and WMA.
Quite naturally, the player can also be minimized to play in background. In this case it appears over the calendar section of the stand-by screen and indicates the currently running track. You can have the power saver mode display the title of the song too.
The one thing we really would have liked is if you were able to scroll through the song using the touch-sensitive bar, it'd have been a lot easier than using the keys.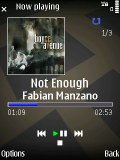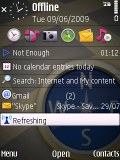 The music player "Now playing" interface • song info on the homescreen
Sorting your songs by artist, album, genre and composer is automatic and searching tracks by gradual typing of the desired name is also available. Tracks are transferred to Nokia 6710 via Bluetooth, USB or by simple download. You can also use a card reader for that purpose and transfer them directly to your memory card.
Upon completing a USB transfer, or inserting a card, the phone automatically prompts to scan for new music tracks and, if allowed to do so, adds the new ones to the music library. The player comes with five equalizer presets and, should they seem insufficient, you can edit them or create new ones in a matter of seconds.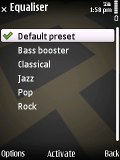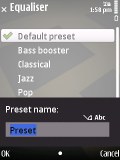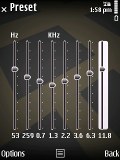 Six equalizer presets are available • creating a new one
The Nokia 6710 Navigator also features an innovative feature called Say and Play. By using the phone's built-in speaker independent voice recognition, it allows you to play any stored track by simply saying the title or artist.
The Nokia Say and Play feature currently supports English and the pre-installed UI languages. However it should be able to pick up titles in any languages if they are pronounced in an English manner or with UI language pronunciation.
To search the tracks, the Say and Play features uses the metadata embedded into the tracks. If no metadata is stored, the handset will create ones based on the filename.
Excellent audio output
The audio quality of Nokia handsets has been steadily improving ever since we started doing our test. The Nokia 6710 Navigator is seemingly the next step forward with an audio output that can easily rival even music-oriented handsets and dedicated music players. All the readings in our traditional test are great, with not a single weak link.
Having already acquired quite a large database of tested handsets we can safely conclude that they don't get much better than the Nokia 6710 Navigator. From the near-perfect frequency response, through the great noise level and dynamic range to the wonderfully well kept under-control distortion - it's all great.
Take a look at the results and see for yourselves. Also as you can see from the graph below the Nokia 6720 classic also flaunts an almost flawless frequency response, remaining within only 0.27 of the perfect line throughout the range.
| | | | | | | |
| --- | --- | --- | --- | --- | --- | --- |
| Test | Frequency response | Noise level | Dynamic range | THD | IMD + Noise | Stereo crosstalk |
| Nokia 6710 Navigator | +0.05, -0.27 | -89.6 | 89.6 | 0.0074 | 0.021 | -89.5 |
| Nokia 6720 classic | +0.05, -0.24 | -89.0 | 88.7 | 0.0051 | 0.019 | -89.1 |
| Nokia N79 | +0.30, -1.57 | -91.8 | 91.8 | 0.014 | 0.482 | -73.5 |
| Nokia 5630 XpressMusic | +0.13, -0.26 | -94.0 | 94.8 | 0.466 | 0.876 | -97.3 |
| Nokia 6220 classic | +0.68, -0.83 | -75.4 | 75.1 | 0.0081 | 0.051 | -74.0 |
| Nokia 5800 XpressMusic | +0.09, -0.77 | -92.2 | 92.1 | 0.013 | 0.297 | -75.0 |
| Apple iPod Touch 2G | +0.04, -0.05 | -91.4 | 91.5 | 0.0027 | 0.012 | -90.0 |
| Apple iPhone 3GS | +0.01, -0.05 | -92.1 | 92.1 | 0.0035 | 0.011 | -95.0 |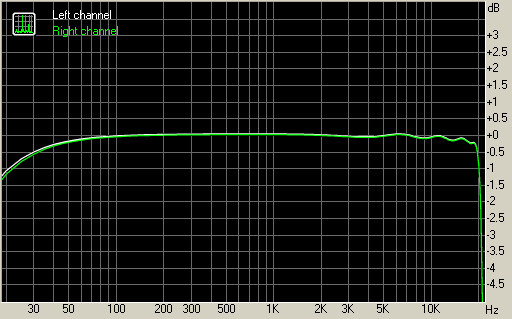 Nokia 6710 Navigator frequency response graph
You can learn more about the whole testing process here.
Video player is Real
Nokia 6710 features Real player for playing your video clips and the video player can be displayed in both normal and fullscreen modes. When in full screen, the softkey functions are hidden so that they don't spoil the viewing experience and only pop up when a key is pressed.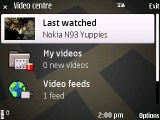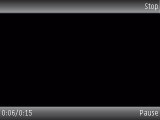 Video center and the Real Player interface
There's a so-called video center, which doubles some of the functionality of the Gallery but also has the ability to download videos from video feeds.
With such a small screen though, video playback is not this phone's strongest suit. And just to emphasize that, if you want DivX/XviD playback you'll need to install a third-party player.
There's FM radio with RDS too
The FM radio on Nokia 6710 has a nice simple interface and can automatically scan and save the available stations in your area. RDS support is included and the Visual radio is also on-board. If internet connection is available, the Visual radio application can download all the local stations and save them to the handset with their names.