Smartphone have been advancing in computational photography so quickly over the last few years, and the leaders in this space are Google, Huawei, and Apple, all of which have made some really good progress with the help of software to produce some really excellent photos with lots of detail and excellent exposure.
Leading up to MWC, Nokia's social media chief, Edoardo Cassina has posted an image shot by a Finnish professional photographer, Konsta Punkka. The photographer also posted the image, which shows exactly what the Nokia 9 and its heavily rumored five-camera phone could be capable of.
Of course any image posted to Instagram is automatically subjected to all kinds of compression, but there still some things we can take away from the photo. First of all, this is a beautiful shot in terms of composition and timing of the sun setting over the mountains. The dark clouds add an extra level of depth and balances out the darkness throughout the scene.
More importantly than the composition, it is very difficult to capture this shot with any old smartphone because of all the exposures at play. The sun is shining directly into the camera as it sets over the mountains but we can somehow still see details in the shadows of the mountain peaks and we don't see the area where the sun is totally whited out either.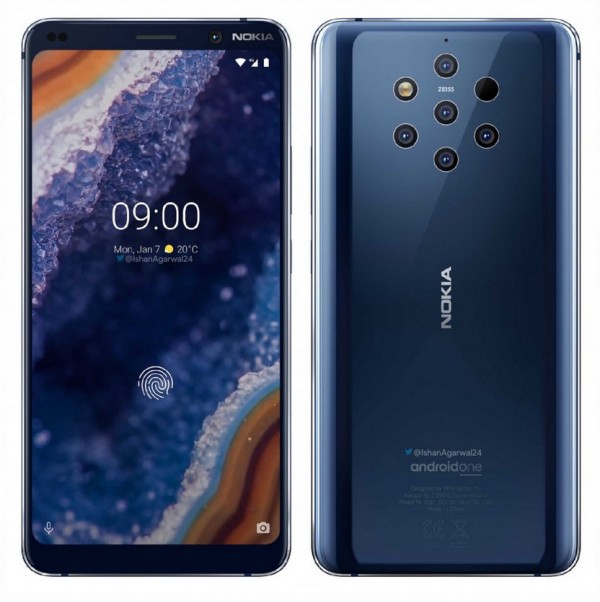 Leaked official render of the Nokia 9 PureView
Although the post says that the photo is indeed edited on the same phone it was shot with, we wonder what kind of app was used to achieve this. The Nokia 9 must be able to pull large amounts of information from a scene and perhaps being able to capture in RAW would achieve this level of detail. This phone must be crazy good with high-dynamic range situations.
We still don't know any specifics about whether the Nokia 9 uses zoom or wide cameras and whether any combination of them was used to take this photo. In any case, we're really excited to see what more this camera will be capable of once it is announced this Sunday during Nokia's Mobile World Congress announcement event. It will take place at 4PM local time in Barcelona, Spain.
What an awesome photo. All competitors can go nuts for sure. If Mi9 scored 107 DOXmark test and has been said its best camera phone out yet i really wonder how much this will have.
ADVERTISEMENTS