One step at a time
Nokia Asha 503 review: One step at a time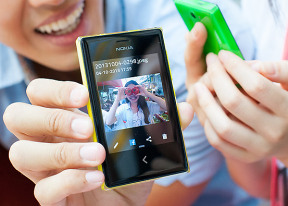 Useful image gallery
The gallery on the Nokia Asha 503 has two tabs - the all captured tab, which holds all the images and videos you've captured with the Asha 503 and the folder view, which gives you the captured, favorites, modified and received.
Images are shown in a grid of three by three that is vertically scrollable. You can pinch to zoom on images but strangely double-tap doesn't work here. You can also share photos via email or Bluetooth and edit them. Editing options include rotating, flipping, cropping, lighting and contrast adjustment and adding color effects. The edited images go into the Modified folder.
You can set images as wallpapers, add them to favorites, see details and start a slideshow from the pull-up context menu.
Nice music player
The Nokia Asha 503's music player has a neat interface and starts up with album art on top of the available sorting options: songs, artists, albums and playlists. There's no folder view and no additional settings for sound, such as an equalizer.
The now playing screen shows the timeline, album art, track and artist name, along with four toggles - skip, FF, play/pause and a home icon which takes you back to the start screen. The now playing screen features a pull-up context menu from the bottom of the screen, which gives you options to fav a song, shuffle, repeat and share.
The song will keep playing even if you exit the player - you get a shortcut in the Fastlane and on the lockscreen with play-pause-skip controls readily available.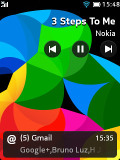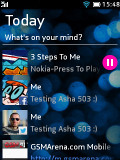 Music controls in lockscreen and Fastlane
A tiny video player
There is a dedicated video app that has all of your videos in a scrollable list of thumbnails. You can share, delete or view detailed information from the swipe-able menu at the bottom of the screen.
The Asha 503 is capable of playing 3GP/MP4/Xvid/DivX videos up to VGA resolution, but you can experience some hiccups with the audio if the bitrate is higher than the phone can handle.
The Now Playing screen offers very basic user interface with just a Play/Pause button and a scrubber.
Stereo FM radio with RDS
The FM radio on Nokia Asha 503 comes with a neat and simple interface. You can change stations with the dedicated controls on both sides of the centered tool for manual station tuning.
At the bottom there are three controls - a star to fav a station, play from speaker and a list of your favorite stations.
Just like with the music player, the FM radio will keep playing when you exit the app - you get a shortcut in the Fastlane and on the lockscreen with the station information and an off switch.
Audio quality good for the class
With no resistance applied to its line-out (when used with an active external amplifier), the Nokia Asha 503 does decently well, achieving very good scores and garnishing them with high volume levels.
Plugging in a pair of headphones leads to spikes in intermodulation distortion and stereo crosstalk as well as a rather big drop in volume levels. Overall, the Asha 503 retains its output better than its Asha 501 sibling, though and while it's certainly not the most talented portable music player around, it does as well as you could expect given its modest price tag.
And here come the full results so you can see for yourselves:
| | | | | | | |
| --- | --- | --- | --- | --- | --- | --- |
| Test | Frequency response | Noise level | Dynamic range | THD | IMD + Noise | Stereo crosstalk |
| Nokia Asha 503 | +0.14, -0.34 | -88.3 | 88.2 | 0.027 | 0.036 | -82.1 |
| Nokia Asha 503 (headphones attached) | +0.71, -0.53 | -87.8 | 87.9 | 0.021 | 0.464 | -50.6 |
| Nokia Asha 501 | +0.21, -0.27 | -80.4 | 81.4 | 0.034 | 0.049 | -82.3 |
| Nokia Asha 501 (headphones attached) | +0.79, -0.33 | -80.6 | 81.6 | 0.034 | 1.001 | -53.6 |
| Nokia Asha 308 | +0.17, -1.69 | -81.5 | 81.5 | 0.028 | 0.048 | -78.2 |
| Nokia Asha 308 (headphones attached) | +0.67, -1.83 | -81.9 | 82.0 | 0.039 | 1.172 | -58.5 |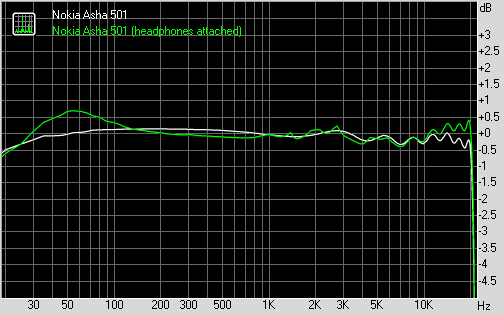 Nokia Asha 503 frequency response
You can learn more about the whole testing process here.