The missing link
Nokia C3-01 Touch and Type review: The missing link

Organizer and apps
The organizer on the Nokia C3-01 Touch and Type is well stocked as usual and things have been touch optimized.
The Calendar starts off with the month view – when you press and hold, a bigger number will pop up just above your finger so you can aim easier.
When there's an event on that date, the event description will pop up instead (it's not visible otherwise, just like on the old S40 version).
Day view is also available, but strangely, week view has gone missing. You have various kinds of events available – reminder, meeting call, birthday, anniversary and memo.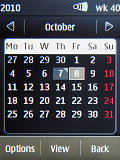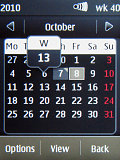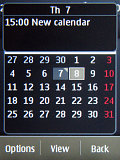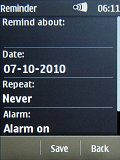 Calendar month and day view modes • setting up an event
The alarm app is brand new too – the big, touchable numbers make it easy to set and you can make it ring only on specific days. You can customize the snooze time too, but there's only one alarm available.
The other organizing functions available include a voice recorder with a 60-minute limit, a stopwatch and a countdown timer. They have been touch optimized as well, though we wish the countdown timer used the same big numbers as the Alarm clock.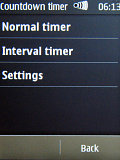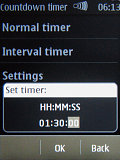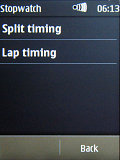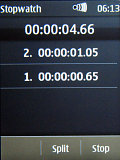 Countdown timer and stopwatch are available
The Nokia C3-01 calculator offers two versions - basic and advanced. In addition, a loan calculator is also available. It's now easier to use as you can directly tap the functions instead of having to scroll and select them with the D-pad.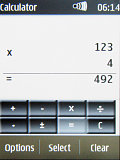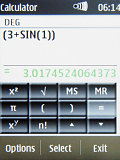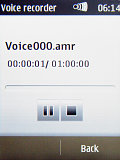 The calculator: basic and scientific • voice recorder
The C3-01 comes with two converters – one for general measurements and one for clothes. The first one is excellent – it has a long list of supported conversions and you can add your own. The Size converter for clothes is essential for shopping abroad but it's not quite as optimized for the platform. You have to enter a size then tap OK, then tap the result to see the info – too many taps considering the flexibility a touchscreen offers. Anyway, it's an application specific issue.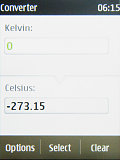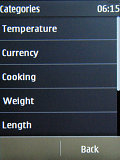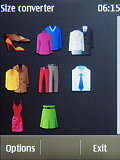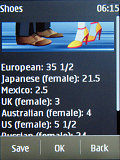 The unit converter is quite good • the size converter is great for shopping abroad
The Search application offers Google Search or Bing Search initially, though other search engines might be available depending on your country and region. Searching launches the web browser – you'd probably be better off using the Opera Mini 5 search bar.
The World clock can tell the time in up to four cities. It offers a long list of cities, but there's no search (so you have to scroll a lot for, say, Washington) and you can't just tap on the map either.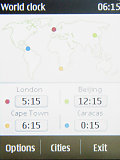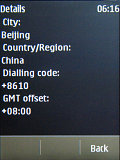 World clock applications is well familiar
The last preinstalled app is Shazam – a music recognition service. Unfortunately, you only get a 30-day trial version.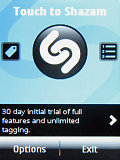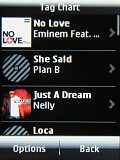 Shazam music recognition app is just a trial version
Google Maps was not preinstalled, but we tried it anyway. It installed just fine, but it expected keyboard controls, which we couldn't use – the Nokia C3-01 Touch and Type has neither D-pad nor softkeys. We tried cheating and downloaded the touch version for the Samsung S8000 Jet off getjar.com, but that got us nowhere either.