Video player does the job
Nokia C5 features Real player (as Symbian phones typically do). You can browse and watch your videos in the gallery, file manager and the Video Centre – they'll be handled by the Real player either way, the only difference will be in the layout and the browsing experience.
With such a small screen though, video playback is not this phone's strongest suit. And to confirm that, you'll need to install a third-party player if you want some taste of DivX/XviD video.
FM radio with RDS and Visual radio
The FM radio on Nokia C5 has a nice simple interface and can automatically scan and save the available stations in your area. RDS support is included and the Visual radio is also on-board.
Great image gallery
The image gallery is the same as in N-Series phones and looks great. The speed of photo browsing increases if you press and hold the direction buttons on the D-pad. This allows quick skipping of tons of files if you're not in the habit of sorting out your memory card regularly.
Unlike, say, the Nokia N85, zooming here is very speedy, thanks to the zippy 600MHz processor. It does slow down a bit when you get over 100% but it will go up to 400% zoom. Zooming is done in small increments (about 10%) and panning is quite fast too.
3 megapixels of fixed focus
The Nokia C5 is equipped with a 3 megapixel fixed-focus camera with a maximum image resolution of 2048 x 1536 pixels. It has a LED flash but no lens protection whatsoever. This means that the glass covering the lens is prone to finger smudges and perhaps the occasional scratches.
As far as settings go, the camera on C5 is limited, although it offers several scene presets, one of which is user defined. There's limited control over light sensitivity (it has low, medium, high and auto settings) as well as some control over sharpness and contrast.
The bar on the right side of the screen hosts a set of shortcuts to various camera settings. You can add and remove shortcuts so you can have quick access to the settings that matter to you – adding to a total of 16 viewfinder shortcuts.
The rest of the settings include flash control, self-timer (2, 10, 20 seconds), night mode, automatic panorama mode and multi shot.
There's also a Sequence mode to let you capture consecutive images at a predefined interval (from 10 seconds to 30 minutes).
Obviously there aren't any fancy features such as face and smile detection or dynamic range control. Sadly, there is no autofocus either (so, close-ups are a no-go for the C5). The image quality is good overall, with decent levels of detail for a 3MP shooter. There's little noise in well lit areas and the contrast is good. However, the sharpening algorithm gets overzealous, which results in artifacts, and there is some greenish tint on the photos as a result of wrong white balance settings.
Synthetic resolution
We also snapped our resolution chart with the C5. You can check out what that test is all about here.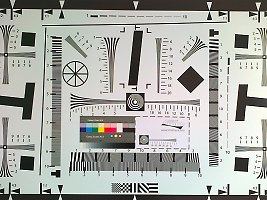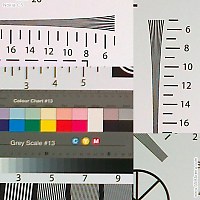 Nokia C5 resolution chart photo • 100% crops
Video recording
As for video recording, the Nokia C5 shoots in VGA resolution at 15 fps. Videos are MPEG-4 encoded. Although the specs sound decent, the quality is quite poor actually. The modest frame-rate takes the sizzle out of the high enough VGA resolution and makes the videos unsuitable for viewing on a larger screen.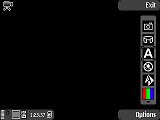 Video recorder interface