Good connectivity
Data transfer options are numerous on the Nokia C5. Every common network data transfer medium is supported and so are USB 2.0 and Bluetooth 2.0 with A2DP. The C5 also packs an inbuilt GPS receiver and support for HSDPA and HSUPA. The only prominent absence is, sadly, Wi-Fi.
There's a microSD card slot and it's hot swappable – even if quite tricky to actually pull the card out. We tested the Nokia C5 with a 16GB card and it worked just fine.
Audiophiles are in luck too: the C5 sports a 3.5mm audio jack.
The browser is top but the screen is… flop
Browsing the internet on the Nokia C5, like with all Nokia smartphones, is a pleasant experience. Even the most elaborate pages are rendered well and finding your way around is a piece of cake.
The virtual mouse cursor earns the browser a point as it is easy to control and generally works great. A mini-map can be activated to help you find your way around large sites where lots of scrolling is required. The zoom level is also easily adjustable and searching for text on a page is straightforward.
The large amount of RAM (128MB in this case) is surely one of the best things that could happen to the browser, as it is clearly one of the most RAM-intensive applications. Now, even if you load very heavy web pages and have a few applications running in the background, you are extremely unlikely to run out of free RAM on the Nokia C5.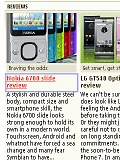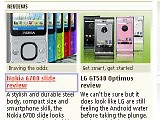 The very good web browser downed by the small display
The web browser also has full support for Flash and Java so you should have no problem with this kind of content on the Internet. YouTube videos embedded in webpages can even be set to play fullscreen, which is a nice option since otherwise they rarely fit onto a QVGA screen. Since the C5 lacks an inbuilt accelerometer you'll need to rotate the videos manually.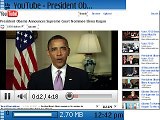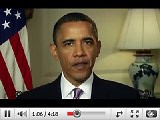 YouTube video playing in the browser • the video playing in fullscreen
The setback of the Nokia C5 web browser is the small display. Only 2.2 inches means the smallest fonts aren't always readable and you have to go for larger ones. This in turn limits the amount of text that can fit on screen and will force you to scroll even more.
Organizer and apps
The time-management skills of Nokia C5, like most other Symbian handsets, are really good. Just name the application and you can bet the handset has it.
We start exploring the rich application package with the calendar. It has five different types of view - monthly, weekly, daily, Agenda and To-do, and five types of events available for setting up – Meeting, Meeting request, Memo, Anniversary and To-do. Every event has its own unique fields, and some of them allow an alarm to be activated at a preset time to act as a reminder.
Mobile office is also very well supported with preinstalled applications able to view Word, Excel, PowerPoint and PDF files seamlessly. Editing documents is not supported out of the box, but hey, we're not talking Eseries here.
If you would like editing enabled you will have to purchase the complete application at the Nokia Download center. The final ingredient here is the included ZIP manager, which allows extracting archived files straight on your phone.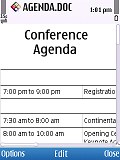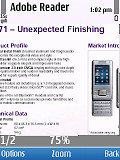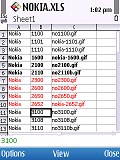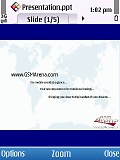 Nokia C5 handles .doc .xls .ppt and .pdf files seemlessly
The C5 sports a great unit converter, calculator and voice recorder, as well as the Notes application. The Active Notes application is also on board allowing multimedia content to be added to your notes.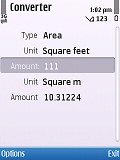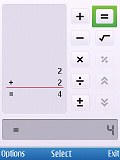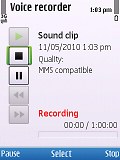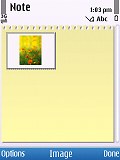 Converter, calculator, recorder, active notes
The alarm application allows you to set a huge number of alarms, each with its own name, trigger day and repeat pattern.
If the gallery file-management options (which even include sending multiple files at a time) is insufficient you can use the file manager. It allows you to do almost anything you can think of with your files. Copying, moving, creating new folders - you name it and it's a safe bet that the file manager can do it.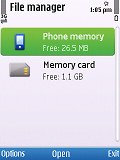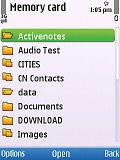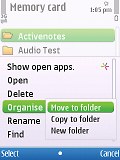 The file manager is still our favorite
The useful "Search" application is also aboard the Nokia C5. The application itself finds almost every item in your handset containing a given keyword. From messages to landmarks, every bit of data is checked and then all results are displayed on the screen.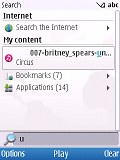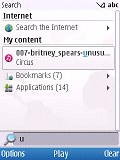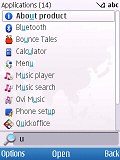 Every bit of data is checked by the search application
Nokia C5 features a dictionary with a very rich database. English comes pre-installed but you can also download dozens of other languages for free off the Nokia website.
The Nokia C5 also comes with Ovi Files. You have to install the Ovi Files connector app on your computer but after you're done, you can access all the files on that computer from your phone or a browser on another computer. You also get "Anytime files", which lets you store 10GB of data online that is accessible even if the computer is turned off.