When announced a month ago, the Nokia duo E6 and X7 caused a good deal of excitement. Packing the latest Symbian update, called Anna, the two smartphones proved that the OS is not yet ready to head into oblivion.
Now, the two handsets are available for pre-order from Nokia in Germany with the qwerty/touchscreen E6 priced at €429, and the multimedia centered Nokia X7 setting you back €459.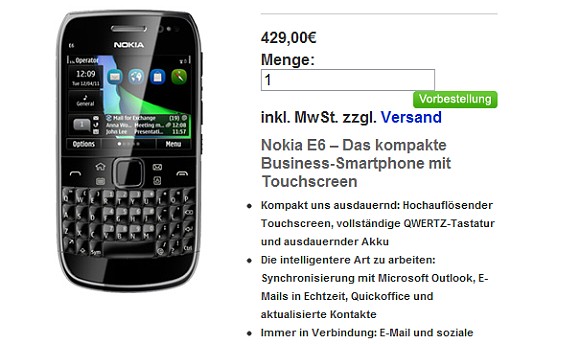 There is no specified shipping date but we doubt that it will be a long wait. Nokia has kept its Q2 launch promise for the two phones.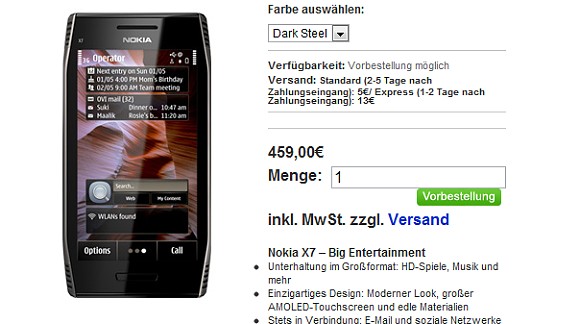 While this is definitely good news for the Nokia fans, dare we say that the prices of the two handsets are a tad too high? The initial prices which were revealed at the announcement of the two phones were almost €100 lower than what we are looking at right now.
And yes we know that the announced prices were pre-tax, but still for that kind of cash you will have to REALLY want to have one of the two devices to actually order it.
The prices are in line with the current top offerings with Android OS. Not to mention that the Nokia N8 is listed at the same website for €404 and we know that one offers supreme hardware.
j
Seeing the retail prices for E6, we understand that Nokia is trying to milk the cash cow for lack of real innovation and ability to keep abreast with competition. I had a Nokia E72. After experiencing the Apple environment both on my new Macbook Air ...
w
Nokia E6 rocks..... Seen galaxy S, moto charm and the Galaxy tablet.... All looked the same inside, had same apps and games etc.... Plus they alwayz end up in the charger every 2-3 hrs.... No battery life at all except the galaxy tab.... Seen N900 to...
ADVERTISEMENTS