Message-friendly
Nokia N79 supports all common message types - SMS, MMS and email. The first two share the all too familiar intuitive editor. It has a counter of characters left to the limit of 160. An indicator in brackets is showing the number of separate parts the message will be divided into for sending.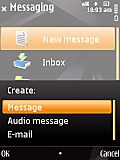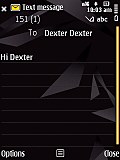 Sending a message is no problem at all with the Nokia N79
Switching from SMS to MMS is as simple as inserting some multimedia content. The phone prompts scaling down photos that are too large for sending via MMS.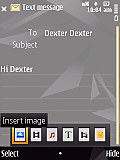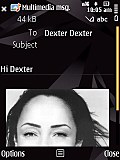 Inserting multimedia content automatically converts your SMS into an MMS
Nokia N79 also features a dedicated editor for instant recording of audio messages. You can either record the message on the spot or use a sound clip from the phone memory.
Delivery reports pop up on the standby screen and are then saved in a separate folder in the messaging sub-menu. When you are exiting the message editor without having sent the message, the editor prompts saving it to the Drafts folder or discarding it.
The email client is really nice, able to meet almost any emailing needs. The best part is that Nokia N79 is yet another handset that sports the ultra easy email setup we came to know in recent Nokia phones.
If you are using any public email service (it has to be among the over 1000 supported providers), all you have to do is enter your username and password to start enjoying email on the go. The phone downloads all the needed settings to get you going in no time.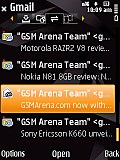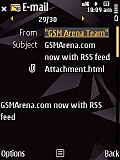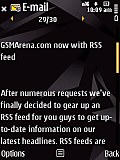 Nokia N79 easily meets most of your emailing needs
Multiple email accounts and various security protocols are supported, so you can bet almost any mail service (be it POP or IMAP) is set to run on the N79.
The client can download headers only or entire messages, and can be set to automatically check mail at a given interval. A nice feature allows you to schedule sending email next time an internet connection is available.
There is also support for attachments, signatures and generally, you can hardly think of something important that the Nokia N79 is missing.
Music player does it all
Barely surprising for a multimedia device, the music player of Nokia N79 is quite capable. With the huge number of supported formats you will hardly ever come across an audio file that the phone won't handle. Album art is also supported. The only thing missing is alternative visualizations for the music player.
Your music library is automatically sorted by artist, album, genre and composer and searching tracks by gradual typing is available. You can also create your own playlists in no time. The process of adding tracks to the library is as simple as choosing the refresh option. You won't need to do that if you upload the music via the proprietary PC Suite application.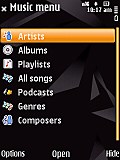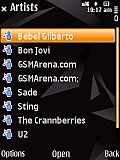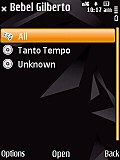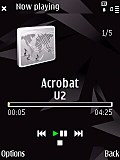 The music player automatically sorts your tracks so you can access them easier
The player comes with five equalizer presets and if they seem insufficient you can create new ones in a matter of seconds. Quite naturally, the player can also be minimized to play in background. In this case a tab appears on the stand-by screen indicating the currently running track.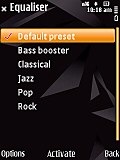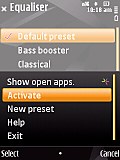 You can easily create a new equalizer preset is the ones available aren't enough
Audio quality keeps moving in the right direction
The audio quality of recent Nokia handsets has quite notably improved over the previous generation. Nokia N79 makes no exception boasting the best noise and dynamic range levels among the Finns so far. The frequency response also shows improvement drawing near the best in business. The commendable stereo crosstalk reading is also worth noting.
The problem with audio quality of Nokia N79 is the rather high intermodulation distortion levels. We've seen a few worse performers than that but most of the competition blows the N79 away on this one. There go the results so you get an idea of what Nokia N79 is all about.
| | | | | | | |
| --- | --- | --- | --- | --- | --- | --- |
| Test | Frequency response | Noise level | Dynamic range | THD | IMD + Noise | Stereo crosstalk |
| Nokia N79 | +0.30, -1.57 | -91.8 | 91.8 | 0.014 | 0.482 | -73.5 |
| Nokia N85 | +0.28, -1.19 | -94.4 | 95.4 | 0.305 | 0.701 | -88.1 |
| Nokia N96 | +0.52, -2.14 | -90.6 | 90.7 | 0.016 | 0.364 | -73.5 |
| Nokia N95 8GB | +1.14, -1.68 | -77.1 | 76.9 | 0.0066 | 0.148 | -68.5 |
| Nokia N81 | +0.39, -1.13 | -86.6 | 85.8 | 0.041 | 0.040 | -69.9 |
| Apple iPhone 3G | +0.52, -1.05 | -89.9 | 90.1 | 0.0033 | 0.016 | -93.1 |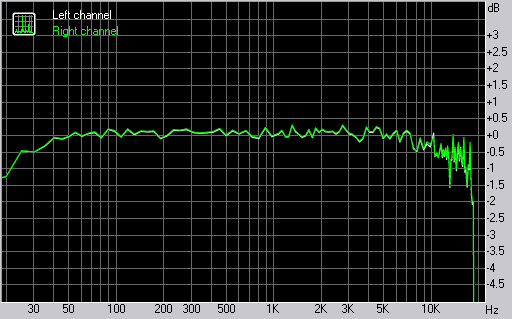 Nokia N85 frequency response graph
You can find more info about the test itself as well as the results of more tested devices here.