Sub-par fixed-focus 5MP camera
The Nokia X2 boasts an impressive sounding (for a low end phone) 5 megapixel camera with LED flash – but there's no autofocus. The maximum image resolution is 2592x1944 pixels. The LED flash doubles as a torch and is quite good at it – but as an actual photo flash, it's only good at close range.
Typical Series 40, the camera settings are rather limited but we can't expect more given the price of around 100 euro. The available settings include white balance, various effects and a self timer.
While impressive as a number, the 5 megapixels of the Nokia X2 camera fail to impress. We know better than to ride a phone that tries to offer so much for so little price, but the camera is a showcase of various imaging problems.
Sometimes, photos ended up as .NRW ("Nokia RAW", not Nikon RAW) files when we tried offloading the photos right after they were taken. If that happens, open the gallery and after it's done updating the photos will be ready to go. This only happens if you try to copy photos immediately after they were taken though.
The images are very noisy despite the noise reduction applied. On the other hand, compression is way too heavy. These two combined seem to bring down the practical resolution of the X2 camera to way below 5MP. There's also the obvious oversharpening and nasty purple fringing too.
Synthetic resolution
We also snapped our resolution chart with the Nokia X2. You can check out what that test is all about here.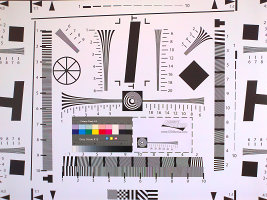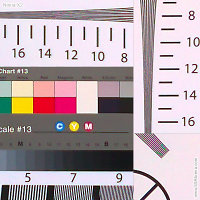 Nokia X2 resolution chart photo • 100% crops
Poor video recording
Things don't get any better when it comes to video recording. The X2 manages QVGA resolution at 20 fps that only seem good enough for an occasional MMS. But video recording uses a lot of processing power that the X2 can't afford so that's understandable.
Here is a video sample for you to check out.
Low-end connectivity
The Nokia X2 tries to look like it costs double what it actually does and it works. But it can't offer much in terms of value added features. You get quad-band GSM/GPRS/EDGE and Bluetooth 2.1 with A2DP.
The microUSB port is the easiest way to transfer files and charge the phone (you can't always find a 2mm charger, but microUSB cables are common enough). The easily accessible microSD card can help with bulk data transfers.
That's it for the connectivity on the Nokia X2 – no 3G (but no screen or browser for it either), no GPS, no Wi-Fi.
Opera Mini is the browser of choice
The default browser on the Nokia X2 is Opera Mini 4.2. It's a tradition for S40 phones, but there's a new version available, which offers some new goodies – such as multiple tabs, among others.
The way Mini works is the page is rendered on Opera's servers and sent into lighter format to the device, with the images compressed. While this somewhat spoils the quality, on a small screen (as most low-power devices that rely on the Mini have) you can't tell the difference.
The difference in image quality aside, the compression really saves on data charges. For example, GSMArena.com clocks in at about 370KB through Nokia's S40 browser and just under 70KB through Opera Mini.
This saves on data and more importantly speeds things up – the Nokia X2 relies on EDGE, so having to download much less data means faster browsing. Opera's rendering algorithm is very good and there are very rarely any problems with displaying pages correctly.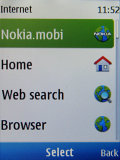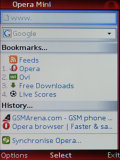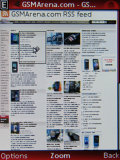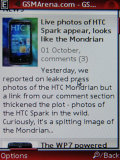 The Opera Mini web browser is well familiar
Organizer and apps
The organizer of the Nokia X2 is very elaborate, offering a large number of time management applications with nice features and a user-friendly interface. The calendar has month, week, and day modes and five types of events to set up.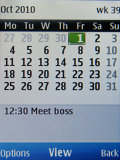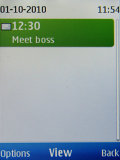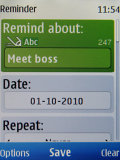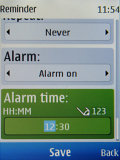 Calendar month a week view modes • setting up an event
The alarm clock is repeatable: it can be set to go off on any selected days of the week, even when the phone is switched off. You can also customize the snooze time if you wish.
The other organizing functions available include a voice recorder with a 60-minute limit, a stopwatch and a countdown timer.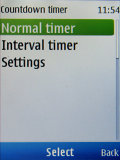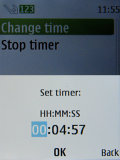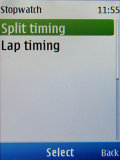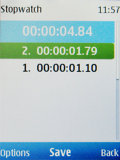 Countdown timer and stopwatch are available
The Nokia X2 calculator offers two versions - basic and advanced. In addition a loan calculator is also available.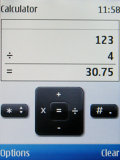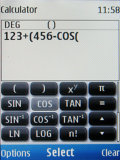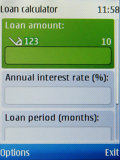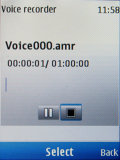 The calculator along with a loan calculator • voice recorder
The consistently useful unit converter tops the list of additional applications. It offers all kinds of converting options and, if provided with enough information about the rates, offers currency conversion too. There's a size converter too, for clothing and shoe sizes.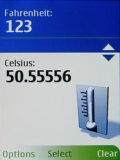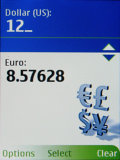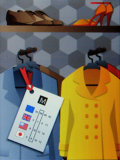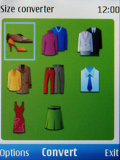 The unit converter is quite good • the size converter is great for shopping abroad
If you are into sharing images, video and audio files with your buddies straight from your handset have a look at Ovi Share. After a quick sign-up process, selecting files for uploading is easy enough.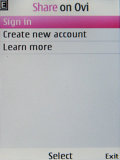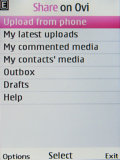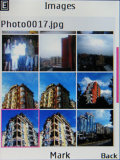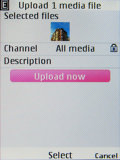 Main menu • uploading a file • viewing an uploaded file
This app is limited, you can only browse your and your friends' uploads. For general browsing you'd need a web browser and Opera Mini failed to sign in. Bear in mind that 5 megapixel photos can cost you quite a bit at the end of the month if you're not on an unlimited data plan.
The Search application offers Google Search or Bing Search initially, though other search engines might be available depending on your country and region. Searching launches the web browser, which makes this app somewhat useless. Or rather, it would have been if Nokia used Opera Mini 5, which has a handy search bar.
The World clock can tell the time in any time zone at the cost of only a few clicks.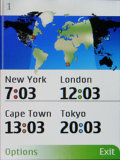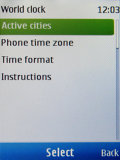 World clock applications is well familiar
Finally, there's the Facebook app. It's a pretty capable piece of software – you can manage your profile and post status updates, but also browse your friends' profiles and photos. There's even an option to take a photo right in the app and upload it.
What's missing though is the ability to receive notifications of new messages and status updates – you can't run the Facebook app in the background and there's no panel to put on the Active standby, like there was on the Nokia C3 for example.