Ovi Store for S40
The Ovi Store on S40 works much like on S60 smartphones. Browsing the Ovi Store, you can choose between several sections - Applications, Games, Audio and Video content, Personalization, Recommended and of course, My Stuff, which shows you the apps you've already installed.
The structure of the Ovi Store client is simple - a list with the name and logo for each app (or podcast, or whatever), the category it's in (Entertainment, Utilities, etc), price and a three star rating.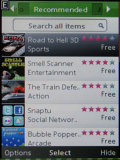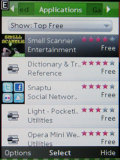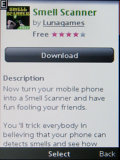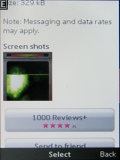 The Ovi Store has a simple and easy to use structure
Selecting an app, gives you more details - a description, info on size, reviews by people who have tried it, rating (five stars max), the option to write a review yourself or send the description page to a friend, a list of related apps and a Report issue button, which helps you report fraud, spam, abuse, etc., but not bug reports or feature requests.
Many games on board
The Nokia X2 comes with quite a few games pre-installed. They are full versions, so you can look forward to periods of trying to master the deceptively simple City Bloxx.
First up is Block'd, a version of the popular Bubble Breaker game where you have to bring blocks with matching colors together in order to clear them off the screen.
In Diamond rush it's Sokoban meets Indiana Jones. Find the hidden treasure and push boulders out of the way, but be careful not to block your route. Rally 3D is a classic racing game.
Bounce tales is a fun, cartoony platformer that follows the adventures of a blob. Brain champ is a collection of simple puzzles - a variant of Simon Says, simple math questions (2 + 4 = ?).
City Bloxx is the well-known block stacking game. Be warned, it's addictive. The Snake III game is a nicely elaborate 3D variant of the legendary Snake game and features interesting graphics.
And in the end is a Sudoku puzzle game. Its inclusion is no surprise - these puzzles have become very popular. If you're a Sudoku buff, this may very well be the most used feature on the phone.
Final words
Typical Series 40 phone, the Nokia X2 didn't have many major disappointments in store. There's not much to rave about either. The camera was the only really questionable feature, though some of the software issues are off-putting too.
Software problems are fixable with a firmware update but there isn't much to do about the poor camera module and processing. Of course, given the 100-euro price tag you should be prepared for the small screen and the modest in-box accessories.
But still, the excellently performing stereo speakers and the built-in FM antenna perform admirably and audio output on the headphones was very good too. And that's the core functionality of an Xseries device like the Nokia X2.
Unfortunately for this music fan, there's stiff competition with plummeting prices.
Stereo speakers are fairly rare at such low prices, especially on newer phones. Sony Ericsson have a couple of older Walkmans that might interest you though.
The W595 has a lower-res camera that is actually a bit better and it goes for around the same kind of cash as the X2. The former top dog, the W980 is a bit pricier but it has 8GB of built-in memory (no memory slot though) and an FM transmitter. Both have stereo speakers, 3G and actual multitasking.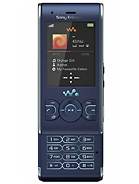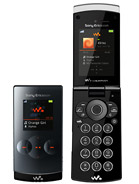 Sony Ericsson W595 • Sony Ericsson W980
The Nokia C5 is not to be overlooked either. The camera situation is the same as the Sony Ericsson's – lower resolution but overall better image quality. It uses a good deal of metal on the chassis and offers Symbian with a 600MHz CPU and GPS with free voice guided navigation (oh, and 3G too). The price is just above that of the Nokia X2.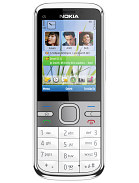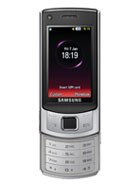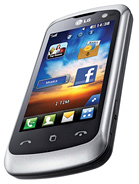 Nokia C5 • Samsung S7350 Ultra s • LG KM570 Cookie Gig
The Samsung S7350 Ultra s has gotten surprisingly cheap too. It's old, yes, but it does have a bigger screen with DivX/XviD support, 3G, GPS and a much better 5MP snapper (with D1 video capture @ 30fps).
For a few extra bucks you can even go touchscreen – the LG KM570 Cookie Gig offers a better 5MP camera (D1 video @ 30fps and all), 3G, 4GB of built-in memory (and a microSD card slot), a document viewer, multitasking. The screen is 3" big with WQVGA resolution and Dolby Mobile provides its music cred.
None of the three can offer speakers as good as the Nokia X2 though, nor the built-in antenna feature.
The Nokia X2 offers a lot for its price, though we can't help but be disappointed with the implementation. Still, if it's the music player that's the main feature you're after, the Nokia X2 delivers a good experience along with a nice design and ergonomics. Just be warned that you might hit a few bumps in the road with the rest of the features.