Today brought the ill-fated news of Samsung's latest flagship's discontinuation and Samsung's official statement to all retailers and customers. The statement also urged all retailers to stop selling the Galaxy Note7 as well as customers to power down their devices, regardless of when it was purchased, and take them back to their original location for a full-refund.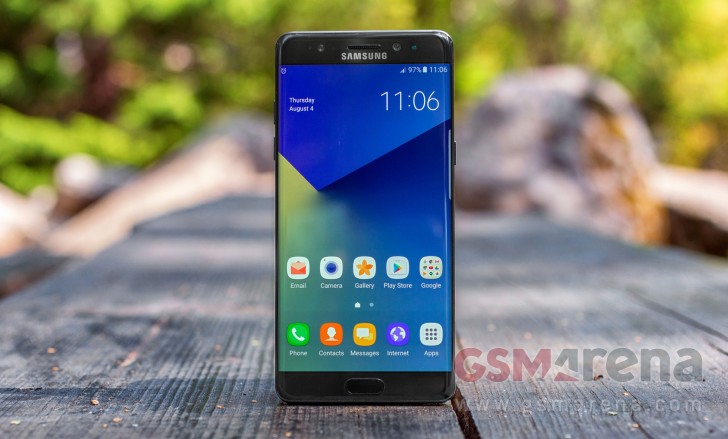 The following information can be found at every carrier's respective information page regarding the returns. We've compiled it all to make it easier for you to find. You can refer to each retailer or Samsung's refund information site at the bottom of this post.
Carrier and retail return information as of October 12, 04:57 PM EST:
AT&T
1-800-331-0500
AT&T will allow you to return your phone and all Note7 accessories for a full refund, exchange it for any other Samsung device, or any other smartphone.
All AT&T customers that purchased the Note7 through AT&T will also receive a $25 statement credit which will appear "within two bill cycles" and will show up on the statement as: " Samsung Note7 Exchange Credit."
This bill credit will only be applied if the owner opts to stay with a Samsung device.
T-Mobile
1-844-275-9309
All T-Mobile customers can go to any T-Mobile retail store and turn in their Note7 devices as well as any accessories purchased for a full refund.
You may choose to apply your refund toward the purchase of any other smartphone.
T-Mobile will waive any restocking fees. If you pre-ordered the phone, you can still keep your chosen gift of a 1-year Netflix subscription or Gear Fit device.
T-Mobile customers who purchased the Note7 on or before September 2 will automatically receive a one-time bill credit of $25 within two bill cycles.
Verizon
1-800-922-0204
Verizon customers can bring Note7 devices and accessories to any Verizon retail store for a full-refund "and choose from any available devices,".
That's basically all Verizon's page says, it doesn't even mention the $25 bill credit. It just refers you back to the Samsung US recall page, which then directs you to this page. Way to make us run in circles, big red.
Sprint
1-888-211-4727
Sprint asks all customers to power off and discontinue use of their Galaxy Note7 and bring it to a retail store for a refund.
Sprint recommends you make an appointment before hitting up the store for a quicker visit.
A Sprint employee will help you choose another device, you must apply a difference if its more expensive, or a partial refund if of lesser value.
Those who exchange their Note7 devices for either a Samsung Galaxy S7 or S7 edge will receive a $25 bill credit within 3 bill cycles.
All upgrade, activation, and restocking fees will be waived.
U.S. Cellular
1-888-944-9400
U.S. Cellular has reached out and provided the following statement: "With the safety of our customers top of mind, U.S. Cellular has suspended sales of all Samsung Galaxy Note7 devices. Any U.S. Cellular customer who has a Galaxy Note7 should exchange it for any other device at a U.S. Cellular store or return it for a full refund. We are sending SMS messages and mailed letters to all of our Note7 customers to tell them to visit a store to return or exchange their device."
U.S. Cellular hasn't updated its refund and exchanges page since September 2, so the page still mentions that you can return your Note7 for an updated one; which is no longer the case.
The outdated webpage also mentions that you can exchange your Note7 for either an S7 or S7 edge (and accessories) and a refund for any price difference between the devices. We hope U.S. Cellular decides to follow other carriers and allows these customers to exchange their Note7 for any device they choose.
If you need updated refund information right away, your best bet would be to call U.S. Cellular at.
Best Buy
1-888-237-8289
If you purchased your Note7 smartphone at a Best Buy store, you can bring it to your nearest store and talk to a "Blue Shirt" (Don't talk to the Samsung guys, they won't be able to help you with the exchange. A Best Buy Mobile rep needs to help you with this).
Best Buy offers two options for returning your Note7: You can exchange your Note7 device for a Galaxy S7 edge or any other device for refund of the price difference between devices. Note7 accessories will also be refunded.
The other option is to return your Note7 and accessories for a full refund and walk away. Best Buy doesn't mention anything regarding a $25 credit of any sort. We hope Best Buy can compensate by at least providing Best Buy store credit (via Gift card).
Samsung US Note7 Return info | AT&T | Sprint | T-Mobile | Verizon | US Cellular | Best Buy
b
https://us.community.samsung.com/t5/Galaxy-Note-7/Samsung-is-not-issuing-the-refund/m-p/58205 Samsung is not refunding people who bought their phone through Samsung.com. Unbelievable.
P
WARNING! - ATT is doing a Bait and Switch with the $100 credit that is being offered if you purchase an alternative Samsung Device. I've already PAID 2 INSTALLMENTS to my note 7 which ATT Advised the $100 credit "will be applied to" - so my $100 cre...
S
i need refund replace note 7 device is not working proper, can anybody advise how to claim refund.
ADVERTISEMENTS