The Nvidia Shield TV, launched back in 2015 with Android 5.1 Lollipop, is receiving Android Pie with Software Experience Upgrade 8.0. The update is rolling out to the 2017 version of the Shield TV as well.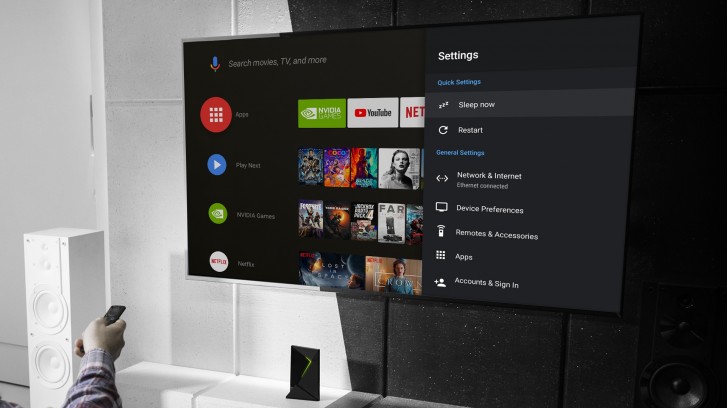 This software upgrade brings a redesigned Settings menu and a streamlined setup for new users. It also brings Hulu Live TV to the Shield TV in addition to new apps and games. Besides, the update also enables surround sound for Netflix and 4K support for Prime Video.
You can head over here to learn more about the new and upgraded apps and games, and check out the full changelog of the update below:
Updates "Display and Sounds" advanced setting into two easier to navigate menus.
Adds option to match content color space (Settings > Display & Sound > Advanced).
Improves volume dynamic range for USB and bluetooth connected headsets.
SHIELD TV remote app adds bluetooth assist for pairing and improves connection.
Enables 720p refresh rate switching on supported apps.
Adds "Disconnect Bluetooth accessories" option to quick settings.
Adds IR power control options to customize on/off functionality.
Adds option to turn off USB power when SHIELD sleeps.
Adds option to connect to 2.4GHz or 5GHz Wi-Fi network with shared SSID.
Latest accessory firmware versions:

SHIELD controller (2017): v1.30
SHIELD controller (2015): v1.96/99/3.71/0.32
SHIELD remote (2017): v1.43
SHIELD remote (2015): v.1.36
l
I'm definitely buying this TV box, waiting eagerly for the 2019 edition. Was about to buy the 2017 when the 2019 news suddenly came in.
TV Box or Phone, doesn't matter. The reason why Apple and Nvidia can give good software support, is because they designed the hardware. They make the drivers. And can create a new upgrade. The likes of Samsung, Huawei, MediaTek, RockChip, AMLo...
?
no offence . but porting 7 years old game to a portable is nothing impressive .