Poor file browser
The O2 Cocoon file browser is rather strange. Multimedia files are sorted based on their type but they are grouped in a hardly intuitive manner. Images are stored separately, while video, sounds and music are grouped in one folder. This folder has three sub-folders for sound files, while the video files don't have a sub-folder of their own. What's more, there is no option to create new folders or move things around.
You don't even have the option to browse files and folders on your memory card - the multimedia files stored there get automatically scanned and added to the library, but that is little consolation. In fact, the memory card cannot even be used if it's not formatted by the phone itself. And after that you have to use the system-created folder to store content - otherwise it won't be accessible with the Cocoon.
Another drawback is that if you don't sort the files accordingly, they won't be accessible either. For example, if you put images in the Other files folder, they won't be accessible to the handset. This reminds us of several LG handsets that exhibited similar behavior.
All music files put in the Sounds folder and the Music folder on the memory card appear in the Music folder in the file browser - this goes way beyond any logic.
Furthermore, you can't rename music files since they are presented to you with their ID3 tag names. All other files can be renamed without any problems.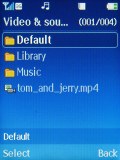 The Multimedia menu is your file browser • the Video & sounds folder has a strange and illogical structure
The O2 Cocoon picture gallery is part of the file manager and not a separate application. Accessing it is as simple as opening the Pictures folder. Images are presented as thumbnails. The thumbnails and the large images themselves generally take time to show up, which speaks of a poor read rate. You can't view the images fullscreen but you can zoom on them to see more detail. Landscape viewing is not possible either.
A rather illogical solution is that images stored on the memory card always get listed before the ones on the embedded memory - that's yet another "what were they thinking" solution that we just can't comprehend. Besides, images cannot be sorted in any special way (by date for example) and browsing the Pictures folder can soon become a chore.
Another one of those mysterious file browser shortcomings is that you cannot choose a picture and assign it as a contact picture. Instead you have to go to the Contacts list and assign an image from the contacts menu.
Music center stage
Armed with the whopping 2 gigs of storage and up to 2GB microSD expansion, it's obvious the O2 Cocoon is designed to use as a portable music player - and we are not even counting the dedicated music keys here.
Luckily, the Music player application is excellent too. It allows filtering tracks by artist, album or genre. Creating custom playlists is a breeze. Albums can be browsed either as a list or as album art thumbnails. You can either copy-paste your music to the O2 Cocoon or you can use Media Player 11 to copy CDs, transfer tracks and create playlists.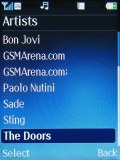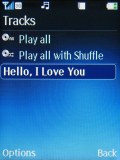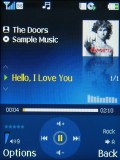 Music player • sorting by artist • selecting a track to play • now playing interface with album art
The player has seven equalizer presets plus several bass and surround settings, which might come in handy when you are listening to music on your headset. There are also several effects to add some stage sound flavor to the sonic experience.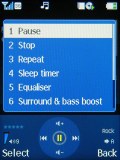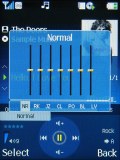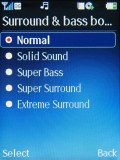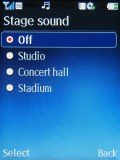 Now playing options • equalizers • surround and bass boost • stage sound effects
We are very pleasued with O2 Cocoon's audio quality. It is definetely on the better side of the bunch of devices we have tesed so far. For instance, the frequency response is virtually identical to that of the Apple iPod. The Apple iPod is equipped with audio hardware produced by Samsung - the same as the one on the Apple iPhone and the majority of Samsung handsets out there. And all these certainly lead the pack when it comes to audio quality.
All the other readings are also very good although they are not superb. Here are the results so you can see for yourselves. If you would like to learn more about the test itself you can follow the link.
| | | | | | | |
| --- | --- | --- | --- | --- | --- | --- |
| Test | Frequency response | Noise level | Dynamic range | THD | IMD + Noise | Stereo crosstalk |
| O2 Cocoon | +0.27, -1.30 | -80.1 | 79.8 | 0.0089 | 0.035 | -79.6 |
| Samsung i550 | +0.74, -0.76 | -90.8 | 86.9 | 0.0024 | 0.033 | -89.1 |
| Apple iPod | +0.41, -1.16 | -91.6 | 91.8 | 0.0043 | 0.015 | -83.6 |
| Samsung U600 | +0.41, -1.12 | -89.2 | 86.5 | 0.0040 | 0.019 | -86.9 |
| Nokia N81 | +0.39, -1.13 | -86.6 | 85.8 | 0.041 | 0.040 | -69.9 |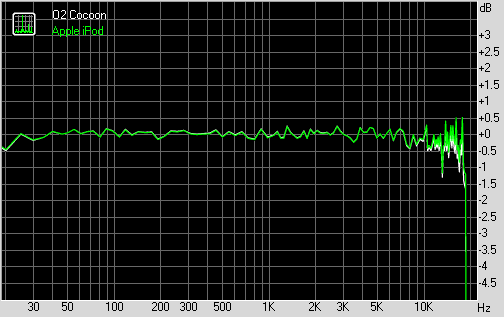 O2 Cocoon vs Apple iPod frequency response graphs
The O2 Cocoon also comes complete with an FM radio - it's directly accessible from the music player. There is RDS support and you can set user-defined names to the stations just so you know which one to choose next time you go out.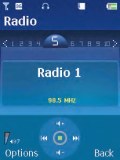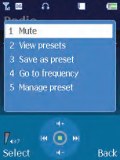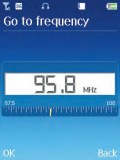 The FM radio • available options •entering a frequency manually
Both the Music player and the FM radio have a similar interface; the same holds true for the video player. It doesn't have many features but it can play video files in fullscreen landscape mode and you can fast-forward and rewind videos.