Samsung officially announced the new Diva Collection 2010, which includes two new phones - the Samsung S7070 Diva and the Samsung S5150 Diva folder. They were designed to be in the spotlight and blur the line between phone and fashion accessory. We've met these two before, at a Corby event a few weeks back, but now they are finally offical.
Samsung S7070 Diva
The first phone, the Samsung S7070 Diva is a touchscreen bar with a pearly-white embossed quilted back cover and gem-like center key on the front, which suggest luxury. Beneath that however is a rather standard basic touch phone - 2.8" QVGA resistive touchscreen, 3-megapixel camera, microSD card slot, Bluetooth and FM radio with RDS.
The TouchWiz user interface runs the show of course. The S7070 relies on tri-band GSM/EDGE for voice calls and connectivity.
The software spruces things up - Pop-up SNS gets notifications from social networks like Facebook, MySpace and Twitter and there's a a Wish List application, which "helps to organizing your shopping life".
The camera on the Samsung S7070 Diva has a couple of tricks up its sleeve too - the Beauty Effect, which auto enhances photos (though its no automatic Photoshop) and the Lomo Effect, lends a bit of artistic credibility to any shot.
Samsung S5150 Diva folder
The other phone in the Diva collection is the Samsung S5150 Diva folder which, as the name suggests, has a flip form factor and features comparable to the S7070 Diva, save for the screen, which is 2.2" big with QVGA resolution (and no touchscreen of course). The connectivity is limited too, with its tri-band GSM/EDGE support.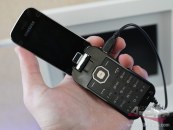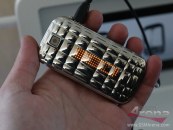 Samsung S5150 Diva folder, which used to go by the name Olivia
The exterior of the Samsung S5150 Diva folder however is quite an attention grabber. It is embossed in a silver-toned, square pattern. Hidden underneath that glossy exterior is an external LED display, which disappears when it's off. It notifies of incoming calls or it can show a clock.
The Samsung Diva collection will be launched in January 2010 in Netherlands, Russia, Ukraine and other European countries, with Southeastern Asia and China releases following soon after.
R
Sounds great, i have an old razor that i got for a great price at gsmallover.com but i'm lookin to get a new phone so maybe i'll check this one out!
?
The Diva fold is definitely SE Jalou's main competitor. Personally prefer Jalou though.
?
So is GSMArena http://www.gsmarena.com/samsung_s5150_olivia_and_s7070_showcased_before_announcement-news-1272.php
ADVERTISEMENTS