Oxygen OS 2.0 lives on top of Android 5.1.1 Lollipop
The original OnePlus One came running on CyanogenMod but the market circumstances demanded OnePlus to come up with an Android launcher of their own and they dropped CyanogenMod entirely.
This is how the Oxygen OS was born and its 2.0 version first premiered on the OnePlus Two. Now the OnePlus X runs on the updated Oxygen 2.1 launcher on top of Android 5.1.1 Lollipop.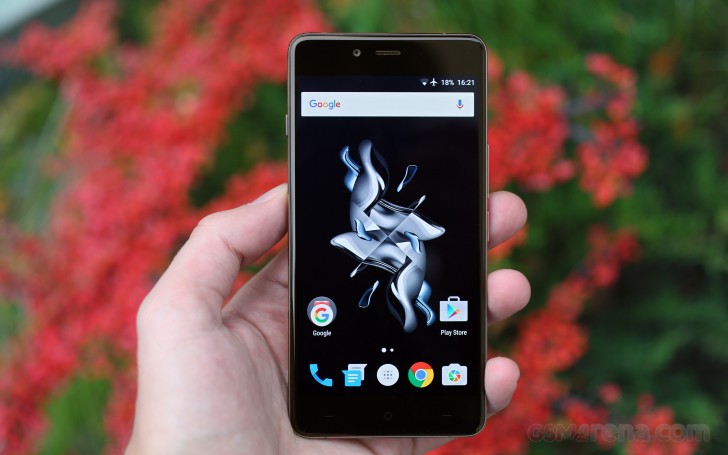 The Oxygen launcher aims to bring a nearly vanilla Android experience enhanced by few, but useful software tricks. Since Android 6.0 Marshmallow is yet to premiere this fall, OnePlus had to implement a few features on their own before the official support is live.
OnePlus added configurable capacitive keys, a few nice gestures and some advanced UI customizations. Another Android Marshmallow feature available out of the box with the OnePlus X is the app permissions manager.
Most of the Android interface is intact - it's the Material design and icons we first met in Android Lollipop. All vanilla Android fans will be pleased to find out OnePlus touched almost nothing as far as homescreens and menu visuals are concerned.
OnePlus added four very useful gestures, which are available on a turned off screen. You can double tap to wake the phone up, draw O to open the camera, draw V to toggle the flashlight on/off, or draw < > for previous/next track.
The lockscreen is the usual affair - it shows missed notifications. Swiping left or right will fire up the dialer or the camera.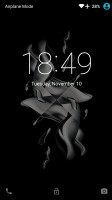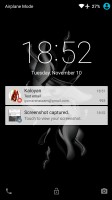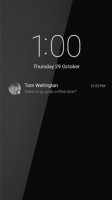 The lockscreen • Ambient display
OnePlus X also offers a new feature called Ambient display, which is a lot like the Nokia's Glance screen. It displays a white clock and a short notification text (if available) on your turned off display. That's energy-efficient because of the AMOLED tech. You can either opt for this screen to show up when you have a notification, or you can also allow it to pop up when your hand is in proximity (hovering it above the screen or taking out the OnePlus X out of your pocket).
The Oxygen launcher has a feature called Shelf, which takes the place of your leftmost homescreen. Here you can see the weather, your most used apps, and frequent contacts. You can also add widgets here and change the header image. When you first setup the phone it asks if you want to use Shelf. You can also disable or enable it later through the homescreen settings menu.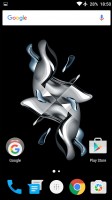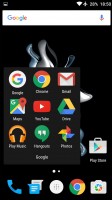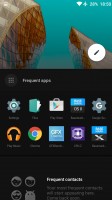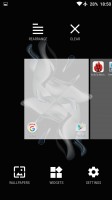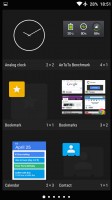 The homescreen • the new custom Widget pane called Shelf • customizing homescreens
The notification area is a stock Android Lollipop thing and is summoned by a downwards swipe anywhere on the homescreen. An additional swipe or a two fingers swipe reveals the quick toggles that include Wi-Fi, Bluetooth, Airplane mode, screen auto-rotate, flashlight, location on/off, and the option to cast the screen. Of course, you can also adjust the brightness of the screen and go into the settings menu too.
The notifications also have one nice feature from Cyanogen, where screenshot notifications have a Delete button next to the Share button so you can instantly delete them from the notifications itself once you're done sharing them.
The app switcher has a neat card interface that allows you to select the app you need by swiping up or down. You can close apps by swiping left or right, or by hitting the dedicated button on the top right corner of each card. Each Chrome tab now can optionally appear as a card, too (Chrome settings). OnePlus added an option to close all opened/suspended apps at once.
Finally, Google Now is summoned by tap and hold on the Home key.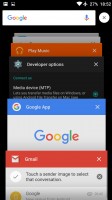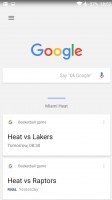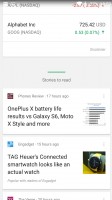 The task switcher • Google Now
OnePlus added a few UI tweaks of its own - you can reverse the Menu and App Switcher keys, plus you can assign them custom actions upon tap&hold and double tap. The notification LED colors are also configurable. Each button has a list of things you can do for various actions.
OnePlus also included a native support for app permission control. You can go into the Settings menu, check each app permissions, when they were used and if you want, you can disable some of them.
The final extra courtesy of OnePlus is the option to skin the entire Android OS with a dark theme and choose its accent color by your liking.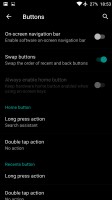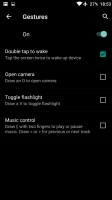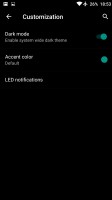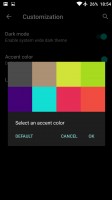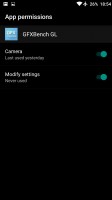 Some neat extra settings • App permissions
Other apps
Google Chrome is unsurprisingly the default browser in the new OnePlus X. Its design matches the material look and feel of Android Lollipop.
The usual organizing tools are present as well - there is the massively capable Google Calendar, a neat Calculator, and Clock (alarms, world clock, timer, stopwatch). A proper File Manager app (Files) is onboard as well.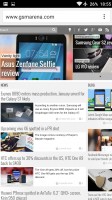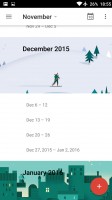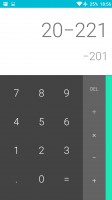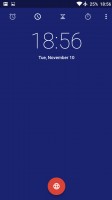 Google Chrome • Calendar • Calculator • Clock
Google's highly capable Office package of Docs, Sheets and Slides comes preinstalled, as well as Keep and Google Maps and Navigation.