It's now been officially revealed that the OnePlus 2 will come with Qualcomm's Snapdragon 810 SoC. This isn't much of a surprise actually, since an alleged benchmark result for it accurately leaked the chipset being used. It also makes sense, since last year OnePlus also went with the best Qualcomm chipset available at the time.
Of course whenever there's talk of the Snapdragon 810 inevitably one wonders about overheating, since basically all phones that have this chipset have in some way or another been accused of such behavior.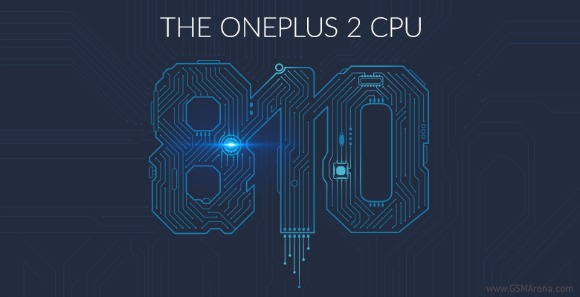 OnePlus feels very confident that its next device will not overheat. The company says it's using the v2.1 iteration of the S810, which apparently is an improved version of the chipset.
"All the necessary precautions and beyond" have been taken to prevent the overheating behavior from occurring on the OnePlus 2. OnePlus will layer both thermal gel and graphite on top of the SoC, which should ensure that the heat generated by the chipset will be dissipated evenly, as opposed to being concentrated and thus leading to performance issues.
The OnePlus 2 meets "the industry standard for phone temperature, even with hours of use", OnePlus has noticed "after rigorous testing" - whatever that may mean.
Furthermore, the company's Oxygen OS based on Android is going to be specially optimized to work with the S810. It will "intuitively" know which CPU core is to be used for which task, and it will avoid using two cores that are next to each other if it can.
All of the major internals of the OnePlus 2 are to be revealed one by one in the near future, in a continuous teaser campaign that's similar to the one employed for its predecessor last year.
f
what is the price of one plus two snapdragon
?
When you announce a device and are already having to make excuses for an inferior part, no less a part as central as the CPU, then you have made a dumb choice. But this is typical for OnePlus. They make bad design decisions and then try to sell ...
ADVERTISEMENTS