Software features
The camera is not the only part of Color OS 5.0 with new features to flaunt. One of the most notable additions to Oppo's custom ROM has to be the Full Screen Gesture model. Bigger display and diminishing bezels and chins tend to pose some ergonomic concerns beyond a certain point. Oppo's current design might not be exactly there yet, but the company is already trying its best to prepare for that.
When enabled, Full Screen Gesture navigation positions three small lines at the bottom of the UI. Swiping up from the middle one acts like a home button, while swiping on the left one opens the recent apps manager and naturally, the right one acts as a back button. Long-pressing the middle dash also brings up the recent interface, while tapping to the left or right acts as a back button. You can also hide the lines, since they are only visual aids.
If you dislike the idea entirely, there is a standard Android navigation bar to fall back to as well.
Oppo AI facial unlock is now quicker than ever, with unlock speeds as low as 0.8 seconds. Oppo now intelligently collects 128 facial feature points to power the system. There are some interesting multitasking features on the Oppo R15 and R15 Pro as well, designed to make good use of the notched display. While in portrait mode, the little display areas on both sides can display three recently used apps and another three recently used operations. The default album app has some new AI smarts as well. We'll make sure to get into all that in more detail in the full review.
Performance
As you can imagine, the MediaTek Helio P60 and the Qualcomm Snapdragon 660, inside the Oppo R15 and R15 Pro, respectively, aren't exactly created equal. Still, they are both mid-range chips that combine more than enough power for a fluid Android navigation, with battery efficient manufacturing processes - 12nm and 14nm, respectively.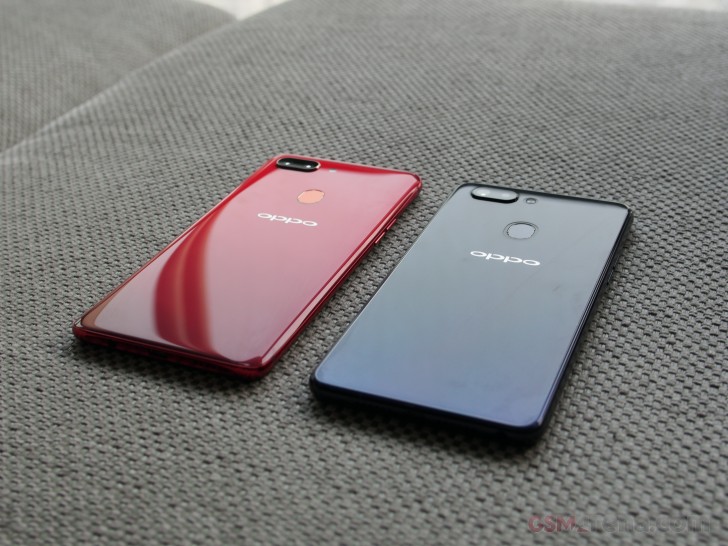 We managed to run a few quick benchmarks on both R15 models and starting with CPU performance, the pair of chips is actually not that far apart. That's plenty of number-crunching power for most any everyday task. The pair can even kind of compete in with last year's top Snapdragon 835 chipset in this department, which is a pretty good testament to how far mid-rage silicon has come in the last few months. Then again, it is a bit of a disappointment that last year's Oppo R11 and R11s models are practically just as potent as their successors.
GeekBench 4.1 (multi-core)
Higher is better
Huawei P20 Pro
6679
Nokia 8 Sirocco MWC unit
6483
LG V30
6365
Nokia 7 Plus MWC unit
5920
Oppo R11s
5907
Oppo R15 Pro (event)
5809
Oppo R15 (event)
5806
Oppo R11
5777
vivo V7+
3912
GeekBench 4.1 (single-core)
Higher is better
Nokia 8 Sirocco MWC unit
1949
Huawei P20 Pro
1907
LG V30
1901
Nokia 7 Plus MWC unit
1641
Oppo R11s
1614
Oppo R15 Pro (event)
1612
Oppo R11
1596
Oppo R15 (event)
1520
vivo V7+
767
Things between the two R15 units look a bit different on the GPU side of things. The Mali G72MP3, just can't keep up with the Adreno 512 inside the R15 Pro, as well as the Oppo R11 and R11s. The new even taller screen ration means a slight bump in on-screen resolution as well, which leaves the newer R15 Pro at a slight rendering disadvantage, compared to its predecessors. However, that's only the synthetic loads talking, in real life terms, there is no discernible difference.
Basemark X
Higher is better
LG V30
36704
Oppo R11s
20914
Oppo R15 Pro (event)
20693
Oppo R11
20350
Oppo R15 (event)
11993
vivo V7+
9955
There are some modem differences as well, but we won't get into that now as they are hardly too great.
Looking at some compound benchmarks, like AnTuTu and Basemark OS 2.0, we find some more, pretty solid performance from the R15 pair.
AnTuTu 7
Higher is better
Huawei P20 Pro
209884
Nokia 8 Sirocco MWC unit
207339
OnePlus 5T (Oreo)
207072
LG V30
182374
Oppo R15 Pro (event)
146526
Nokia 7 Plus MWC unit
141822
Oppo R15 (event)
140161
Basemark OS 2.0
Higher is better
OnePlus 5T (Oreo)
3458
Huawei P20 Pro
3252
Nokia 7 Plus MWC unit
2947
LG V30
2705
Oppo R11s
2499
Oppo R15 Pro (event)
2438
Oppo R11
2386
Oppo R15 (event)
1985
vivo V7+
1290
While neither of the phones is a slouch in real world terms, if raw performance is what you are after, then you can probably get more value for your money elsewhere. Without even looking outside BKK Electronic's own selection, there is the OnePlus 5T. Crucially its OnePlus 6 successor is expected to drop any day now, complete with the Snapdragon 845 and a very similar exterior. It probably won't have any of the ColorOS exclusive goodies though and the two will likely be headed to different markets.
So the R15 has external rather than internal competition to worry about and early signs are encouraging that it has what it takes to handle that. Let's hope the impressions stands after we complete the review.