Color OS plays nice with Android KitKat
Oppo R5 runs on Oppo's proprietary Color OS v2.0, which is another name for a heavily skinned Android 4.4 KitKat. The Oppo's launcher customizations run very deep, they keep all Google apps and services, and even bring quite a few of its own - themes support, new lockscreen, homescreen, and settings menu among others.
If you are not into custom UIs, there is a preinstalled theme called Jelly Bean, which replicates the stock Android Jelly Bean UI for you as close as possible.
Here's a quick Color OS rundown on video to get you started:
The Color OS default lockscreen uses swipe gesture for unlocking. It also has shortcuts for the Phone and Messaging apps. Double tap to wake works on the homescreen, but not on the capacitive keys.
The lockscreen also has a hidden flashlight shortcut - a press and hold of the Home button (the screen needs to be awake) turns on the LED flash on the back of the device. It turns off when you let go of the Home button.
The Oppo R5 doesn't have an app drawer, so all of your app shortcuts are available on the homescreen. And the apps above the dock are organized in a grid of 4x5. Widgets are available as well, though not as much as some other Android smartphones are offering these days.
Naturally, folders are available, so you ca group your apps the way you like.
Exclusive space is Oppo's custom homescreen page. Currently, there are only two available - Photo and Music. Photo space takes up a whole homescreen and features a live viewfinder so you can take shots straight from your homescreen plus a shortcut to the full camera app. Below you get a timeline with all your recent photos and you can share them very easy.
The second Exclusive space homescreen pane is Music. It features a cool, if slightly intuitive design with a vinyl for changing the currently playing song and stopping/resuming playback. You can change songs, go directly to the music player or the Phone app.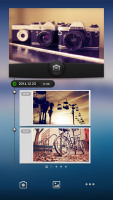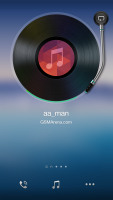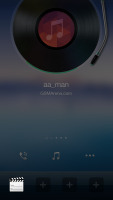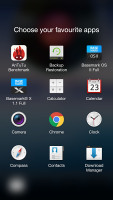 Exclusive spaces - Photos • Music • customizing docked shortcuts on an exclusive Space
The homescreen's contextual menu lists widgets, wallpapers, effects and themes. You drag widgets upwards to place them on the homescreen.
Oppo's Color OS supports themes, one of which changes the appearance and functionality of Color OS to match that of stock Android 4.3 Jelly Bean. There are plenty awesome themes available for free in the Oppo's Theme Store, you just need an active internet connection to download some.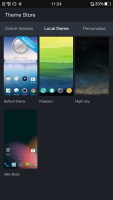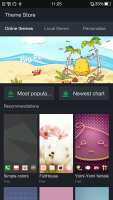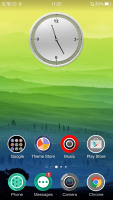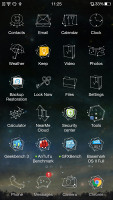 Themes Store • Different themes
By default the notification area will show one row of quick toggles, a brightness slider and a shortcut for enabling auto brightness mode, the current notifications plus a shortcut to go into settings. If you do a drag gesture from the quick toggles row you get two more lines of toggles. There's also a Kill all apps button there.
A long press on a toggle will bring up its respective settings entry. By the way, you can access the notification area even if you slide down from any empty part of the homescreen (not just the top), which helps single-handed use a lot.
The task switcher is pretty close to the one in iOS. All your apps are shown in a horizontally-scrollable grid of thumbnails, which you swipe either up to close or tap to open. Oppo has added a Kill All toggle at the bottom.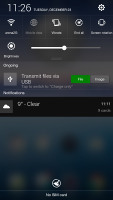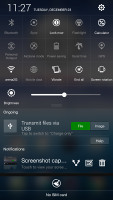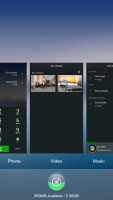 The R5 notification area • App switcher
Then there's the Gesture panel. You access it just like you would open your notification area, but you need to start your swipe from the bottom of the screen. You can perform various gestures in the Gesture panel to open different apps. For instance drawing a circle would open the camera app but you can assign any apps to any gestures you want.
Finally, the Gesture & motion menu deserves our attention. It holds all the various gesture and motion tricks to make your life with the R5 easier. For one you can swipe with three fingers across the screen to capture a screenshot or pinch with several fingers to launch the camera and more.
The Motion options are very useful, too - flipping the device will mute the ringer, raising the ringing Oppo R5 to your ear will automatically answer the call and more. The Motion menu also offers Air Gestures on the homescreen - you can swipe through the panes with waving your hand over the display.
One hand mode is available too, activated by an upward swipe from the bottom left or right corner. When done, this will minimize the UI into a more compact windows, possible to use and operate with just one hand.
Overall, Color OS strives to be more feature rich than stock Android and has been customized quite deeply. It is still Android though, so users who are familiar with the OS won't have trouble knowing their way around Color OS. In fact most of Oppo's additions are quite welcome and improve the overall user experience.