Final words
The time has come for us to part ways with the Oppo R7 and it's not the least bit easy. Beautifully designed and executed, the handset grew on us. Whether it took 48 or 84 polishing processes and whether the glass is 2.5D or else is irrelevant. The overall result is what matters and this is a truly exquisite handset.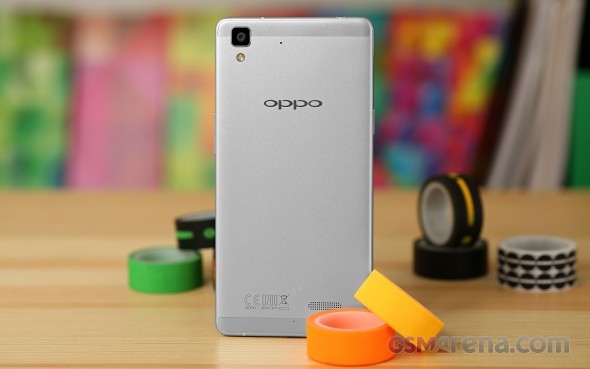 However, a device that costs upwards of $400 has to offer a lot more than just looks and feel, and the R7 is a hit and miss affair.
The 5-inch screen is a hit, definitely. The FullHD panel is nice and sharp and has great color reproduction as well as consistency at extreme angles, but you shouldn't have expected anything else from a modern-day AMOLED display. It is not the brightest around, but that largely an irrelevant metric, particularly when you consider that it's still better outdoors than most LCDs.
Now, battery life is either very good or just plain OK, depending on how you look at it. If you're coming from the R5, you'll see massive improvements across the board. Viewed on its own, the R7 is a decent middle distance runner, and it excels at voice calls but is less impressive at on-screen activities. Given the battery capacity and slim profile however, we're inclined to mark battery life down in the pros too.
ColorOS may not be everyone's cup of tea, and its strong resemblance to iOS will likely not be appreciated by Android purists. It does offer plenty of customization options and the home-brewed apps are stylish and coherent, adding features and functionality missing in stock Android. It would have been nice, if it wasn't still based on KitKat, and we're hoping Oppo will deliver the promised Lollipop upgrade sooner rather than later.
The R7 is no benchmark beast, often beaten by similarly equipped devices. Still, the Snapdragon 615 provides adequate day-to-day performance, and you should be more than happy with it as long as you don't focus on elaborate mobile gaming.
We're less than ecstatic with the R7's camera output. The 13MP shooter looks great on paper, but in reality has very narrow dynamic range and images come out with only average detail. Pretty much the same can be said about its video recording, which is nowhere near the best in the 1080p league.
Key test findings:
Easily one of the best looking devices on the market, high-quality build and finish, superb in-hand experience
Sharp FullHD 5-inch AMOLED display, good sunlight legibility, rather low maximum brightness
Good, though not spectacular battery life, a massive improvement over the R5
A few polishing touches have been made to ColorOS in its 2.1 version, but the essence remains the same - iOS-style single-tier interface, plenty of themes to choose from, proprietary apps are really nice
Benchmark scores are average-to-low for the hardware, certainly better performers can be found, packing the Snapdragon 615.
Loudspeaker posted an Average score, though it will respond to careful ringtone selection with a bit more punch.
The gallery has been stripped of features, video player makes do with a basic interface but wide codec support, the music player is better-equipped but lacks an equalizer.
Audio quality is mostly good
13MP camera fails to impress, mostly due to limited dynamic range. Detail is on the low side, but colors are nice. The app has plenty of features and a lot of manual control, too.
Video quality is underwhelming, detail isn't up to 1080p standards. There are a few extra modes to play with, though.
Sharp and detailed 8MP front camera output
We've already established that the Oppo R7 is handsome and it's hard to beat in terms of design - that alone makes a strong case for the device for many. But then there's the matter of price, which hovers around $420, and for those looking for performance there are smartphones with similar hardware for a little over half that price. If you've read this far though, you obviously value appearance, so we'll start with that.
Oppo has a few competitor on the inside, which we mentioned multiple times throughout this review. Both the R5 and the R1x (or R1c, if you're in China) come with the same Snapdragon 615 chipset, but with a gig less of RAM. The R1 has a 720p LCD with the same diagonal, while the R5 comes with a larger 5.2-inch FullHD AMOLED display.
The R5 may be a bit hotter looking thanks to its mere 4.85mm of thickness, but suffers from it when it comes to battery backup and lacks a 3.5mm audio jack. The R1x is no ordinary-looking phone either, with a unique sapphire-like back, and it's roughly in the same league as the R7 in terms of battery performance. Numbers aside, the camera output and the display on the R7 are inferior to either of the other two. A clear case of you get what you pay for in the Oppo camp, then.
The Vivo X5Pro is another regional competitor. It has a larger 5.2-inch display, FullHD AMOLED at that, but otherwise matches the R7 spec for spec, and can even be a touch more expensive. It has also got Lollipop going for it, though the R7 should catch up soon. Picking between those two is going down to which particular flavor of Chinese launcher you prefer.
The Xiaomi Mi 4 is a properly equipped year-old flagship, powered by a Snapdragon 801 with 3GB of RAM. It's a looker too with an attractive dual-glass body, but is a lot thicker, at nearly 9mm. You do get 2160p video recording on the Mi 4 and an overall very proficient camera, for about two-thirds of the R7's price.
You could also opt for the Lenovo Vibe Shot. The basics are the same - 5-inch FullHD, Snapdragon 615, 3GB of RAM. It comes with Lollipop, a larger battery, 16MP camera with triple-tone flash and a hardware shutter release button, which is a rarity these days.
Among Samsung's premium looking mid-rangers, the larger 5.5-inch Galaxy A7 comes closest to the R7 in terms of specs and obviously offers more screen real estate. The Samsung handset also has longer battery endurance and better image quality as well as the more familiar TouchWiz launcher. Had it not been a tad more expensive, it would have been an easy recommendation.
Another Oppo smartphone that appeals to the senses but is at odds with reason. Sure, you could get similar hardware for less, but then you'd be missing out on one of the hottest bodies in the business. And we're not saying the R7 really disappoints in other areas. It just sets the bar for itself so high straight out of the wrapper that you want it to be a stellar performer and a top-notch cameraphone, when all it does is an okay job at those.