Decent 13MP primary camera
Oppo has fitted an entirely different camera setup on the R7, compared to the R5. The Sony IMX214 sensor is gone, and is replaced with a Samsung ISOCELL imager. It has an orthodox 4:3 native ratio and outputs images up to 4,160 x 3,120 pixels. A new Schneider-Kreuznach lens sits in front of it, though the f/2.2 aperture makes it dimmer than before.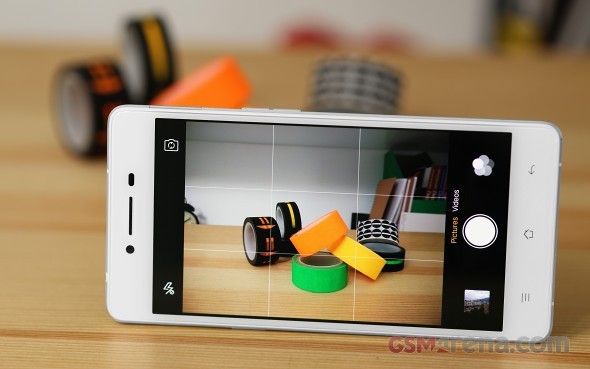 The camera app has been slightly reworked and you can now switch from stills to video with a swipe to the side before you hit record. That solves a long-standing problem that many manufacturers choose to ignore, and that's the different aspect ratio and coverage between still images and video. On the R7 you can now properly frame your subject before you hit record.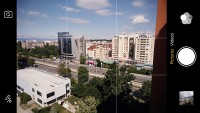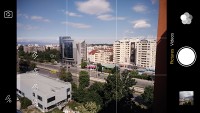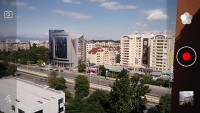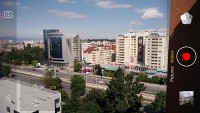 Dedicated viewfinders for still and video
The interface is straightforward with a shutter/record button, shortcut to the gallery and shooting mode button on one side, and flash mode selector and rear/front camera toggle on the other.
You get a plethora of shooting modes in the Camera shop which you can install and add to your mode selector. You can alternatively leave only the ones you use for a less cluttered interface - who wants to scroll through two pages of shooting modes.
The R7 comes with the usual HDR and Panorama, but also has an UltraHD mode, which outputs pictures in either 24MP or 50MP. RAW mode is another welcome feature for photography enthusiasts.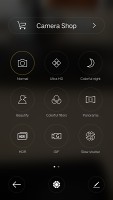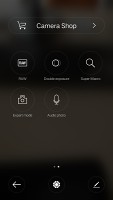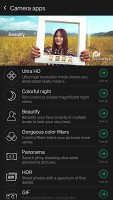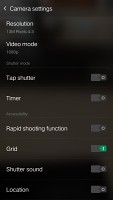 Shooting modes • Camera shop • Settings
Those will also appreciate the Expert mode, where you get creative control over white balance, shutter speed (as long as 16s), ISO and exposure compensation, as well as manual focus. The interface is a bit iffy when you hold the phone in landscape, rotating some elements and not others.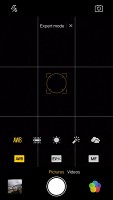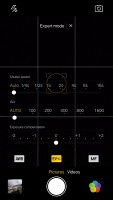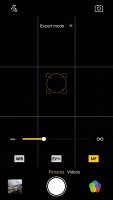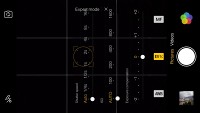 Expert mode • landscape view needs a bit more work
As far as image quality goes, the R7 does a few things right, but fails at others. Colors, for one, are spot-on, despite the difficult conditions on the overcast day we went shooting.
The automatic exposure does very well too, but it can't hide one of the biggest problems of the R7's camera - the limited dynamic range. Believe it or not, a significant portion of the sky in the fourth sample was actually blue. Instead, it's gotten clipped and is rendered almost entirely white.
Detail level is okay, but it's masked by the conservative sharpening, which leaves the images a tad soft. There's plenty of fine detail in the foliage, for example, whenever the light is enough for it not to be rendered pitch-black.
The UltraHD mode has two resolution settings - 50MP and 24MP, and it could be useful when you attempt to make large prints straight from the phone, though more sophisticated results can typically be obtained with post-processing on a PC. You can find some 50MP samples below.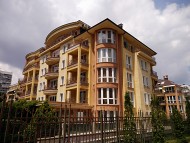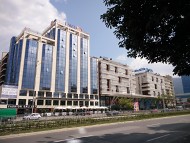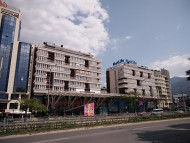 Oppo R7 50MP UltraHD mode samples
The HDR mode aims to combat the limited dynamic range and does quite well. It managed to bring some of the blue in the sky, and pulls some detail out of the shadows, without looking unnatural in the process.
In normal mode the R7 can get very close to the subject and shoot some pretty nice macro shots. If that's not enough, there's the Super macro mode, which fills the frame with even more of the subject.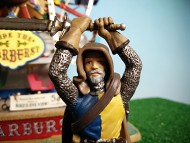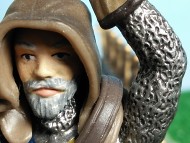 Close-up shot in Normal mode • one in Super Macro
The Panorama mode does a decent job and generates images with even exposure, but stitching shows some flaws. The level of detail is also not on par with the regular photos, but okay for general use, just don't expect large-sized prints out of it



Panorama samples shot in portrait and landscape
The front camera is an 8MP unit behind f/2.4 glass. The maximum resolution it can output is 3,264 x 2,448 pixels. I fact the images are very detailed with good colors. There's a softness to be observed only towards the extreme corners, and some pronounced vignetting is visible on our uniform background setup, but in real-life use won't be a problem.
You can check out how the R7 stacks up against the competition in our photo compare tool.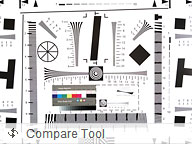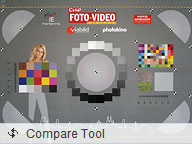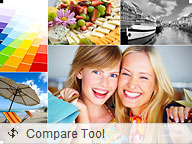 Oppo R7 in our photo compare tool
Video recording
The camcorder on the Oppo R7 shoots videos up to 1080p/30fps. It does have a slow motion mode, called Slow lens, which records at 480p/120fps but saves it at 30fps so in effect you get 1/4 speed. Also available is a 1080p Fast lens mode, where you end up with a 10x the actual speed for a timelapse-like experience.
The regular 1080p videos are not very good and a quick look at the bitrate tells you why. At just 9.9Mbps you can't expect miracles and the detail is on par with a decent 720p video. The narrow dynamic range is even more readily apparent here, though colors are pleasant, for one.
The focus mechanism is not eager to hunt, but you're likely going to be annoyed by the initial focusing upon hitting the record button.
You can also have a look at a Falst lens 10x speed video.
As always, we've provided an untouched sample, shot at 1080p@30fps (00:17min, 20.8MB) for download from our server.
Additionally, the video compare tool provides you with an option to see how the Oppo R7 fares in the controlled environment of our studio.