The Sony Ericsson XPERIA X10 triplets got another round of "guess the price". Also target availability dates were mentioned, but they've been pushed back from previous estimates. It looks like we've still got a couple of months to wait.
The smallest of the trio, the Sony Ericsson XPERIA X10 mini, will hit the stores in late May for 289 euro (Netherlands) and 300 euro (Belgium). Expansys lists the X10 mini at 300GBP and according to their estimate, it's due on May 24th.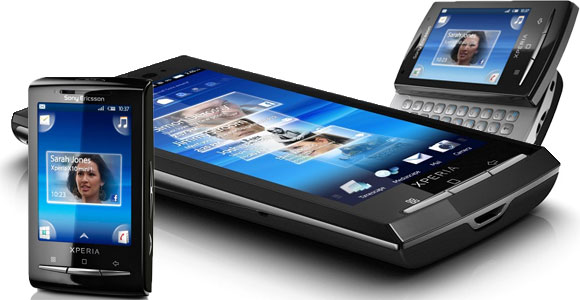 The QWERTY-wielding Sony Ericsson XPERIA X10 mini pro is said to be launching in late June for 330 euro in France and Belgium and for 319 euro in Netherlands. Turning back to Expansys, their estimate is again May 24th and 340 pounds cost.
However, Expansys previously estimated April 13th so take their estimates with a grain of salt.
Finally, the Sony Ericsson's Android top dog, the XPERIA X10, should start selling in April for 599 euro unlocked (815 US dollars).
The prices for the trio are for unlocked phones - as far as subsidies go, sub 50 euro prices are mention for carrier subsidized devices.
Update: It turns out India is getting the Sony Ericsson XPERIA X10 first – as soon as March 26, or in other words next Friday. The price is not certain but shouldn't be above 30,000 rupees or 485 euro.
P.S. check out a video of the Sony Ericsson XPERIA X10 in our office.
Update 2: The availability of the XPERIA X10 in the UK is a little funny. So, the phone is launching in early April in both black and white color versions. Except the white version is exclusive to Orange (they will have the black one too), while Vodafone will offer only the black version.
Update 3: According to TelecomSite.nl the quoted prices have been confirmed by a representative of Sony Ericsson Netherlands.
Source: FrAndroid (site in French), Cellpassion, Pocket Lint
l
i'll try to buy this...hhahahaa...
C
I like it I hope you will like it too although it was soi expensive still I beliwbe that its worth-it
x
ok the prices will be reduced below 10,000 for next 10 days. please get ur x10 today....
ADVERTISEMENTS