Android Pie and Color OS 6
The Realme 3 Pro runs Oppo's latest Color OS 6 - the same version we're already familiar with from the Realme 3 non-Pro. The ROM is based on Android 9 Pie and features a lot of improvements since v.5.2.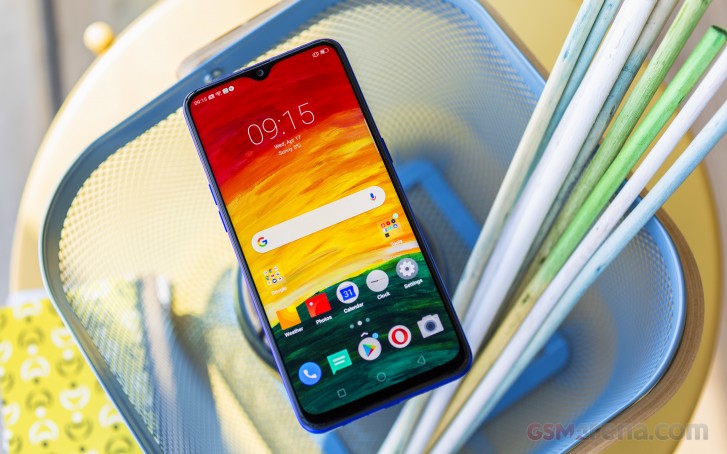 Version 6 is based on a light color scheme, mainly mixing a white backdrop with light color gradients. Oppo says the choice of white is meant to create an airy atmosphere. A major part of Color OS 6 is the new universal font - Oppo Sans - which Oppo has developed in cooperation with known Chinese typeface firm Hanyi.
An actual functional change with the latest iteration is that Color OS now has an app drawer. While this is just an option for the upcoming Oppo phones, it's on by default on the Realme 3 Pro.
The user interface of the Realme 3 Pro is virtually identical to that of the non-Pro, in turn very similar to the pre-Pie releases from the brand.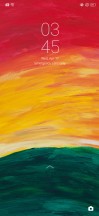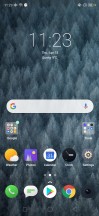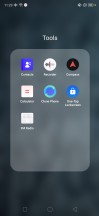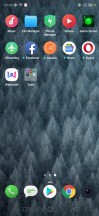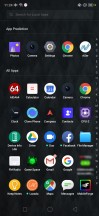 Lockscreen • Homescreen • Folder view • Smart assistant • App drawer
The fingerprint sensor is always-on and it's fast and accurate. It takes quite a few steps to enroll a print, but that typically ensures less issues with the recognition as is the case here.
You can also set up face unlock in addition to fingerprint security - it's equally fast as the Realme 3 Pro wakes up the moment you pick it up. It relies on 120 recognition points and supposedly can't be fooled by a picture. There's also a setting that requires your eyes to be open for the phone to unlock.
There's still no theme store on the Realme 3 Pro as we observed on the Realme 3. We're starting to wonder if there is such capability planned at all and it's simply a matter of software update, or there'll be none at all.
The drop-down shade features notifications, quick toggles, and a brightness scrubber and has been redesigned for Color OS 6. The task switcher is reminiscent of Apple's, though it has an End All button. Split-screen multitasking is available for all compatible apps, and you can resize the windows and swap the two apps - do try that last bit on a Pixel.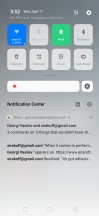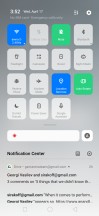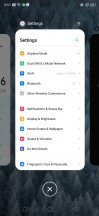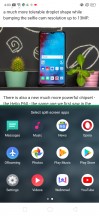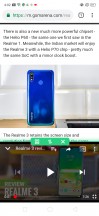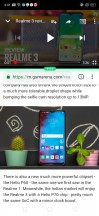 Notifications • Toggles • Task Switcher • Split screen • Split screen • Split screen
There are all sorts of navigation options on the Realme 3 Pro. Several types of gesture-based navigation, the usual nav bar, and Pixel's pill - they're all there. By the way, if you are keen on launching the Google Assistant with a hardware key instead of a virtual one, you can assign a short press on the Power Key to summon it.
There is a Phone Manager quite similar to what Huawei and Xiaomi have on their phones under the same name. It handles memory cleaner functions, app permissions and encryption, and virus scanning, among other things.
Game Space allows you to handpick which notifications to pass through when you are playing games and you don't want to be interrupted. There are also different performance modes and an option to lock the brightness only for certain games.
Oppo provides multimedia apps of all sorts - Gallery, Music, Video, and even an FM radio.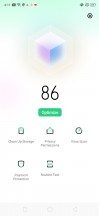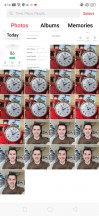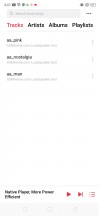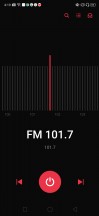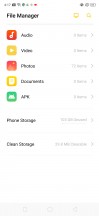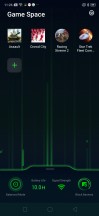 Phone Manager • Gallery • Music • FM radio • Files • Game Space
Synthetic benchmarks
The Realme 3 Pro is powered by the Snapdragon 710 chipset - one of the most powerful SoCs you can find outside of Qualcomm 800 series. Yes, it was just replaced by the S730, but it'll take a while before that makes it to the 3 Pro's price range, if at all. Then there's the S675 which has a slight advantage in the CPU department, but the way Qualcomm segments its lineup means the 710 still has the superior GPU.
The Realme 3 Pro will be offered in 4GB/64GB, 6GB/64GB, and 6GB/128GB versions and our review unit is the highest-specced one with 6GB of RAM and 128GB of storage.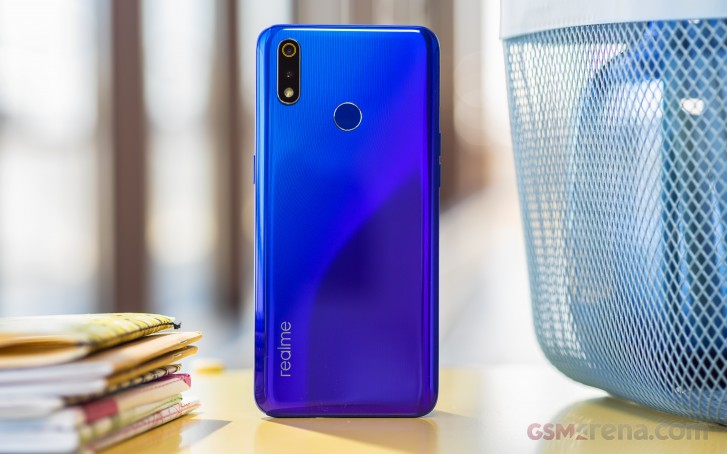 Indeed, as we expected, the Realme 3 Pro's single core results in GeekBench are nothing impressive. In fact, it's apparently been tuned rather conservatively as the Oppo RX17 Pro and the Mi 8 SE we previously saw with an S710 put out a significantly higher scores. The Realme 3 Pro's numbers are virtually identical to those of the Realme 3 (Helio P60) and the Realme 2 Pro (Snapdragon 660).
GeekBench 4.1 (single-core)
Higher is better
vivo V15 Pro
2386
Xiaomi Mi 8 SE
1890
Oppo RX17 Pro
1835
Xiaomi Redmi Note 7
1650
Honor 8X
1618
Oppo F11 Pro
1560
Oppo F9 (F9 Pro)
1497
Realme 3
1482
Realme 3 Pro
1471
Realme 2 Pro
1462
Samsung Galaxy M20
1313
Things are more in line with expectations in the multi-core test where the Realme 3 Pro matches the RX17 Pro and the Mi 8 SE's numbers. Under such loads, the 3 Pro inches ahead of the Honor 8X with the Redmi Note 7 further down. The Galaxy M20 (and by extension the M30) is on the bottom of this list. Meanwhile, the vivo V15 Pro's Snapdragon 675 with the newer and more powerful Kryo 460s is in a league of its own in both single- and multi-core tests.
GeekBench 4.1 (multi-core)
Higher is better
vivo V15 Pro
6527
Oppo F11 Pro
6020
Oppo RX17 Pro
5944
Xiaomi Mi 8 SE
5908
Realme 3 Pro
5881
Oppo F9 (F9 Pro)
5673
Honor 8X
5651
Realme 2 Pro
5531
Xiaomi Redmi Note 7
5411
Realme 3
4936
Samsung Galaxy M20
4160
Moving on to Antutu, the Realme 3 Pro is once more ahead of the Honor 8X and the Redmi Note 7, though keep in mind that the Redmi Note 7 Pro will likely be up top with the vivo V15 Pro which it shares a chipset with. Again, expect the Galaxy M30 to place around the bottom of this chart where the M20 is.
AnTuTu 7
Higher is better
vivo V15 Pro
180774
Xiaomi Mi 8 SE
170218
Realme 3 Pro
155647
Oppo RX17 Pro
154861
Oppo F11 Pro
150218
Xiaomi Redmi Note 7
139075
Honor 8X
137276
Realme 2 Pro
132958
Realme 3
132764
Samsung Galaxy M20
108658
And as we proceed to GPU tests, the Realme 3 Pro shows its strengths. In GFXBench it routinely manages to post some 50% higher framerates than the Redmi Note 7, Honor 8X and even the vivo V15 Pro (by extension also the Redmi Note 7 Pro). Perhaps logically as that's been the case in the other benchmarks, the Mi 8 SE is able to squeeze some extra performance from the same chip, though the Oppo RX17 Pro is on par with the Realme.
GFX 3.1 Manhattan (1080p offscreen)
Higher is better
Realme 3 Pro
23
Xiaomi Mi 8 SE
23
Oppo RX17 Pro
23
vivo V15 Pro
17
Xiaomi Redmi Note 7
15
Realme 2 Pro
14
Honor 8X
14
Oppo F11 Pro
14
Realme 3
13
Oppo F9 (F9 Pro)
12
Samsung Galaxy M20
8
GFX 3.1 Manhattan (onscreen)
Higher is better
Realme 3
26
Xiaomi Mi 8 SE
22
Realme 3 Pro
20
Oppo RX17 Pro
19
vivo V15 Pro
14
Xiaomi Redmi Note 7
13
Honor 8X
13
Realme 2 Pro
12
Oppo F11 Pro
12
Oppo F9 (F9 Pro)
11
Samsung Galaxy M20
7.1
GFX 3.1 Car scene (1080p offscreen)
Higher is better
Realme 3 Pro
13
Xiaomi Mi 8 SE
13
Oppo RX17 Pro
13
Xiaomi Redmi Note 7
9
vivo V15 Pro
8.8
Oppo F11 Pro
8.5
Realme 3
8
Honor 8X
7.6
Oppo F9 (F9 Pro)
7.5
Samsung Galaxy M20
5
GFX 3.1 Car scene (onscreen)
Higher is better
Realme 3
15
Xiaomi Mi 8 SE
12
Realme 3 Pro
11
Oppo RX17 Pro
11
Xiaomi Redmi Note 7
7.7
Oppo F11 Pro
7.4
Realme 2 Pro
7.2
vivo V15 Pro
7.1
Honor 8X
6.7
Oppo F9 (F9 Pro)
6.5
Samsung Galaxy M20
4.4
Overall, the Realme 3 Pro delivers predictably great results for performance across the board, save for a relatively low for the hardware single-core CPU result. The Redmi Note 7 Pro and the vivo V15 Pro do outperform the Realme in raw CPU power, but the Realme has a substantially more potent GPU, which could easily be a decider for mobile gamers.