Realme UI on top of Android 10
The Realme C15 comes with Realme's own UI on top of Android 10. It features a relatively recent July 5 security patch (writing this in August), a clean UI that's very close to vanilla Android with no-nonsense homescreens, simplistic notification/toggles area, and an easy-to-use task switcher. An app drawer is available, too, and it is as clutter-free as one could hope for.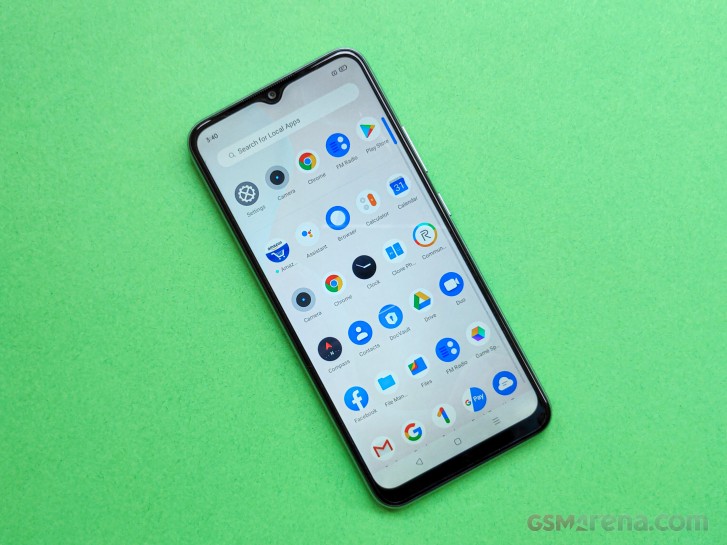 The Realme UI supports different icon packs, so if you are not happy with the default one, you can opt for material style, pebbles, or you can even fully customize them by your liking.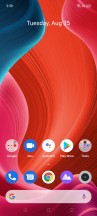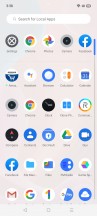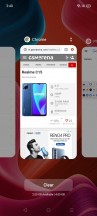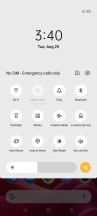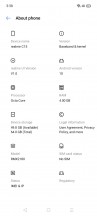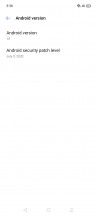 Home screen • App drawer • Recent apps • Notification area and quick toggles • About screen
There are a lot of powerful tools within the settings menu if you want full control over your Android OS. Or you can leave everything as is and enjoy hassle-free Android experience optimized by Realme's AI algorithms and machine learning.
The quick toggle selection is fairly extensive as well.
There is a fairly extensive selection of default and pre-loaded apps on the Realme C15. Still, the selection has been slimmed-down, compared to earlier Realme devices, much to the user's benefit, in our opinion. App Market and other similar unnecessary apps are no longer present. Also lacking - Smart Assistant, which is accessible with a right swipe on the home screen on company devices before the Realme X3.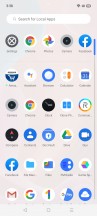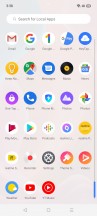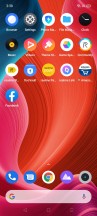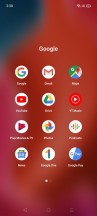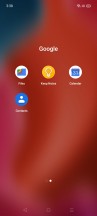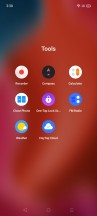 Pre-loaded and default app selection
Things that are present include the Realme PaySa and Realme Link apps. The Realme C15 also ships with Google's Phone and Messages apps.
Realme UI on the Realme C15 also has a feature called Super power saving mode. It can be toggled on from the battery menu.
It does a few things to the UI and UX once on. Everything becomes dark, which on the LCD of the Realme C15 is more of an aesthetic choice than a major battery-saving one. Still, Google apps, as well as any other app made to properly respect the system-wide dark mode setting acts accordingly.
Super Power saving mode also allows the user to select and use up to six apps at a time. A sort of artificial limitation, since there is no limitation on what apps can be chosen. Realme just identified that as a good number of core apps most users need.
The same logic was applied to the quick toggles selection, as well, there Realme UI replaces your choices with its pre-determined ones and does not let you expand the area any further.
Other limitations are sprinkled-in here and there, as well. For instance, you cannot switch between apps. Activities are closed and cleared from memory as soon as you back away from them as a power-saving measure.
Overall, though, this mode operates more on the premise of limiting the user, rather than really doing anything too drastic to the phone's abilities. You still retain full network connectivity, data connection, and everything. Still a neat concept.
Benchmarks
The Realme C15 is powered by the MediaTek Helio G35 - a fairly common choice in the Realme C family. Also rocking the same chipset - the C12 and C11. Interestingly enough, though, not the Realme C3. It has the Mediatek Helio G70 at its disposal. Both of these are 12nm chips, but the G70 is clearly better, even on paper, since it is rocking 2x2.0 GHz Cortex-A75 & 6x1.7 GHz Cortex-A55. In contrast, the Realme C15 has eight older Cortex-A53 units to work with. All of them do clock slightly higher, to 2.3GHz, which, perhaps, could make up some of the performance difference.
GeekBench 5.1 (multi-core)
Higher is better
Motorola Moto G Pro
1385
Realme 6i
1349
Xiaomi Redmi 9
1325
Xiaomi Redmi Note 9
1292
Realme C3
1262
Infinix S5 Pro
1039
Realme C15
996
GeekBench 5.1 (single-core)
Higher is better
Realme 6i
388
Xiaomi Redmi 9
362
Xiaomi Redmi Note 9
361
Realme C3
347
Motorola Moto G Pro
311
Infinix S5 Pro
187
Realme C15
168
Looking at GeekBench and its pure-CPU loads, though, is seems that core speed alone does not cut it. The Helio G35 lags not only behind the G70, inside the Realme C3, but also Qualcomm solutions, like the Snapdragon 665.
AnTuTu only furthers the picture of a power-lacking Realme C15. Mind you, the unit these numbers come from is the higher-tier 4GB RAM and 64GB ROM one. And AnTuTu does take that into some consideration.
AnTuTu 8
Higher is better
Realme 6S
278982
Realme 6S
278982
Realme 6i
202275
Xiaomi Redmi 9
201829
Xiaomi Redmi Note 9
200414
Realme C3
192223
Motorola Moto G Pro
173611
Xiaomi Redmi Note 8T
167395
Nokia 6.2
140736
Infinix S5 Pro
117533
Realme C15
110234
Xiaomi Redmi 8A
89901
Last, but not least, here is what you can expect to get from the PowerVR GE8320 GPU inside the Realme C15. We remind you, that native screen resolution matters for the on-screen GFXBench runs. In that sense, the HD+ resolution of the Realme C15 is giving it a leg up.
GFX 3.1 Manhattan (1080p offscreen)
Higher is better
Realme 6S
31
Realme 6S
31
Realme 6i
16
Realme C3
14
Xiaomi Redmi Note 8T
13
Motorola Moto G Pro
13
Nokia 6.2
10
Realme C15
8.3
Infinix S5 Pro
8.2
Xiaomi Redmi 8A
6.3
GFX 3.1 Manhattan (onscreen)
Higher is better
Realme 6i
31
Realme C3
27
Realme 6S
27
Realme 6S
27
Realme C15
14
Xiaomi Redmi 8A
13
Motorola Moto G Pro
12
Xiaomi Redmi Note 8T
11
Nokia 6.2
9.2
Infinix S5 Pro
7.3
All things considered, though, we weren't expecting the Realme C15 to blow us away with chart-topping performance either.
Camera
Cameras are one of the upgrade departments for the Realme C15, compared to the C12 and its other siblings. The main addition to the mix is a new 8MP, f/2.9 ultrawide camera. It offers around a 119-degree field of view, minus a little for distortion correction.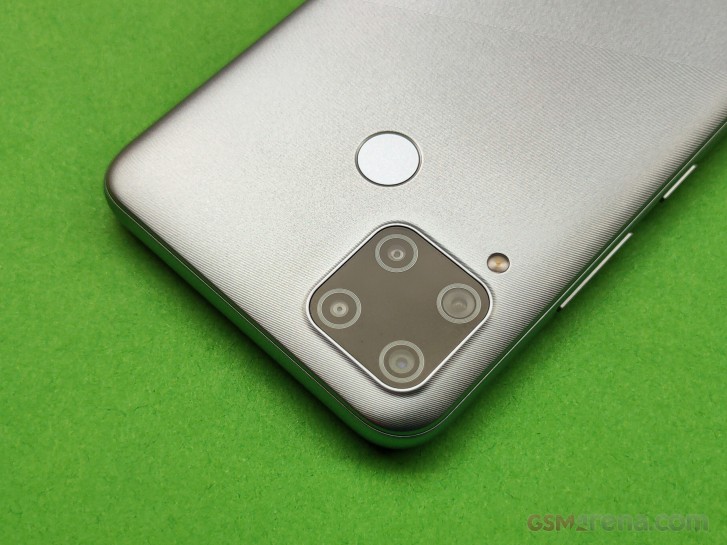 Beyond that, you get a main 13MP, f/2.2 camera. It boats a 5-piece lens design and has PDAF. On the software side of things, Realme claims it has infused its fair share of AI to get the most out of the rather mundane hardware. As per marketing, Super NightScape mode is particularly potent. There are also Chroma Boost, Portrait, and HDR modes to explore. Realme even felt confident enough to include an Expert mode here. At least to some extent.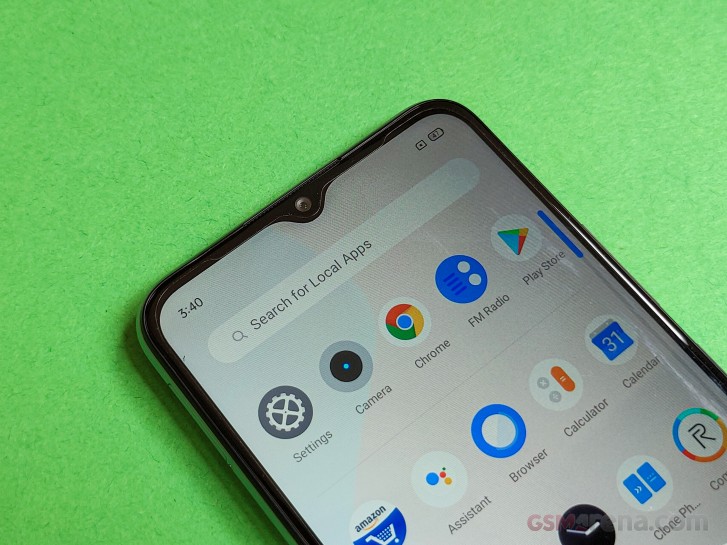 We managed to shoot a few quick shots with the Realme C15. The following set is from the main 13MP camera, it auto mode, with Auto HDR enabled.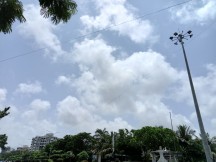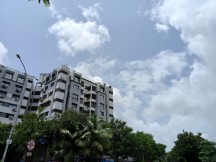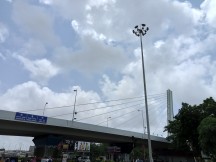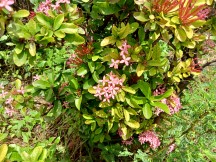 Realme C15 main 13MP camera samples
Here we have the same scenes, as captured by the 8MP ultrawide.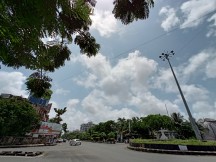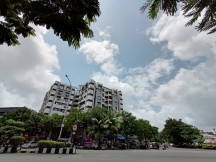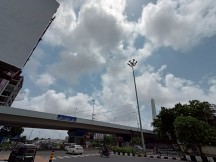 Realme C15 ultrawide 8MP camera samples
And finally, we have a few photos taken with the Chroma Boost feature on.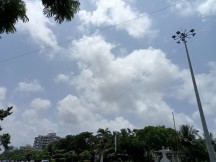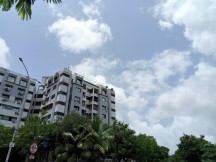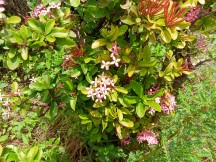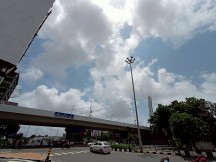 Realme C15 Chroma Boost camera samples
Naturally, we will reserve our observations on camera quality and performance for the full review.
The pair of additional 2MP, fixed-focus auxiliary cameras, both behind a dark f/2.4 lenses are hardly worth getting overly-excited over. Still, Realme could have done something cool with them as well. One is strictly black and the other is being marketed as a "retro lens". From what we can gather, there is a special sepia effect powered by one, while the other is a depth sensor.
Final thoughts
Traversing through the ranks of Realme's constantly-growing budget "C" family of devices is often a daunting and confusing task due to Realme's goal of saturating the local market as much as possible bringing together price brackets as close as possible.
The end result, from such a strategy, however, is not necessarily ideal for prospective buyers either. And definitely frustrating for fresh new owners, who get to witness a constant stream of often better-value devices pour in merely weeks after they have made a purchase.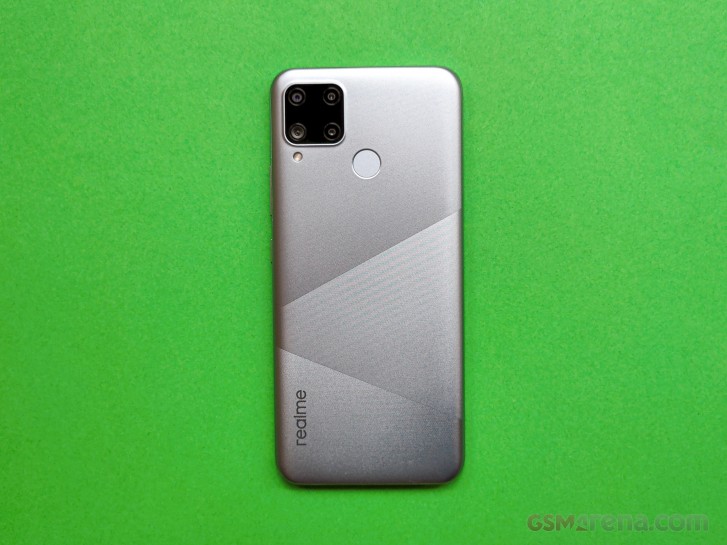 Currently, the Realme C15 seems to fit into all of this as one of the better-value offers, managing to outpace the C12 with an extra ultrawide camera and faster charging, for just a small price overhead. In a more general sense, just like its sibling, our initial impressions of it are positive. As a device, it is well put-together, Realme UI is pleasant to use and the C15 delivers, as expected, for its price segment. How long it will maintain this leading position, though, is an entirely different story.