The Redmi Note 7 arrived for its first flash sale in China on January 15. Back then Redmi CEO Lu Weibing said the company is ready to sell 1 million units in the first month. Exactly four weeks later the milestone was reached, according to his own Weibo account. Lu even revealed an internal message to the Xiaomi board of directors, confirming the seven-digit landmark.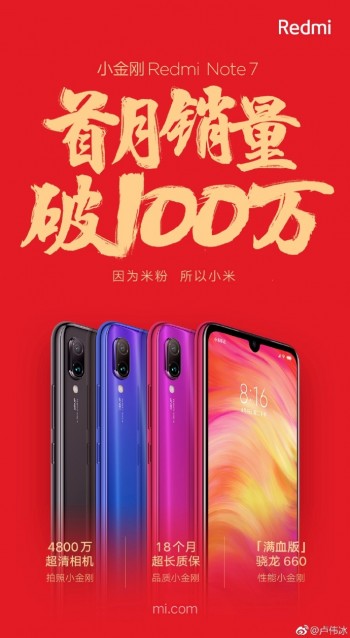 Xiaomi Redmi Note 7 sold in 1 million units
Redmi Note 7 was made available in a series of flash sales, all of them seeing thousands of units disappearing in minutes. We are yet to see how the phone will perform outside its domestic market, and we know it will eventually appear in India. You can check out our review while you wait to know more about it.
The Redmi Note 7 owes its success to its aggressive price ($150 to $200 depending on version), 48 MP camera, Snapdragon 660 chipset and Quick Charge 4.
We are also expecting to get the Redmi Note 7 Pro with Snapdragon 670, Sony IMX586 camera sensor and 128 GB storage soon. Prices should be a bit higher though - likely CNY1,599 ($240) for a 6/64 GB variant.
C
Well now you see. In 2014 i had Iphone 6 because everybody told you how this brand is awesome and so. I give up after 3 months. I hate when a device is trying to be much more clever than you so i sold it and switch back to android. Anyway IO...
?
You didn't say that but the original post did. My reply was in that context.
D
I never said anything about 20 million, of course that's unrealistic, but 3 to 4 million is realistic if they had production up to speed. Xiaomi's own website is the largest seller of the RN7. Taobao, TMall, Gome and Suning also have huge smartp...