One of the more surprising announcements at this year's Google IO conference was a wholly revamped Google News experience. The search giant says this combines AI with human intelligence, using the former to find the best of the latter. And by "human intelligence" it means the great reporting done by journalists around the globe.
The reimagined Google News employs AI techniques to organize the constant flow of information that hits the web into storylines. Hence, the service understands who and what is involved in a story as it evolves, and connects how all the subjects and objects relate to one another.
This should result in helping you make sense of what's happening, and what the impact or reaction has been to anything. The app's For You feed brings everything you care about in one place, with a mix of the most important headlines, local news, as well as latest developments on all the topics you're interested in.
The more you use Google News, the better it will get at predicting what you like. You can aid its algorithms by manually telling it if you want to see more or less of a topic or publisher.
News includes a unique visual format called newscasts. These bring together a collection of articles, videos, and quotes on a single topic, and make it easy to understand different perspectives and learn more about a story.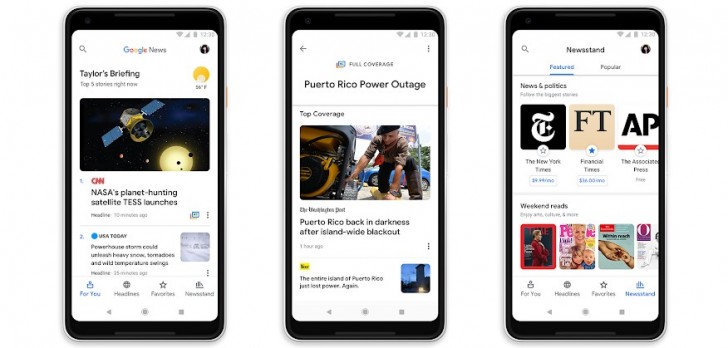 The Full Coverage feature will give you deeper insight into any subject, with a complete picture of how that's reported by a variety of sources. Top headlines, videos, local news reports, FAQs, social commentary, and a timeline - these are all available inside Full Coverage. The content here is the same for everyone, an unpersonalized view of events from "a range of trusted news sources".
Headlines is the section where you'll find out what the world is reading about. This is an unfiltered view of news from around the world. The sections here will let you dig into more on tech, business, sports, entertainment, and so on.
The Newsstand tab lets you find and follow the sources you trust, but also browse and discover new ones. More than 1,000 magazines are accessible in a mobile-optimized reading format too. You can even subscribe to paywalled publications with your Google account.
The all-new Google News is replacing the Google News & Weather app as well as the Google Play Newsstand app on mobile. On the web, it will replace Google Play Newsstand. It's rolling out from today, and should be available to everyone on Android, iOS, and the web in 127 countries by next week.