Image quality is good
Samsung D780 is equipped with a 2 megapixel camera with a maximum image resolution of 1600 x 1200 pixels. There's a self-portrait mirror but no LED flash.
The camera interface is intuitive and follows the current trend of displaying settings with icons in a toolbar at the bottom of the screen, while options appear as semi-transparent popup menus. The settings here are extensive and include picture size, shooting mode (single, multi-shot, mosaic shot and panorama), color effects (black and white, negative, sepia, antique, moonlight etc.), white balance, and ISO (up to 400).
Unfortunately, the camera sensor is set so that the camera is better off when used in portrait mode only - as funny as it may sound - that way you get the regular landscape images. To get a tall portrait shot you have to turn the handset to a landscape position.
No matter if you choose portrait or landscape mode - when you select the fullscreen mode for the viewfinder it crops the live feed from the camera lens so that it fits the display. Not to worry though, the actual photos taken by the camera are not cropped. Samsung D900 had the same issues by the way and that didn't stop it from becoming a bestseller.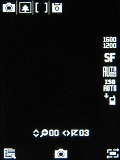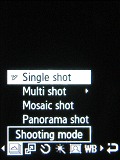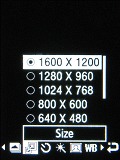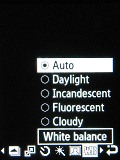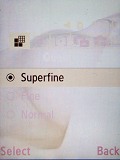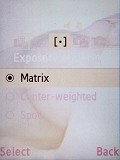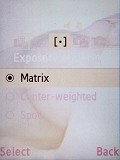 Camera viewfinder • camera settings on toolbar
The camera key is useless; using the OK key is far more convenient. We were pleasantly surprised by the color rendering and dynamic range. Noise is kept under control and photos are fine with sharpening applied carefully. The Samsung D780 camera made a really nice impression and we got to admit it's among th best 2 megapixel cameras we've seen on a mobile phone.
Here are some camera samples produced by the 2 megapixel camera of Samsung D780:
Finally, we come to the video recording capabilities of the camera. Samsung D780 shoots video in the so-called Camcorder mode. The user interface of the camcorder doesn't differ from the one of the still camera except for some of the available options.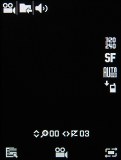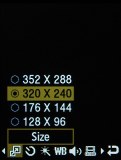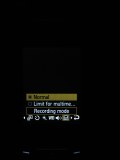 Camcorder viewfinder • camcorder settings on toolbar
Samsung D780 captures video in CIF resolution at 15fps and clips are recorded in MPEG4 format.
Web browser almost unusable
With Samsung D780 you can count on EDGE and GPRS only for browsing internet on the go. Unfortunately, the handset doesn't come with the latest NetFront 3.4 web browser but instead uses the Openwave browser dating all the way back to Samsung D900. The Openwave web browser doesn't even have desktop-like rendering and most images are resized beyond recognition with the default Smart Fit option.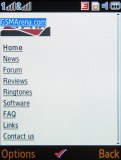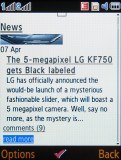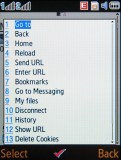 Browsing GSMArena.com • browser options
Organizer topped with document viewer
The Samsung D780 calendar offers three views - daily, weekly and monthly. There are five types of events available: appointment, anniversary, holiday, important, and private. Alarm slots are also five, each with a variety of configurable options - snooze time, repetition, etc. You can of course choose a custom ringtone to wake you up at a preset volume level.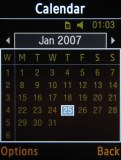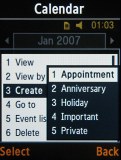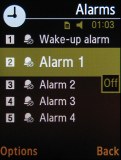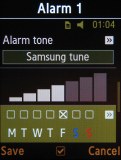 Calendar: monthly view and types of events o Alarms: 5 slots and some of the available options
Among the other offerings are the voice memo recorder, a world time application, a calculator, and a unit converter. A countdown timer and a stopwatch are also available.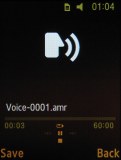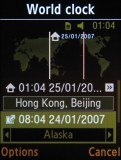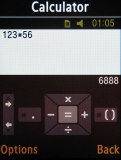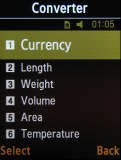 Recording a voice note • world clock • calculator • converter
Samsung D780 also features an office documents viewer along the lines of most Samsung handsets out there.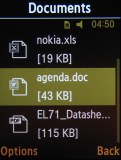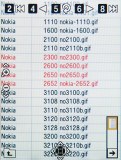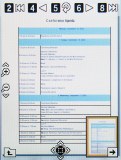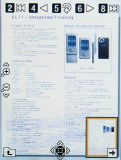 File manager • opening an excel, word and acrobat document
Games
When it comes to games, Samsung D780 is quite well geared. A whole bunch of games are preinstalled just waiting for you to have some free time to spend. The games the D780 bundles up are Cannonball, Forgotten Warrior, Freekick, Arch Angel, Minigolf Las Vegas (trial), Tetris Mania (trial) and Asphalt 2 (trial). What's not so good about them is that you've probably seen every one of them on other Samsung handsets.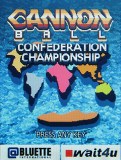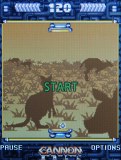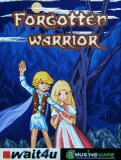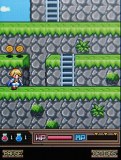 Some of the free games: Cannonball, Forgotten Warrior