You can take widescreen photos with the F700
The Samsung F700 is equipped with a 3 megapixel autofocus camera, which produces photos at a maximum resolution of 2048 x 1536 pixels.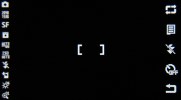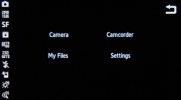 Camera viewfinder • the camera options appear as overlay in the viewfinder
The settings are extensive and include picture size, shooting mode (single shot, multi-shot, mosaic shot, frames), effects (black and white, sepia, negative), white balance, and viewfinder mode (regular or widescreen).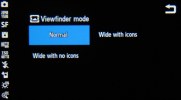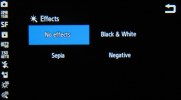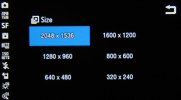 Camera viewfinder settings • color effects • image size settings
The additional camera settings are accessible from the menu where you can switch between camera and camcorder. Unlike the Samsung F490, there is no Scenes mode here. The available settings include picture quality (economy, normal, fine, superfine), ISO (100-400), exposure metering (matrix and spot - F490 also had center-weight), shutter sound (can be set to off), zoom sound, brightness sound, default storage memory and default naming of photos.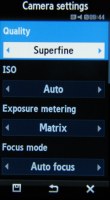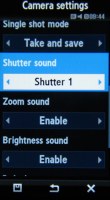 Some of the additional camera settings
Check out some sample Samsung F700 photos:
An interesting fact is that when you toggle your viewfinder mode between normal and fullscreen, the image resolution changes too: from normal (3:4 ratio) to widescreen (16.31:9 ratio in the case of F700). That effectively reduces the image resolution to 2016 x 1120 pixels as opposed to the regular 3 megapixel resolution of 2048 x 1536 pixels.
When using the fullscreen viewfinder mode, previous Samsung models simply cropped the visible area to a widescreen ratio, effectively hiding some of the image to be captured. The Samsung F700 goes a step further and crops the very images it captures to the widescreen viewfinder ratio.
Some of the widescreen samples from the F700 camera:
The video recording capabilities of the Samsung F700 are pretty modest. The Samsung F700 video recording power maxes out at 15 fps in QVGA resolution - same as F490. Not that much really.
Here is a outdoor sample camera video and an indoor sample video - both captured by Samsung F700. As you will see videos are not even encoded in MPEG4 file format but in 3GP instead.
Web browser slow to pan and scroll
The Samsung F700 has a web browser that supports both fullscreen and landscape browsing. It even has a mini-map that allows you to navigate over large web pages from a bird's eye view. Thanks to HSDPA 3.6 Mbps the F700 is also able to provide relatively high-speed data transfers.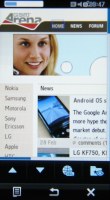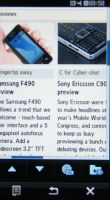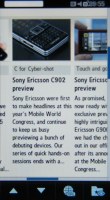 Browsing GSMArena.com in portrait mode • fullscreen view
The Samsung F700 also allows full navigation with finger sweeps. However, it's a bit of a letdown due to the slow horizontal and vertical scrolling.
The touch operation is nowhere near user-friendly either. Instead of picking the page and dragging it in the direction of choice, you should slide you finger in the direction you want the page to scroll. That's just the opposite of iPhone where browsing pages blends seamlessly with the rest of the UI to give the impression of almost physical interaction as you move things around with your finger.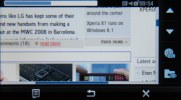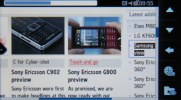 The landscape mode also allows fullscreen view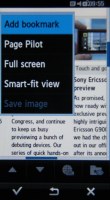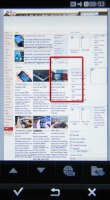 Options appear as popup menus after a press-and-hold • there is also a mini map
The organizer is good enough
The Samsung F700 calendar offers three views - daily, weekly and monthly. You can choose which calendar view should be default and you can pick the starting day of the week - the options are Monday or Sunday. There are five types of events available for setting up: schedule, anniversary, holiday, important and private. You can store up to 300 schedules, 50 anniversaries, 50 holidays, 20 important, 20 private events.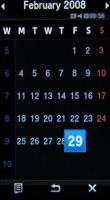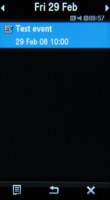 The Calendar has three views: monthly, weekly and daily
There are five alarm slots, each with a variety of configurable options - snooze time, repetition, etc. You can of course choose a custom ringtone to wake you up at a preset volume level. You can also choose whether your phone should automatically power up upon alarm activation. This feature can be quite handy if you have the habit of switching off your handset at night.
Among the other organizer offerings are a voice recorder, world time application, calculator, and a unit converter. There are also a memo and a to-do application for taking down notes. A countdown timer and a stopwatch are also available. The voice recorder records in .amr format and has a sixty-minute recording limitation.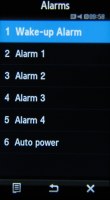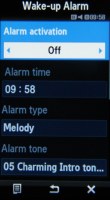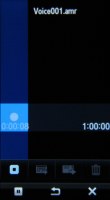 There are 5 alarm slots each with rich settings • the voice recorder
The calculator of the F700 is not as ridiculous as the Armani one. Here you have all your numbers and mathematical symbols on one page. It even supports calculating functions.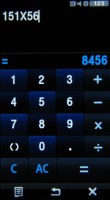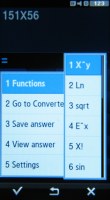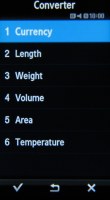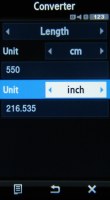 Calculator: numbers and functions • unit converter
The Samsung F700 comes with an office documents viewer that supports Word, Excel, Powerpoint and PDF files. It's no longer a Picsel Viewer but an application by Access, who also develop the NetFront web browser used by both Samsung and Sony Ericsson. The documents viewer is quick enough when opening files, however zooming is again slow. It can also work in landscape mode, which makes reading easier with less panning.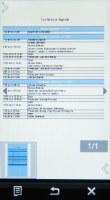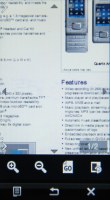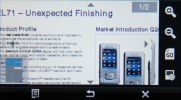 The F700 can also open Word, Excel, Powerpoint and PDF documents
Java goes fullscreen, but only a trial
Samsung F700 offers excellent Java support, as it seems with the three demo Java games that come preinstalled. We are not aware whether those games have been specifically developed for use with such resolution or whether they have been optimized for touch input. The fact is they work flawlessly even if the play field is not stretched fullscreen and they accept touch-based input with no problems whatsoever.
| | |
| --- | --- |
| "...The Samsung offers top-notch performance in every possible aspect we were able to test. The QWERTY keyboard is really comfortable to work with, so is the touchscreen display..." | ADVERTISEMENTS |
In fact, we've seen those games run on many of the recent Samsung handsets: Bejeweled, the BlockBreaker deluxe, and Kasparov's Chess.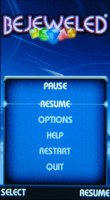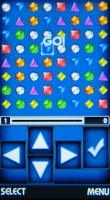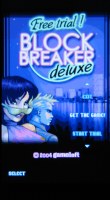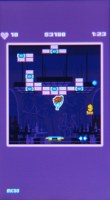 The preinstalled Java games work great with the widescreen touch-sensitive display
Final words
The Samsung offers top-notch performance in every possible aspect we were able to test. The QWERTY keyboard is really comfortable to work with, so is the touchscreen display.
Softwarewise the Samsung Touch UI is a nice platform that we praised in the Samsung F490 review. You won't hear us say anything different here - it works great, except for the clumsy web browser and the incompatibility with widescreen user-encoded WMV and H.263 videos.
If you can live with that along with the bulky size, Samsung F700 is truly able to deliver, especially for those of who would like a full QWERTY keyboard and easy going interface without the Symbian or Windows Mobile fuss.
For an approximate street price of USD550 or EUR360, Samsung F700 seems a bit overpriced but if you have set your eyes on it you won't have any viable alternatives due to its unusual form factor and platform. A subsidized price tag by Vodafone would sound better. But still the Samsung F700 remains a niche product, and would hardly win a significant market share outside its limited target group.