Audio quality
Being able to listen to your favorite tracks is one thing but playing them properly is something completely different. It is therefore important that a high-end device such as Samsung G810 have good audio output quality. Besides, its main rival - the Nokia N95 8GB is really failing to deliver in that department, so it's a welcome opportunity to earn some points.
We were surprised to see that the G810 results weren't the best Samsung can pull off. In fact it is completely identical to what Samsung G800 was capable of. Now, don't get us wrong: they are still very good and outdoing most handsets. However, we have seen a few Samsung phones perform better than that and we are wondering why the top-of-the-shelf G810 isn't as gifted. This of course may change in the final version of the handset.
Anyway, the results are here to see for yourselves that even at these early stages Samsung G810 is a talented enough musician. In case you want to learn more about the test itself, click here.
| | | | | | | |
| --- | --- | --- | --- | --- | --- | --- |
| Test | Frequency response | Noise level | Dynamic range | THD | IMD + Noise | Stereo crosstalk |
| Samsung G810 | +0.37, -1.19 | -86.7 | 86.0 | 0.017 | 0.050 | -83.2 |
| Samsung G800 | +0.37, -1.19 | -86.7 | 86.0 | 0.017 | 0.050 | -83.2 |
| Samsung U600 | +0.41, -1.12 | -89.2 | 86.5 | 0.0040 | 0.019 | -86.9 |
| Nokia N95 8GB | +0.39, -1.13 | -86.6 | 95.8 | 0.041 | 0.040 | -69.9 |
| LG KU990 Viewty | +0.29, -2.07 | -86.8 | 83.8 | 0.020 | 0.0124 | -86.6 |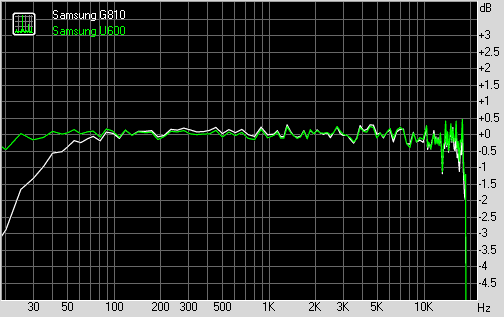 Samsung G810 has a tad worse frequency response than Samsung U600
Picture gallery is good, but not impressive
Samsung G810 lacks the 3D rotating gallery of Nokia N-series smartphones and we find this somewhat disappointing. With the G810 we were only left with the list view for displaying images and videos. Not that it makes any improvements to functionality but sometimes it's the interface that makes the difference.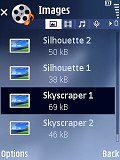 The gallery lacks the 3D rotating view of the N-series but is otherwise equally functional
Other than that the gallery is good. It allows viewing pictures in both normal and full screen mode. Once you pick a picture you can zoom on it for greater detail. The actual zooming and panning thing is quite fast, as should be in a multimedia handset.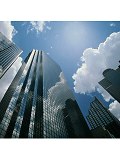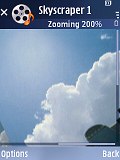 Picture in normal and fullscreen mode • zooming in on a picture
The gallery offers good file-managing capabilities allowing selection and sending of multiple files. In addition to that, the smartphone has the usual file manager that does a very good job. It allows filtering files according to the memory used as well as marking, moving, copying single or multiple files at a time.
There is also an Application manager to take care of the installed applications on Samsung G810. It is very familiar, consistent across Symbian S60 3rd edition devices. Its purpose is to keep track of the installed and removed programs on you phone and facilitate uninstalling of unwanted programs. It does that job pretty well too.
Regretfully, the Samsung handsets have no feature similar to the "Search" application we found on Nokia phones. This means you have to spend a little extra time organizing your files and applications, unless you want to end up in a mess. Anyways, there are a bunch of third-party applications, available for download that can do this job.
Another thing we are missing is the WLAN wizard plug in which greatly facilitates using the Wi-Fi. It makes connecting to nearby hotspots a piece of cake. Instead with Samsung G810 you have to do a bit more work, navigating through a couple more menus. This application is also available for download but its compatibility with Samsung G810 is not guaranteed.
| | |
| --- | --- |
| "...It is important that a high-end device such as Samsung G810 have good audio output quality. Besides, its main rival - the Nokia N95 8GB is really failing to deliver in that department, so it's a welcome opportunity to earn some points..." | ADVERTISEMENTS |
Splendid camera
The camera is one of the key elements of Samsung G810. It brings xenon flash and 3x optical zoom, which are both rare enough features, reserved exclusively for high-end gadgets. Add auto focus and face detection, and you get camera performance at its present best.
The camera interface isn't the same as in other Symbian Samsung phones. Instead it is almost identical to the one of Samsung G800. The toolbar layout is the best solution here and we are more than pleased with it.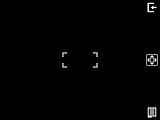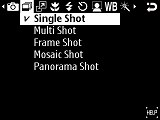 Camera UI is identical to the one of Samsung G800
Some of the more important settings are picture size, shooting mode (single shot, multi-shot, mosaic, and frame), effects (black and white, sepia, negative etc.), white balance and face detection.
The face detection feature itself works pretty well and is even capable of recognizing several faces simultaneously.
The submenu for general camera settings includes wide dynamic range, anti-shake, picture quality and ISO settings. Exposure metering is also configurable and auto focus can be switched off if necessary.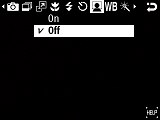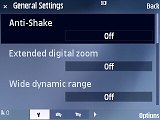 Some of the other available options: face detection, anti-shake, WDR etc.
The picture quality is admirable. We were able to verify that in Barcelona last month, which was our first rendezvous with Samsung G810. The colors are quite precise and the detail levels are very good. At those early stages, noise levels are a bit high but that will probably be fixed later through fine-tuning of the image processing algorithm. Our guess is that the final result will be a camera producing images, very similar to those of Samsung G800. On the other hand we will be perfectly pleased if the final image processing is the same as in Samsung U900 Soul. As we found out it is almost perfect and produces (one of) the best images we have seen among cameraphones.
Our unit yelling Beta out loud, we are going to show you the photos we took in Barcelona. Here are the sample images so you can see how Samsung G810 is performing in the early stages of development.
Samsung G810 camera samples
As far as video recoding is concerned, the Samsung G810 is able to manage even VGA resolution. Video at this resolution has a frame rate of 22fps. Not too bad we would say, but still not the best in its class, as both Nokia N95 8GB and LG KU990 Viewty are capable of VGA at 30fps. However, the frame rate is another thing that is very likely to change.
Here is the Samsung G810 sample camera video. The traffic conscious users should bear in mind that it's about 5MB.