Connectivity is at its best
Regarding connectivity, Samsung G810 is among the most tempting offers around. USB connectivity is truly seamless, as with any other Symbian device. In addition you also get Wi-Fi and Bluetooth, which should take care of all your wireless data transfer needs. The card slot is also an option with the good data transfer rate they offer.
The network connectivity is also at the expected high level with GPRS, EDGE and 3G all covered. HSDPA is also in the package. The only thing missing is the Infrared port, but we doubt it anyone is using that anymore.
Web browser worth the praise
As you probably know, we do appreciate Symbian web browsing. No wonder we find the Samsung G810 great at that.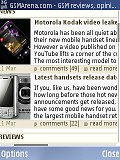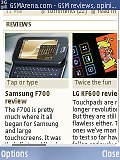 Symbian web browsing is second to Apple iPhone's Safari only
Browsing the internet with Samsung G810 is a pleasure. No matter how elaborate the web page, it fits perfectly on the screen and looks almost exactly like on a PC. The virtual mouse cursor earns the handset another point. It is easy to control and generally works great. A mini-map can be activated to help finding your way around large sites where lots of scrolling is required. The zoom level is also adjustable at the expense of only a few key presses.
Getting organized is easy with Samsung G810
The calendar in Samsung G810 has three different types of view - monthly, weekly and daily, and four types of events available for scheduling - Meeting, Memo, Anniversary and To-do. Every event has its own unique fields and some allow an alarm to be activated at a preset time to act as a reminder.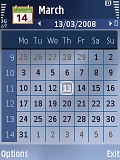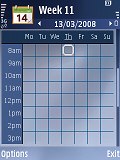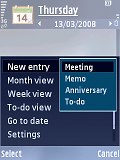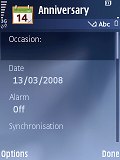 The month and week calendar view • scheduling an event
The mobile office applications are also duly covered. The preinstalled applications are able to open Word and Excel files trouble-free. There is also a PDF reader in the package. However, as with the other Symbian devices, Samsung G810 has no support for editing documents out-of-the-box. You will need to purchase the full version of the office application if you are to do that.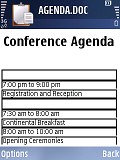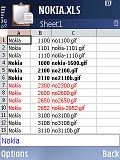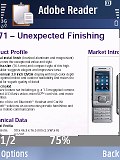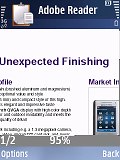 Word, Excel and PDF files are handled easily by Samsung G810
The other included organizing and time-management applications are: a state of the art unit converter and calculator, as well as a Notes application. There is of course also a convenient voice recorder. (recording length is up to an hour).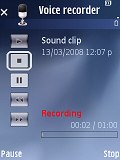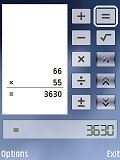 Calculator and voice recorder are among the organizing applications
Finally come alarms. You can set up a virtually unlimited number of alarms on your Samsung G810. Furthermore, each of these can have its own name, activation day and repeat pattern. You can also adjust the snooze time.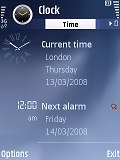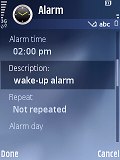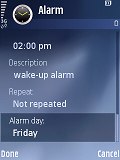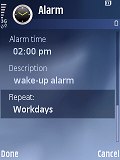 Symbian S60 FP1 devices have a truly elaborate alarm application
No games were found on our Samsung G810 but this may not hold true for the retail version of the handset. Besides, there is a huge number of games for the Symbian phones all over the internet.
Beta GPS
The final interesting feature of Samsung G810 is the built-in GPS. The chip is not the most sensitive we have seen and needs quite a lot of time to get a satellite lock. Tall buildings around are making the situation even worse. We are only hoping that the built-in receiver will be improved, although frankly, we are not expecting miracles of it.
Unfortunately, we weren't able to test the Navigon software that is supposed to come prebundled in the final version of Samsung G810. It wasn't available in our unit but, as far as we know, Navigon will be worth it. The company has enough experience in navigation software development, so we are quite sure that the mobile application will be at a decent level. Besides, with the smartphone capabilities you can always go for a third party alternative if you prefer.
Final words
To begin with, it is quite obvious that Samsung are a bit late releasing the G810. It has been six months since Nokia N95 8GB hit the shelves and the N82 has been around for about five. It's quite likely that most geeks that are after a loaded handset have already sealed a deal. Another problem with the Samsung G810 is that its estimated retail price of 560 euro is by a good 110 euro more than what you would pay for a Nokia N95 8GB. We somehow cannot see how it deserves that extra pocket digging.
| | |
| --- | --- |
| "...Samsung G810 has a unique optical zoom feature and is probably the sleekest looking among them all-but-the-kitchen-sink devices out there. It has the performance and snappy user interface, which is probably what's most important in such a phone..." | ADVERTISEMENTS |
On the other hand, Samsung G810 has a unique optical zoom feature and is probably the sleekest looking among them all-but-the-kitchen-sink devices out there. It has the performance and snappy user interface, which is probably what's most important in such a phone. If it wasn't for the awkward keypad, we would totally call it better than its market rivals. With this issue in mind though, we'll refrain from such a statement. There is however nothing to stop us from admitting that we did like the handset. So if value-for-money is not high on your agenda, Samsung G810 is definitely a tempting offer.