User interface
The Samsung Galaxy 551 runs on Android 2.2 Froyo and is one of the first Galaxy phones to have it out of the box. As usual the TouchWiz overlay (or launcher as it's technically called) is most prominent. It improves both looks and usability and integrates excellently with Android Froyo.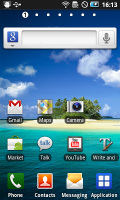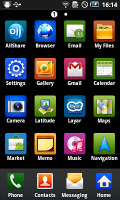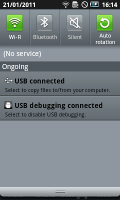 The TouchWiz 3.0 user interface comes preinstalled on top of the Android OS
Since the user interface is almost identical to what Samsung have on their other Froyo smartphones, we have reused portions of the text from other reviews but you should rest assured that we've updated the text where necessary.
For starters we've prepared a short video demo of the Galaxy 551:
The homescreen accommodates up to seven homescreen panes, which can be managed by hitting the edit option in the menu. You can add, remove and rearrange the panes as you see fit.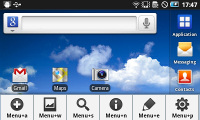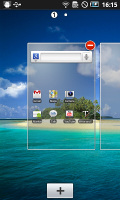 Add, delete or re-arrange homescreen
Moving on, the Android 2.2-running Galaxy 551 relies only on still wallpapers. We guess it lacks the power to display live wallpapers.
However the improved notification area is one of our favorites. Packing Wi-Fi, Bluetooth and sound toggles on top since Eclair it now adds an automatic rotation switch. These handy shortcuts can save you a whole load of digging in the Settings. The Galaxy S lineup features one more toggle – the GPS one – but due to the low-res screen it was left out.
The lock screen has remained relatively unchanged though– Samsung chose the vanilla Android over the TouchWiz one.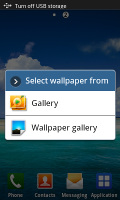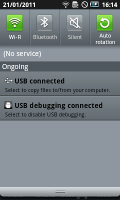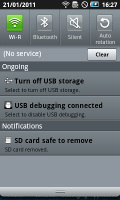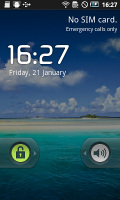 Still wallpaper gallery • the updated notification area • the lockscreen
The Samsung home-baked widgets are still here and even new ones are added. Some of the widgets are preinstalled, while others are available for free from the Samsung Apps repository. Still there are so many of those available over at the Android market that custom widgets are hardly considered a selling point any more.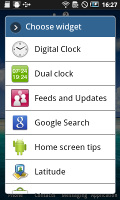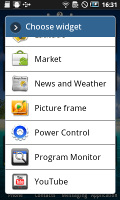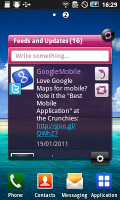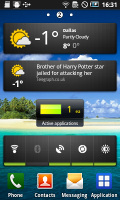 The widget list • Some of the widgets in action
An interesting change brought by Samsung for the Android 2.2-compatible version of their TouchWiz launcher is the built-in task manager. Complete with a homescreen widget that shows the number of currently active apps, it saves you the need to install a task killer on your own (not that you'll need it frequently).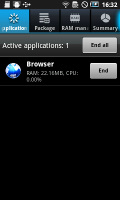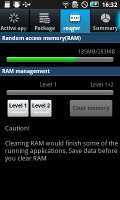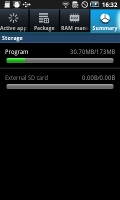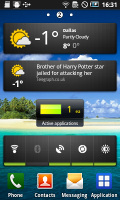 The task manager • the task widget in the center of the homescreen
Typically the main menu consists of side-scrollable panes, much like the homescreen, instead of a vertical scrollable grid (like in vanilla Android). List view is also available.
Tap and hold on an icon brings you in Edit mode (you can also select it from the menu), where you can uninstall apps (only the ones that you installed) or re-arrange them on the grid.
Here are some benchmarks of the Galaxy 551: