Update 18 Dec: Samsung has updated the specs of the phone to show that it will have 2GB of RAM and 16GB of storage instead of the initially listed 6GB/128GB. The story below has been updated to reflect the change.
The Samsung Galaxy A01 was just unveiled - the new lowest standing member of the company's increasingly popular A series. Some details are still missing, though, most importantly the price.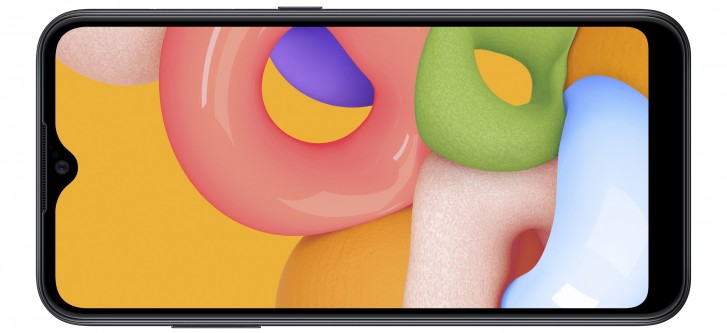 The phone is built around a 5.7" Infinity-V display, meaning that the 5MP selfie camera lives in a notch. The display has an LCD panel with 720p+ resolution and rounded corners.
Around the back there's a 13MP main camera and its 2MP depth sensor. There's no official confirmation, but we'll venture a guess and say it records 1080p video.

The Galaxy A01 is powered by an unnamed chipset with an octa-core processor. We suspect it's an entry-level chip and the 2GB of RAM and 16GB of storage back that up.
The storage can be expanded by up to 512GB more via a microSD card. The card slot has a dedicated spot for the microSD, so you can make full use of the dual SIM functionality.
A 3.5mm headphone jack on top of the phone along with an FM radio receiver can provide some free entertainment. The phone uses a 3,000mAh battery, details like charging speed are yet to be revealed.
There's no word on when the Samsung Galaxy A01 will be available or in which market. Nothing on its price either, but we'll probably learn more about it in the following days.
J
Would love to see a 32GB Samsung Galaxy, with a screen 4.7" (like the awesome A3 2017). That was a great phone, just not nearly enough storage.
?
Why it is so big... where Are sensible sized phones these days...
ADVERTISEMENTS