Final words
The Samsung Galaxy A3 (2017) has to fight on two fronts - on one side, it takes on the iPhone and its (often unaffordably) high price, on the other side it tries to shore up Android's weak position in the premium mini market.
We think it does the latter beautifully, filling in an Xperia Z Compact sized hole. We would have loved a chipset that has a beefier GPU and that can capture 2160p video, but those are rare in this price range (especially if you don't say the magic words, "Import from China").
As for the iPhone, the A3 (2017) doesn't beat it hands down, but at less than half the price it doesn't have to either. Apple's darling is quite expensive basically anywhere outside the US and Samsung began the Galaxy A3 (2017) launch in the East, where Apple's pricing can't hide behind carrier subsidies.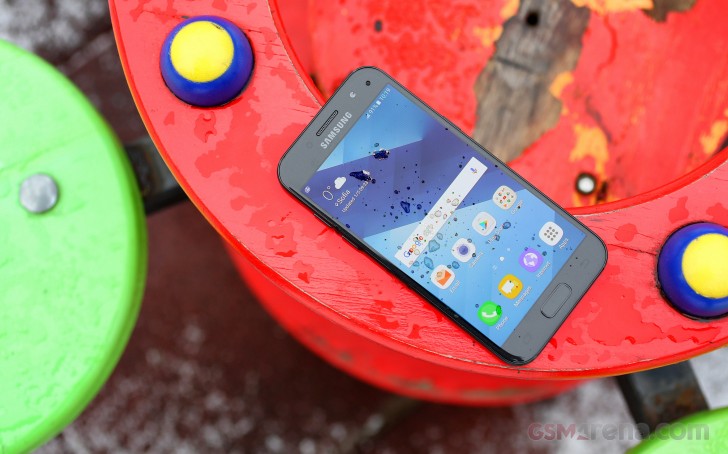 We think that Samsung elevated the status of the A-series quite noticeably this year. Waterproofing and an Always On Display are the kind of things you buy a flagship for, now that metal bodies are on €100 phones. Coupled with the amazing battery life, the Samsung Galaxy A3 (2017) may be perfect for people who want a premium phone without the bulk or price of a typical flagship.
Samsung Galaxy A3 (2017) key test findings
A refreshingly tiny phone with a flagship build quality from top to bottom; waterproof Androids of this size do not exist (since Sony bailed out), not ones with an Always On Display
The size of the small 4.7" screen is a feature of its own, it's bright and with very accurate colors; we do wish it was sharper (the PenTile matrix makes a crosshatch pattern visible)
The battery life is spectacular - 93 hours Endurance rating (with AOD off); the A3 (2017) battery will outlast the S7 and iPhone 7 easily
The Exynos 7870 Octa chipset is power efficient, but not very fast (the GPU loses out to Snapdragon 625 and the like)
Android 6.0 with Grace UX run smoothly and 7.0 Nougat is coming soon; however, pre-installed software leaves little user available space on the 16GB version
The oddly-positioned loudspeaker scored a Good mark, but may be closer to Average in real life
The camera is a mid-range experience - photos are not the sharpest and the autofocus caused some issues; the selfie camera makes a better impression though it does have a fixed focus sweet spot which your face might miss depending on your shooting distance
The video camera is similarly mid-range - 1080p @ 30fps is the best it can do. The video footage is as sharp as the Galaxy S7 1080p but here we notice compression artifacts
The chipset is fast enough to run 3D games (albeit without all the bells and whistles), but serious gamers are unlikely to be looking at the Galaxy A3 (2017) - even on a smartphone, games play better on a large screen. This leaves the camera as A3's weak spot, let's see if we can do better. Note that we will only be looking at relatively small phones, it's easy to find a large phone with similar features.
We're not here to argue that the A3 (2017) is strictly better than the iPhone 7, but in several respects it is - Always On Display and Battery life chiefly - in others it's an equal (waterproofing, mobile payments, screen quality is close). The camera and chipset are no match, however. Again, we're comparing phones with more than 2x difference in price, that the Galaxy got this close is impressive. It's not just people who can't afford an iPhone, some may just be looking for a break from Apple's "our way or the highway" attitude.
The Sony Xperia X Compact wanted to be this generation's Z Compact but no waterproofing or 2160p video captures soured the hardcore fans. That said, the still camera boasts high resolution, the 4.6" 720p screen offers great sunlight legibility and the battery life is quite good (though not A3 good). You do get the more powerful (if less efficient) chipset though.
The Xiaomi Redmi 4 Prime is available in European warehouses and at half the price of the Galaxy A3 (2017) it may have a thing or two to teach it. It comes with 5" 1080p screen (sharper than A3's, but sunlight legibility and color accuracy aren't nearly as good) and similarly amazing battery life. MIUI has matured a lot, it's easily the best of custom jobs to come out of China. (Note: there's no international version, but Google Play Store is either available out of the box or easy to install).
You may also have a look at the regular Redmi 4. It drops the screen to 720p, the chipset to Snapdragon 430 (down from 625) and comes with less RAM and storage (2GB/16GB, matching the Galaxy). The Redmi 3s Prime may be the better deal, though. It's only a few months older and it comes with 3GB of RAM and 32GB of storage like the 4 Prime, but uses the same chipset as the regular Redmi 4. And this one is available with the international version of MIUI, which has better language support and the Play Store is built into the ROM.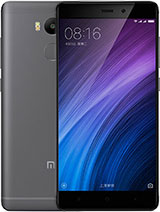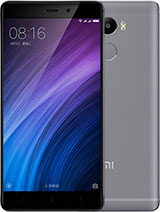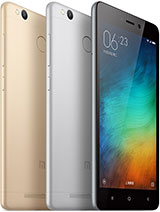 Xiaomi Redmi 4 Prime • Xiaomi Redmi 4 • Xiaomi Redmi 3s Prime
The Huawei nova is quite similar to the Redmi (same screen specs, same chipset), but at a higher price. It does hold 2160p video capture as its trump card, something matched only by the iPhone so far, the still camera is quite capable as well. Still, neither the screen nor battery life are up to par, making the price hard to justify against the Galaxy A3 (2017) or the Redmi 4 Prime.
A ZUK Z2 comes in with a powerful Snapdragon 820 chipset to paint graphics on the 5" 1080p screen, plus roomy 4GB RAM and 64GB storage (but no microSD slot). The camera boasts fairly large pixels and 2160p video to boot. That 3,500mAh battery sounds good too. ZUK is a semi-independent Lenovo brand and a sibling to Moto, though perhaps not as well known as those two. Like the Xiaomi, this is not a phone you can pick up from Amazon, but it doesn't take much effort finding one online either.
While the X Compact lacks waterproofing, the Sony Xperia M5 does come with an IP68 rating, same as the A3. It's not quite as small as it, but it does have a 5" 1080p screen adn its 21.2MP camera can in fact shoot 2160p video (thanks to the Helio X10 chipset). Plus, you get a 13MP/1080p selfie cam! One potential downside - there's still no word from Sony about Nougat, so the M5 may stay at Android 6.0.
You may have noticed we didn't mention waterproofing aside from the iPhone and the Xperia, that's because few phones have it to begin with, even fewer in this price and size range. Always On Displays are similarly hard to find and many phones were skipped over for their quad core processors (like the Moto E3 and G4 Play).
That's usually good news, it's a clear sign that the phone fills a specific hole in the market. The Samsung Galaxy A3 (2017) has the potential to become a quiet hit - it won't put the iPhone 7 and Galaxy S7 out of business, but it will rescue many people from overspending on a flagship they didn't need.
Note that this review is based on a pre-production unit. We'll update the review findings as soon as we get our hands on a retail unit.