Since the Samsung Galaxy A5 (2016) got released in December of 2015, within a couple of months or so we might see its successor getting unveiled. And sure enough, Samsung is working on the Galaxy A5 (2017), which has been spotted in a benchmark in August. The device got Wi-Fi certified earlier this month, and today we're treated to a bunch of renders showing it from all angles.
These aren't official press renders that got out (we're not at that stage yet), but they were created based on leaked information about the next A5. It will have a 5.2-inch touchscreen, and its dimensions are 145 x 71 x 7.8 mm. That makes it half a millimeter thicker than its predecessor, so hopefully Samsung was able to fit a bigger battery inside. Speaking of which, past rumors said that's exactly what happened, with the 2017 model having 3,000 mAh capacity, up from the 2016 A5's 2,900.
The A5 (2017) should be powered by Samsung's Exynos 7880 chipset, which has a CPU with four Cortex-A72 cores clocked at up to 1.87 GHz and four Cortex-A53 cores clocked at up to 1.3 GHz. The GPU is a Mali-T860MP4. The phone will have 3GB of RAM apparently.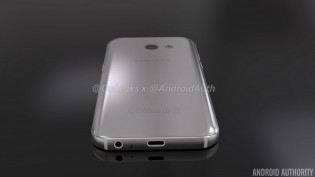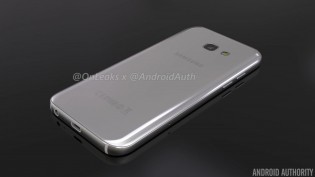 Even more Galaxy A5 (2017) renders
As the renders show, the device will come with the 'glass sandwich' construction that was seen in Samsung's last few flagships - meaning the back panel is made out of glass as well as the front, and in between them sits a metal frame. The edges on the back are rounded, emulating the design of the Galaxy S7.
The speaker is on the right side, above the power button, which is a novelty in terms of design. The 3.5mm headset jack is present thankfully, and it's on the bottom side near the USB Type-C port. The camera will be completely flush on the back of this A5, so there will be no wobble when it's sitting on a table and you're using it.
Both single-SIM and dual-SIM models will be available, and the Galaxy A5 (2017) will run Android 6.0 Marshmallow.
D
Gyro detects location with respect to objects and movement rotation of your cellphone. For example: You are playing a pokemon game, you hold it in front of you, behind the phone there is a chair, camera is showing the chair & algorithm put a pi...
S
I would rather put it bottom side left or right..
S
AT last samsung implemented type-c .. Why they didn't do it on s7 edge ?? dang..