A Galaxy born with Froyo
Most of the available Samsung Galaxies are still shipping with the outdated Android v2.1 Eclair. The Android clock is already showing Gingerbread time, there are still current smartphones that only now are gradually moving up the ranks to 2.2 Froyo via an update. That's to say that Froyo out of the box is still a novel factor and certainly a differentiating factor for the latest batch of smartphones by most manufacturers.
It seems Samsung's realized the need to compete with LG Optimus One/Chic at the lower midrange level and is summing up the troops to go to battle. The Samsung Galaxy Ace seems to be a part of that military offensive and as such it comes with Froyo straight out of the oven.
The UI on the Samsung S5830 Galaxy Ace is skinned with the familiar TouchWiz UI. It's nothing that breaks away too much from the traditional Android UI, but enough to make it recognizably a Samsung interface.
For starters we've prepared a short video demo of the Galaxy Ace:
The customizations start on the homescreen where you have up to seven panes to populate with widgets but you don't have to use all the screens all the time. If you need less, deleting the extra ones will speed up the navigation.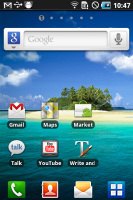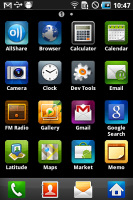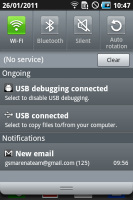 The TouchWiz 3.0 user interface comes preinstalled on top of the Android OS
The notification area, one of the Android strong points, is the same updated one as in the
Galaxy 551
- it has four switches for Wi-Fi, Bluetooth, sound and rotation-lock.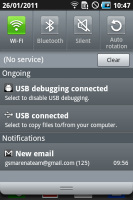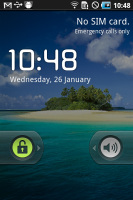 The notification area and the lockscreen
Pressing the menu button at the homescreen brings up shortcuts for adding new items to the homescreen (you can also do that with a press and hold on the homescreen), add/delete homescreen panes, change the wallpaper (Live wallpapers are supported), a shortcut for search, the notification area and the settings menu.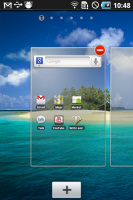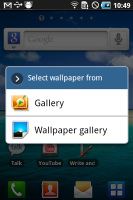 Homescreen edit mode • Wallpaper menu
We noticed only one new widget besides the stock Android ones - Feeds & Update. It lists social network status updates straight on your homescreen.
Next, the Galaxy Ace has four buttons docked at the bottom of its homescreen, which stay there even when you open the menu.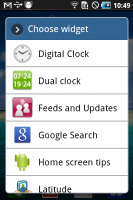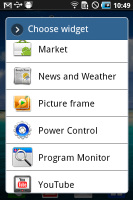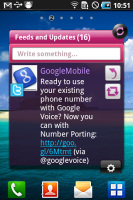 The widget list • Feed and Update social widget
The main menu consists of side-scrollable panes, much like the homescreen, instead of a vertical scrollable grid (like in vanilla Android). You can add new pages manually, by dragging an app to a new screen in edit mode. A list view is also available, just as on the HTC alternative, Sense UI.
When the launcher is in edit mode, you can uninstall applications (only the ones that you installed) just by tapping them.
The Samsung S5830 Galaxy Ace software is responsive as it gets, with no lag whatsoever. You may notice small loadings at some places, but we bet they won't exist in the retail unit.