Social phonebook
The phonebook has a wide range of features and practically unlimited storage capacity.
There are options to filter contacts that have phone numbers, show/hide some of the groups you've created (including groups from social networks) and change the sorting (by first or last name).
The phonebook has the Quick contacts feature, which lets you tap the contact photo for a popup menu with shortcuts to call, text, or email. The TouchWiz-specific swiping gesture is here too - swipe a contact right to make a call and left to compose a message.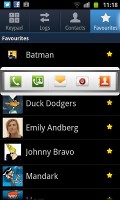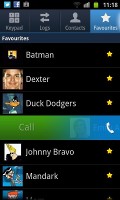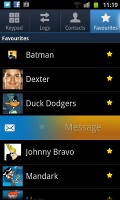 Quick contacts • Swiping is a neat gesture for calling and texting
There are many info fields that you can assign to each contact, but it still remains perfectly organized. You have all types listed (numbers, email addresses, etc) and there's a plus sign on the right to add another item of that type. Pressing the minus sign next to it deletes the redundant field.
Of course, the real flexibility of the phonebook becomes apparent when you sign into your Facebook or LinkedIn account. After syncing, the phonebook will automatically merge your contacts from those networks (you can do it manually too).
The contact info screen is tabbed. The first two tabs are pretty standard - one displays the person's contact information, while the other stores call and message history. The third and fourth tabs handle the social stuff - status updates and the contact's online galleries.
Weirdly, only the Facebook and LinkedIn SNS contacts can be synced with the phonebook - we usually see Twitter contacts in here too.
Smart dialing and video calling
The Samsung Galaxy Beam had no issues with reception even in areas with poor coverage. Sound in the earpiece was crisp and fairly loud.
The dialer and call log have been integrated into the phonebook, each in its own tab. Smart Dial is enabled for both names and numbers.
Only one contact (with photo) is shown at a time in the Smart Dial suggestions. You can tap the down arrow to view the rest (a digit above the arrow indicates how many contacts have matched your query).
The dialer also has a key for making a video call and another for sending a message instead.
Thanks to the proximity sensor, your screen will automatically turn off during a call. The available options during a call include taking a note, using the keypad, muting or holding the call, or adding another call to the conversation. There's turn-to-mute too, thanks to the accelerometer.
The Call log is the tab next to the dial pad. It displays all the dialed, received and missed calls in one list, while sorting your call history by contacts.
The Samsung Galaxy Beam earned a score of Below Average in our traditional loudspeaker test. Here's how it stacks up against the competition.
| | | | | |
| --- | --- | --- | --- | --- |
| Speakerphone test | Voice, dB | Pink noise/ Music, dB | Ringing phone, dB | Overal score |
| Nokia Lumia 800 | 60.9 | 59.0 | 61.7 | Below Average |
| Samsung Galaxy Nexus | 66.2 | 60.5 | 69.0 | Below Average |
| Samsung Galaxy Beam | 65.6 | 64.6 | 66.6 | Below Average |
| Apple iPhone 4S | 65.8 | 64.5 | 74.6 | Average |
| HTC Desire C | 64.9 | 64.6 | 72.2 | Average |
| Sony Xperia S | 72.7 | 61.8 | 69.6 | Average |
| HTC One S | 65.1 | 64.6 | 76.7 | Average |
| Samsung Galaxy Ace 2 | 66.8 | 66.2 | 75.7 | Good |
| Motorola RAZR XT910 | 74.7 | 66.6 | 82.1 | Very Good |
| HTC Desire | 76.6 | 75.7 | 84.6 | Excellent |
Messaging and email
The messaging interface is quite straightforward: there are no folders here, just a New Message button. Under that button is a list of all your messages organized into threads.
Swiping on a message header will do exactly the same as in the phonebook - a left swipe starts a new message, while swiping to the right will start a call.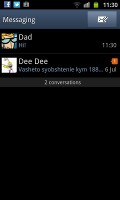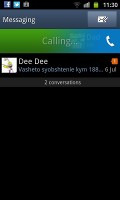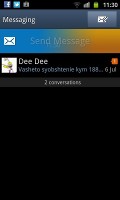 The Galaxy Beam messaging mode and swipe functions
There's an application-specific search that lets you quickly locate a message among all your stored SMS and MMS.
When you add multimedia content to the message, it automatically turns it into an MMS. You can either quickly add a photo or an audio file to go with the text, or compose an MMS using all the available features (like multiple slides, slide timing, layout, etc.). The multiple slides are all shown inside the compose box.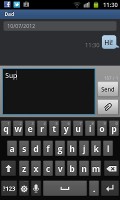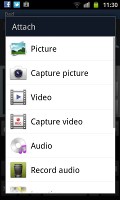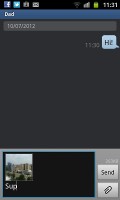 Adding any multimedia content automatically turns an SMS into an MMS
Moving on to email, the Gmail app supports batch operations, which allow multiple emails to be archived, labeled or deleted. Multiple Gmail accounts are also supported.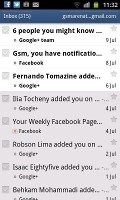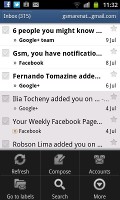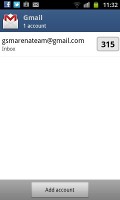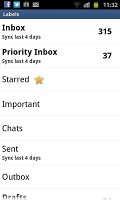 The Gmail interface must be familiar to everyone by now
There is also a generic email app for all your other email accounts and it can support multiple POP or IMAP inboxes. You have access to the original folders that are created online, side by side with the standard local ones such as inbox, drafts and sent items.
It offers a combined inbox option, which color-codes emails from different accounts for easier sorting and viewing. Conversation layout is also available - it groups related emails into single entries with a number in parenthesis showing the number of emails grouped. A tap on that entry expands it to show a list of the individual messages.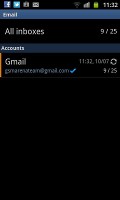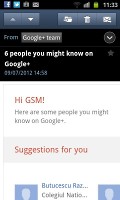 The standard email app is easy to set up
Google Talk handles Instant Messaging. The G-Talk network is compatible with a variety of popular clients like Pidgin, Kopete, iChat and Ovi Contacts, and video chat support is also available.
As far as text entry goes, you have the standard Samsung keyboard at your disposal, with an XT9 option. Text input is quite comfortable for the range thanks to the bigger screen, and the buttons are spaced adequately enough apart so as to hit the one you want easily. Swype comes preinstalled too, and you can switch to it in the Language and Keyboard submenu of the general Settings, although it would've been more convenient to have that option in the dedicated settings of the keyboard itself.